The Truth About Scarlett Johansson's Tattoos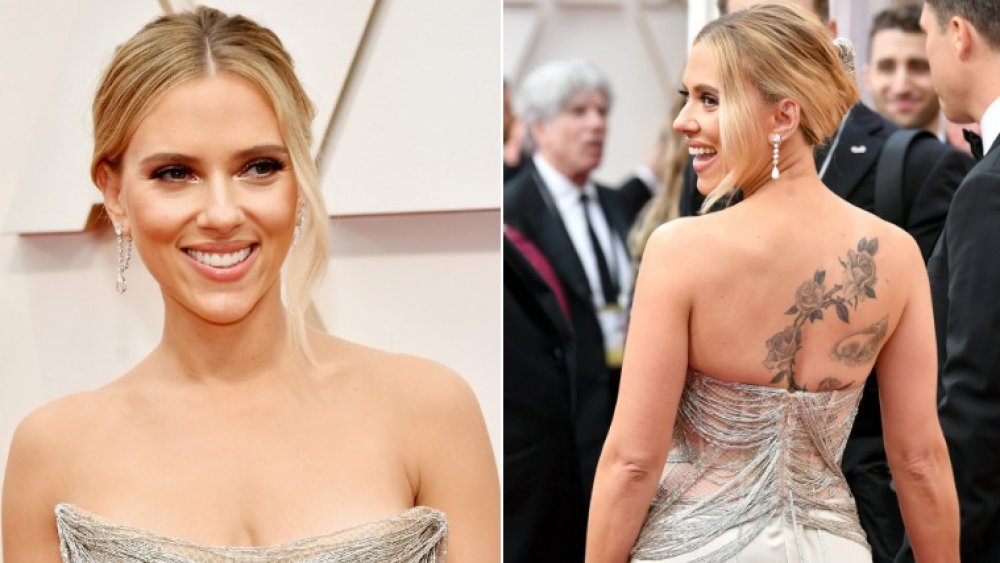 Amy Sussman, Amy Sussman/Getty Images
When actress Scarlett Johansson walked the red carpet at the 92nd Academy Awards, it wasn't her champagne-colored Oscar de la Renta gown or her chemistry with fiancé Colin Jost that caught viewers' attention. (Don't get us wrong, the dress was gorgeous, and of course, she and Jost are sweet and all.) Instead, her massive back tattoo is what had fans tweeting up a storm. The comments were a little harsh, ranging from "The glimpse I received of Scarlett's back tattoo will *haunt* me until the day I die" to "Never not taken aback by Scarlett Johansson's giant back tattoo."
The Oscars aren't the only time ScarJo showed off her not-so-subtle ink — her dresses at the SAG Awards and the BAFTAs also displayed the giant back tat, sparking equally surprised reactions on social media. It's worth a quick reminder that Johansson, obviously, is so much more than her tattoos. After all, she was nominated for two Oscars this year: Best Supporting Actress for Jojo Rabbit and Best Actress for Marriage Story. Even though she didn't win in either category, it's an impressive feat regardless. But okay, okay — if you're still curious about Johansson's body art, let's take a closer look at the designs and their potential meanings.
ScarJo's back tattoo may be a tribute to a special someone in her life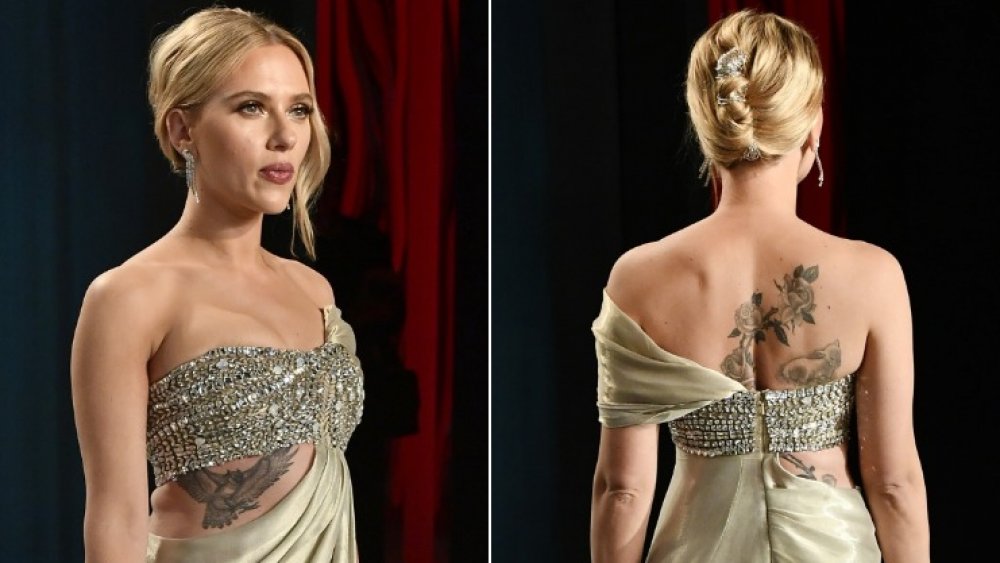 Kevin Winter/Getty Images
Sure, Scarlett Johansson's back tattoo can catch your eye from far away, but when looking closer, you'll see it's more than just a bunch of roses. There's also a lamb seated beside them. Her Oscars after-party dress not only showed off her back, but also spotlighted what appears to be an owl on her ribcage. According to HuffPost, the rose back art is a tribute to her daughter Rose, who she had with her ex-husband Romain Dauriac. (News of Johansson and Dauriac's split broke in January 2017, although a publicist said they'd separated the previous summer.) It's unclear what the animals symbolize to Johansson, but lambs are often associated with innocence or sacrifice, while owls can be connected to wisdom and intuition.
In November 2012, Johansson opened up about her tattoos — sort of — during an interview on The TODAY Show. When Matt Lauer asked how many she has, Johansson joked, "I've lost count." She also appeared a bit uncomfortable when a photo of her ribcage horseshoe tattoo that says "Lucky You" was shown on-screen, saying, "Some photos, as I'm sure you might know yourself, are meant for personal consumption." That's fair — there's a difference between showing off a tattoo on her own accord versus having a photo circulate without permission.
Scarlett Johansson has "extensive tattoos," according to the guy who did some of them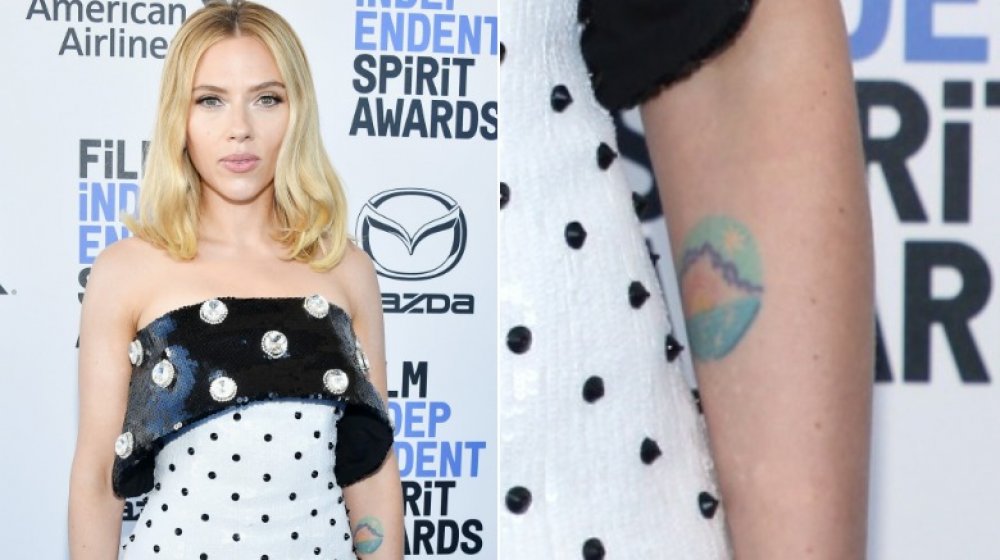 Amy Sussman, Phillip Faraone/Getty Images
Scarlett Johansson's colorful sunrise forearm tattoo is pretty easy to spot. During an interview with Craig Ferguson in 2014, Johansson said the tattoo was "so old" and when Barack Obama first ran for president, people kept mistaking it for his campaign symbol. "It was awful, because people were like, 'Wow, you really are a supporter, my God,'" she recalled. As for the actual meaning, Johansson once said (via the New York Daily Mail), "It makes me happy when I look at it, but the reason I had it done is very personal. Some things have to remain private."
According to Page Six, Johansson's other ink includes two circles with an "A" on her ankle, an "I got matching tattoos with (most of) her Avengers castmates in 2018. Tattoo artist Josh Lord talked to Revolver Mag and teased, "There's a symbol for everybody in the movie hidden in there. Their initials are also all hidden in there." He explained that the whole thing was ScarJo's idea. "I owe this whole connection with the Avengers to her, and she [has] gotten extensive tattoos, a lot more than people think she has."
Fans will just have to wait until another award show to get a peek at her other ink ... or maybe she'll continue to keep it private. And you know what? That's totally her call.