The Untold Truth Of Anthony Hopkins' Wife Stella Arroyave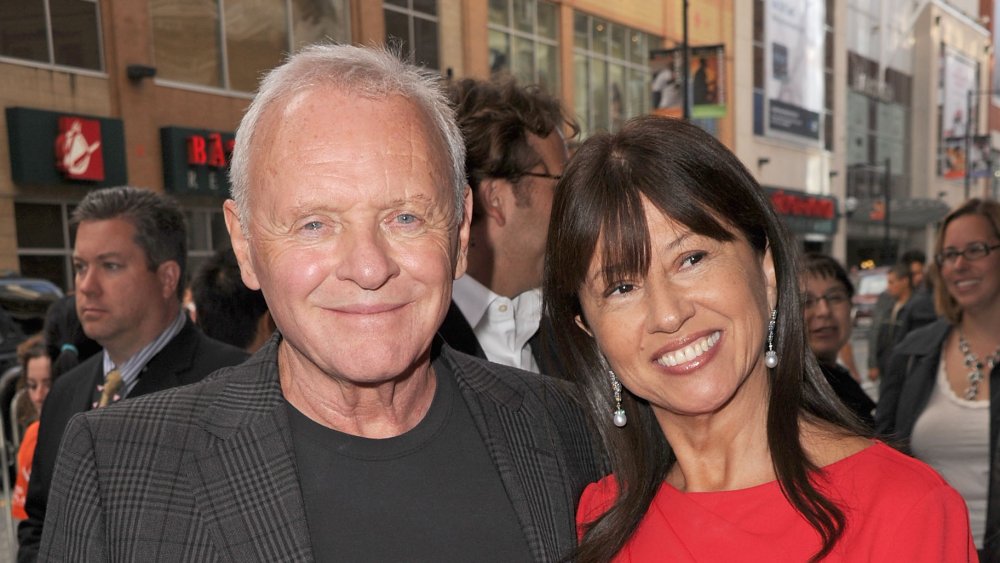 Jason Merritt/term/Getty Images
At the 2020 Oscars, Anthony Hopkins was nominated for best supporting actor for his role as Pope Benedict in The Two Popes, where he starred alongside Jonathan Pryce, who was up for best actor. Hopkins, who previously won an Oscar for his role as Hannibal Lecter in The Silence of the Lambs, faced some tough competition. The category was stacked with Al Pacino, Joe Pesci, Tom Hanks, and Brad Pitt, who ultimately took home the statue. Interestingly enough, Hopkins didn't even show up to this year's ceremony. 
Maybe Hopkins skipped the 92nd Academy Awards because he was busy working or preferred to watch from the comfort of his own home. (The day before the ceremony, he shared an upbeat video on Twitter with an adorable cat.) Regardless, this guy clearly doesn't need another trophy to validate his worth. Hopkins has been vocal about what a happy life he leads now, even crediting his wife, Stella Arroyave, for keeping him in check. The pair wed in Malibu in 2003, so let's take a closer look at his longtime leading lady, shall we?
Stella Arroyave met Anthony Hopkins while at work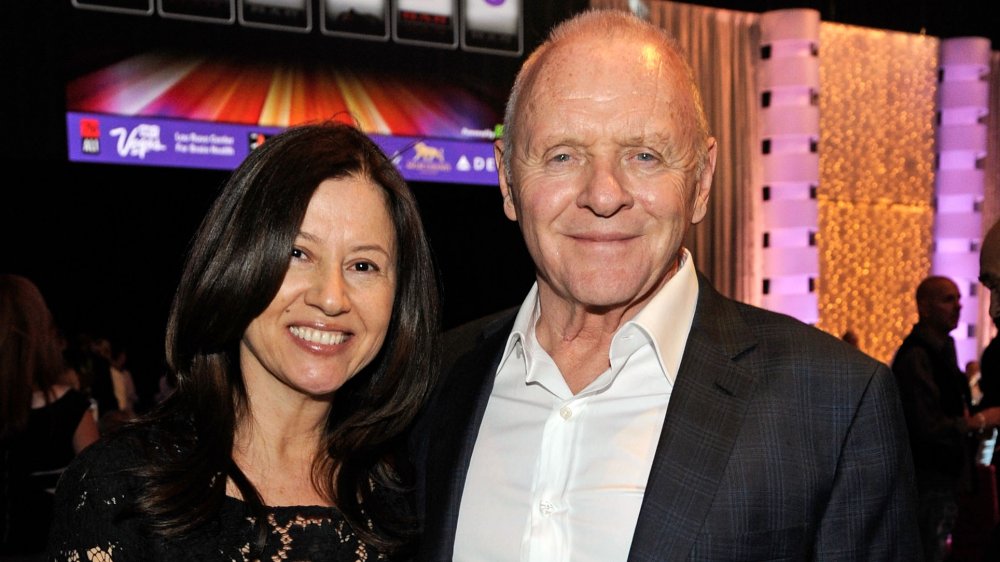 Ethan Miller/Getty Images
Anthony Hopkins and Stella Arroyave tied the knot at Hopkin's mansion in Malibu in March 2003. The guest list included big showbiz names such as Nicole Kidman, Winona Ryder, and Steven Spielberg, per The Telegraph. His wedding to Arroyave marked the actor's third. He was married to Jennifer Lynton for nearly three decades from 1973 to 2002, per BBC News. Before that, Hopkins was hitched to Petronella Barker from 1966 through 1972. He and Barker had a daughter together named Abigail, although Hopkins has made headlines for his estranged relationship with her.
According to The Telegraph, Arroyave — who was born in Colombia and worked as an antique dealer — met the actor in 2001 when he was shopping for furniture at her store in Los Angeles. Talk about an unexpected meet-cute, huh? Since then, Arroyave's career has shifted, and she's started to work in movies. Per IMDb, she appeared in two on-screen projects, Slipstream and The Human Stain, and she also produced and wrote her own screenplay called Elyse.
Anthony Hopkins says her positive attitude changed his life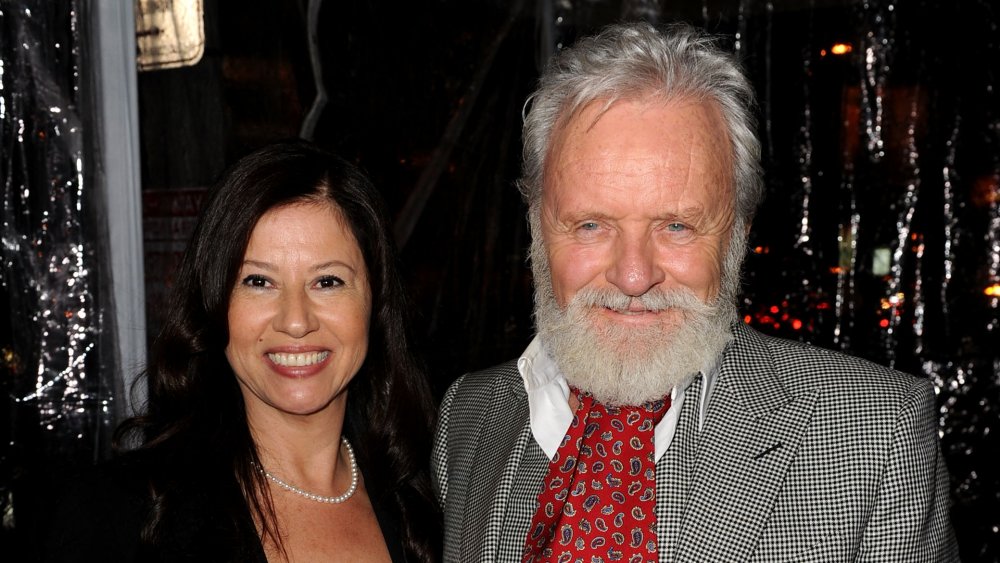 Kevin Winter/Getty Images
When Anthony Hopkins and Stella Arroyave first met, he was still married (although technically separated.) In 2001, a year before divorcing Jennifer Lynton, Hopkins said (via BBC News), "I live a separate life and am not very good with any relationships — with anyone. I can't be locked up with anyone for too long." 
Arroyave apparently helped shift his dour perspective on love. According to The Independent, Hopkins credits Arroyave with getting him through darker times. "She met me ten years ago when I was shut down. Shut down for some years. I didn't feel shut down at that time. I felt I was quite happy. But I was dealing with slight depression," he said in 2011. "Not trusting anyone. Certainly not trusting women. Everyday she wakes up happy. She's very positive about everything. I learnt from her just to take life as it comes."
That happiness stuck. In 2013, Hopkins told the Daily Mail, "I have a nice life. I am happy, whatever that means." He called his wife a "wonderful woman" who looks out for him, "because my nature is to do things very fast because I have convinced myself that I am still 45 years old. I walk far too fast and I'm always falling over and she reminds me not to." 
It sounds like these two balance each other out, and for Hopkins, the third marriage really seems to be the charm.