The Truth About BTS' Jungkook's Tattoos And Piercings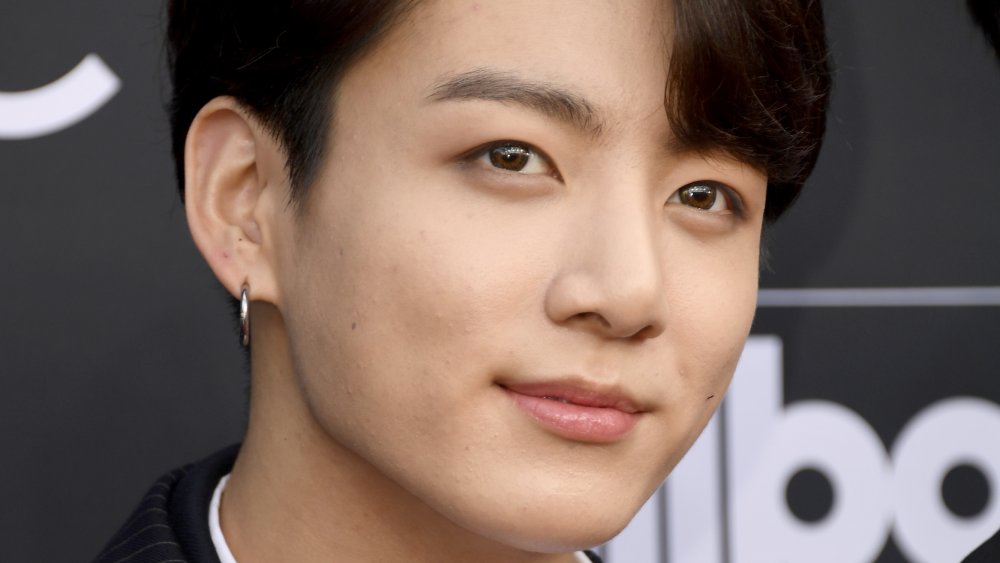 Frazer Harrison/Getty Images
The members of K-pop boy band BTS are under a lot of pressure to have the perfect image at all times — which includes staying super single. They face a ton of scrutiny from fans all over the globe and seemingly nothing goes undetected by their fandom, nicknamed the BTS ARMY. So, naturally, when BTS member Jungkook started covertly tatting himself up in 2019, every ARMY member was immediately on the case.
Jungkook has always been experimental with his style, and he's been a tattoo fan for quite some time. On a 2014 episode of BTS American Hustle Life, a 16-year-old Jungkook said he wanted a tattoo when he was older. "I saw the lady having a tattoo on the neck," he told bandmate Suga. "I want one too."
That's why it's no surprise that, as of December 2019, the pop star reportedly has at least six tattoos and nine piercings, making him the most decorated member of BTS, according to StyleCaster. However, despite his affinity for ink, Jungkook doesn't seem eager to show his tattoos off as he often covers his ink with long sleeves or patches. 
Let's dive into what we do and don't know about Jungkook's tattoos and piercings so far.
Jungkook's first tattoo appeared in September 2019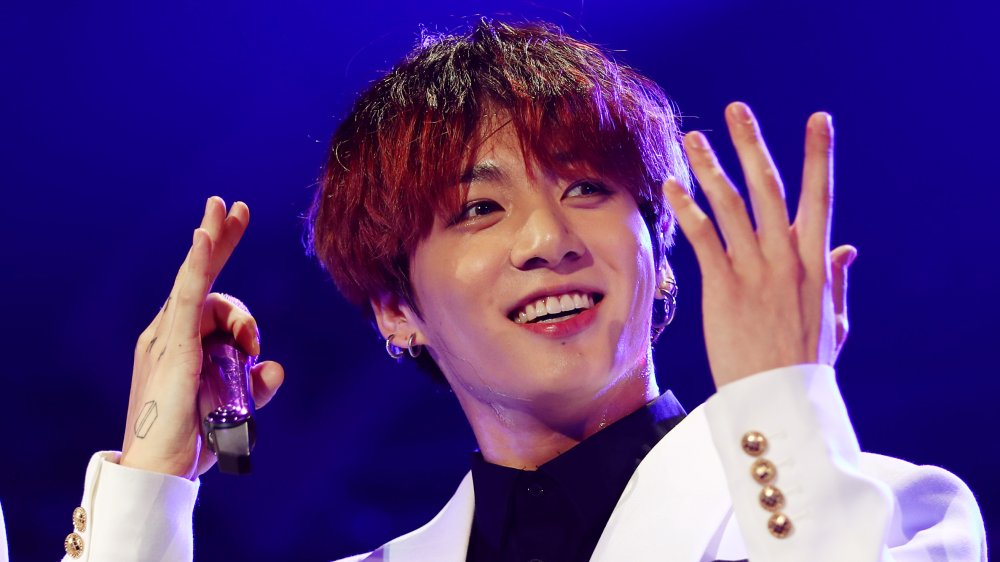 Rich Fury/Getty Images
Fans first noticed Jungkook sporting ink in September 2019, shortly after BTS returned from a brief hiatus, Elite Daily reports. In addition to having the word "ARMY" on his knuckles, eagle-eyed fans also spotted a heart, a crown, and the letter "J." At the time, some speculated that the tattoos might be temporary or just stage makeup. However, since the ink has continued to pop up in photos and live appearances, it all seems pretty permanent.
After September 2019, Jungkook was spotted with several more tattoos on his arm, according to a report on All K-Pop. The ink included a skeleton hand making the sign language symbol for "I love you," which is also used to mean "rock on." He also sported the Nirvana lyric "Rather be dead than cool" from the song "Stay Away." 
It's been hard for fans to figure out exactly what all of the tattoos look like since Jungkook usually wears long sleeves, and his team censors the tattoos in photos, Korea Boo reports. The boy band member has even worn patches to cover up his hand tattoos. According to Jazmine Media, fans finally got a definite look at the tattoos in episode 5 of BTS' behind-the-scenes series "Bon Voyage 4." Jungkook wore short sleeves and his tats were on full display — but the photo still isn't very clear. 
While it's a bit difficult to confirm all of Jungkook's tattoos, his piercings are a lot easier to spot.
Jungkook is the most pierced member of BTS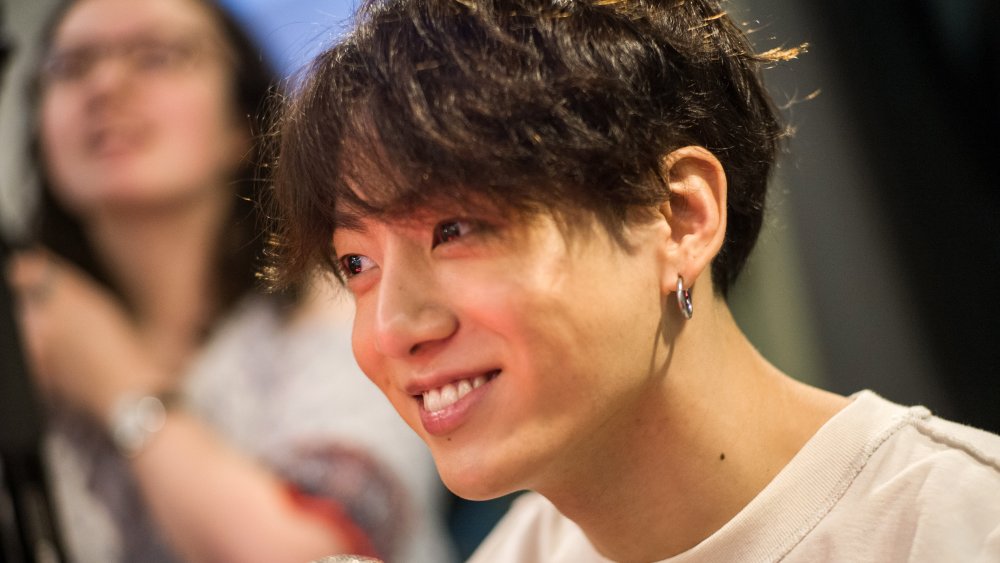 Steven Ferdman/Getty Images
Jungkook is definitely more adventurous than the rest of BTS when it comes to tattoos seeing as how Jimin is the only other member with a tattoo, and it may or may not be real.
Piercings, on the other hand, are a different story. Most of the members of BTS are studded, StyleCaster reports, with a total of at least 27 piercings among them. Still, Jungkook has his bandmates beat, according to fan photos and videos. Elite Daily reports that he likely has a total of nine piercings.
Jungkook has four piercings on his left earlobe and three piercings on his right earlobe. He also used to rock two helix piercings in his upper right ear. He doesn't usually wear jewelry in every single hole at the same time, so it can be a bit hard to tell how many holes he currently has in his ears. That being said, it doesn't seem like Jungkook's enthusiasm for piercings is going anywhere anytime soon. He has gotten new piercings as recently as July 2019, when he was first spotted with the fourth piercing on his left ear, according to Elite Daily.
If or when Jungkook decides to add to his piercings or ink collection, one thing is for sure: the ARMY will definitely be paying close attention!