The Truth About JoJo Siwa's Rumored Boyfriend Elliott Brown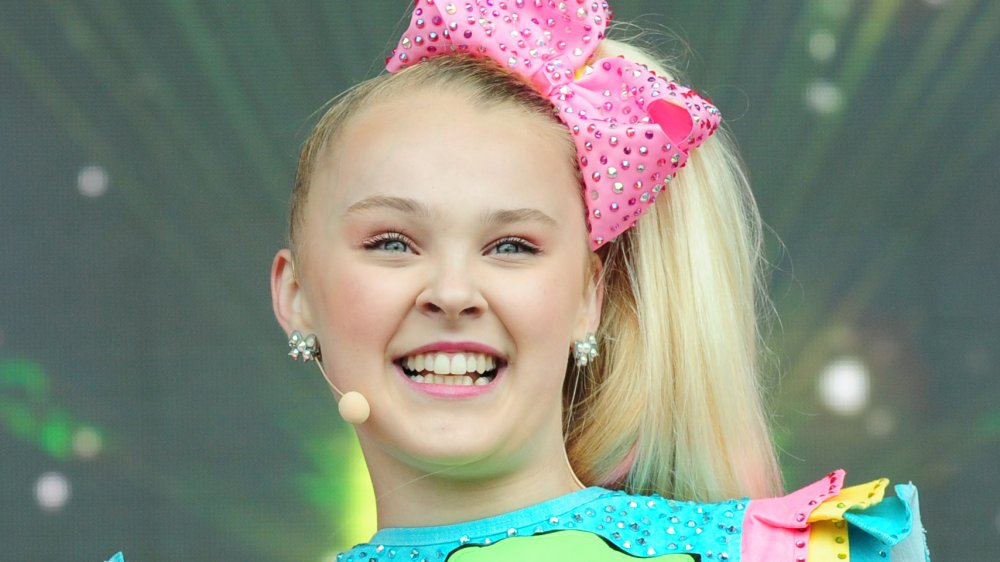 Timothy Hiatt/Getty Images
YouTube star Joelle "JoJo" Siwa appeals to a younger crowd (Kim Kardashian's 6-year-old daughter, North West, is a big fan), but this hasn't stopped her from growing up and maturing into a full-blown teenager. Siwa is 16 years old as of this writing, and it was reported in March 2020 that she's supposedly dating Nebraska native Elliot Brown. The rumored pairing makes sense when you consider they both hail from the "Cornhusker State" and hung out together as kids. But is the Dance Moms alum dating Brown for real or is this a classic case of best friends? The jury is still out on that question, although fans think romance is in the air due to a series of social media posts Siwa has recently shared of the duo. And if the answer is yes, the singer's mom, Jessalynn Siwa, might not be thrilled about the news. "If I were to come to my mom and say, 'OK, there is this boy who I like who is really nice' and let's say she knew him... the answer would be no," she told NBC's Natalie Morales in May 2019 on the topic of dating. What's more? She confessed to Morales that she isn't "boy crazy."  
However, a lot can change in a year and it's totally possible Siwa is crushing on her bestie. So who is Brown and how did he supposedly capture the YouTuber's heart? Here's everything you need to know about JoJo Siwa's rumored boyfriend.
JoJo Siwa has known Elliot Brown like, forever
Here's what's going on with the dating rumors: As of Feb. 22, 2020, JoJo Siwa has shared four social media posts featuring Elliot Brown. One photo is of the pair hanging out at a theme park with friends, another is a snap of the duo posing on a grand piano, and in March, Siwa shared a TikTok video of the rumored couple. As for the most telling post? A shot of the two side hugging, which Siwa captioned with a series of heart emojis. This pic sent fans into a frenzy, as one person commented, "OMG PLEASE SAY YOUR DATING," while another commenter wrote, "Are yall dating or what? JOELLE SPILL THE TEA." 
Siwa has yet to publicly address the rumors, although we do find it interesting how Brown — an aspiring football star — starred in her September 2018 music video, "Only Getting Better." The YouTuber croons in one verse of the cutesy and flirty song, "As long as we're together, it's only getting better!" Hmm.
In a behind-the-scenes look at the video, the teen kept mum about any prospects of romance and spoke highly of their friendship. "I've known him for literally... a very long time. We used to hang out when we were kids," she revealed. 
Distance might get in the way
If JoJo Siwa and Elliot Brown are an item, it's possible distance will get in the way of their budding romance. That's because Brown is headed to Nebraska University in fall 2020 to play football, while Siwa is set to start the next phase of her Dream tour in March. The friends' conflicting schedules don't leave a lot of time to grow whatever it is they have between them, although Siwa can afford to visit the athlete thanks to her impressive net worth of about $12 million. In the meantime, Brown seems focused on building his football career and spending time with his family in Nebraska.
In case things don't work out, we have a feeling Siwa will be just fine. "It's not for me, it's not my time right now," she told NBC's Natalie Morales in May 2019 about her thoughts on romance. "I don't need it." She also revealed that she tends to lose interest in guys when the "chase is over." Hey, you can't knock Siwa for being honest.
The bottom line here? Fans will just have to wait and see how this all plays out.