The Reason Katy Perry Kept Her Pregnancy A Secret For So Long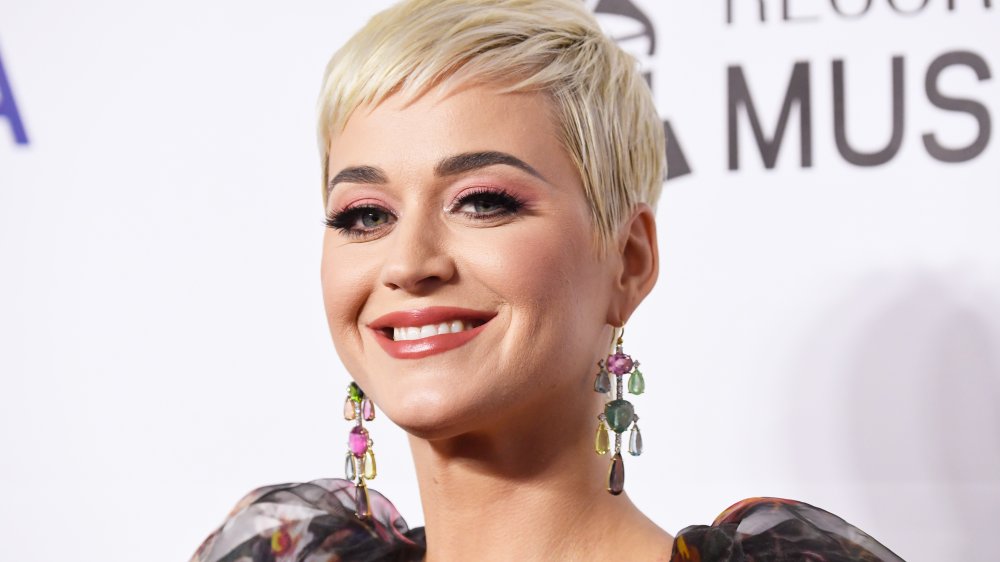 Frazer Harrison/Getty Images
While most normal people just take to social media to announce their pregnancy news, you can't expect celebrities to simply throw up a post and call it a day. That's why there have been some pretty strange celeb baby announcements over the years, including Beyoncé's mic drop moment at the 2011 MTV Video Music Awards to announce the arrival of Blue Ivy Carter.
At midnight on March 5, 2020, Katy Perry gave us yet another super extra celebrity baby announcement when she revealed that she was pregnant in the most Katy Perry way — via a new music video. In the video for her new single, "Never Worn White" – which is totally an open love letter to fiancé Orlando Bloom – Perry can be seen cradling a sizable baby bump in the last 25 seconds. Between the ethereal background the pastel colors and the pose, it was totally giving us 2017 Beyoncé pregnancy announcement vibes. 
Following the announcement, the mom-to-be took to Twitter to celebrate the fact that the news was finally out in the world, writing, "omg so glad I don't have to suck it in anymore." But why did she decide to hold in the news (and her stomach) for as long as she did? Here's the reason Katy Perry kept her pregnancy a secret for so long.
Katy Perry wanted to tell her fans in the 'best way'
Shortly after the music video for "Never Worn White" dropped on YouTube, Katy Perry took to Instagram Live to confirm that she is, indeed, pregnant and that she wasn't just rocking the baby bump for the video. "There's a lot that will be happening this summer," Katy said (via E! News). "Not only will I be giving birth, literally, but also figuratively to something you guys have been waiting for. So let's just call it a double whammy. It's a two-for."
In the Instagram Live, Perry revealed that it was very important to her to be able to release the music video and announce her pregnancy simultaneously, which is why she held off on the announcement for as long as she did. "I am excited. We're excited and happy and it's probably the longest secret I've ever had to keep." She continued: "And I like to tell you guys everything but I knew I would tell you in the best way, which is through a piece of music because that's... I guess that's how I speak to you. That's how we speak together to each other." Aww, there's certainly a lot of love between Perry and her KatyCats.
Considering the fact that Perry did a whole music video to announce her pregnancy, we can't wait to see what she does for the gender reveal. Congratulations to the couple!