Joe Biden Was An Absolute Hunk When He Was Younger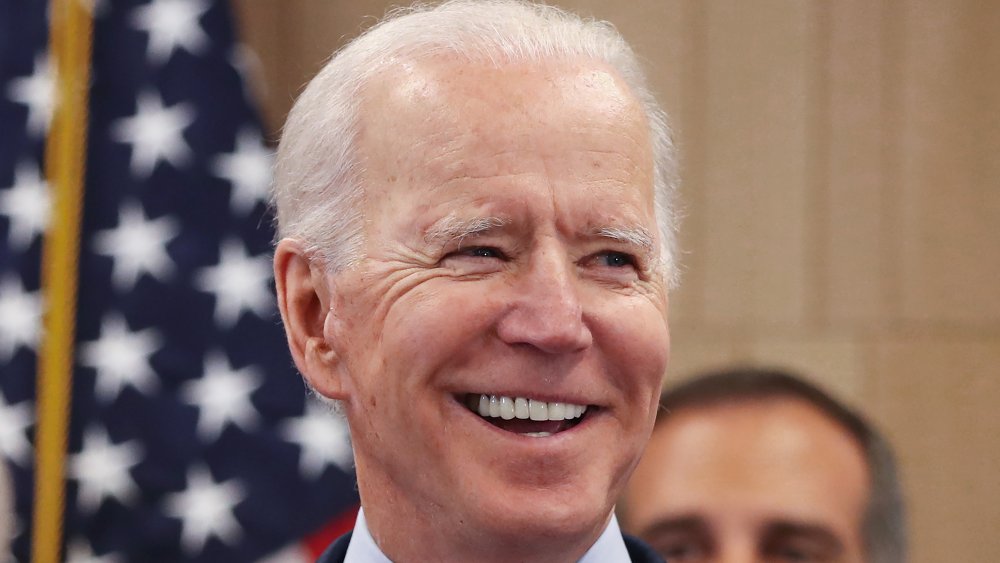 Mario Tama/Getty Images
As the former vice president of the United States in the Obama administration, Joe Biden has had a long run in politics, dating all the way back to 1973. However, it's only when he became Barack Obama's right-hand man that he truly became a household name. Known for his sense of humor and absolutely adorable bond with the former president (they have friendship bracelets, for goodness' sake!), Biden is now competing against Bernie Sanders to be the Democratic nominee in the 2020 election.
Thrust into the spotlight ever since the announcement that he's running, "Uncle Joe" has become a topic of conversation yet again, with the public wanting to know everything — from his net worth, to his tragic, real-life story, to his reactions to any controversies along the way. Another aspect of Biden's past that everyone's been talking about? His once-charming good looks.
While his younger self's appearance certainly isn't enough to win an entire election on, Biden has built a fanbase in the younger generation. As Andrea González-Ramírez of Medium put it, his voters in the 2020 election have "spent their formative years with him as the second most powerful man in the United States," seeing him "as the cool old dude who really loves ice cream."
Regardless of whether you're one of his supporters, the idea of Biden being a thirst trap back in the day will undoubtedly pique your interest — at least a little bit. Let's take a look at younger, hunkier Joe Biden.
Joe Biden is even selling merch featuring his younger self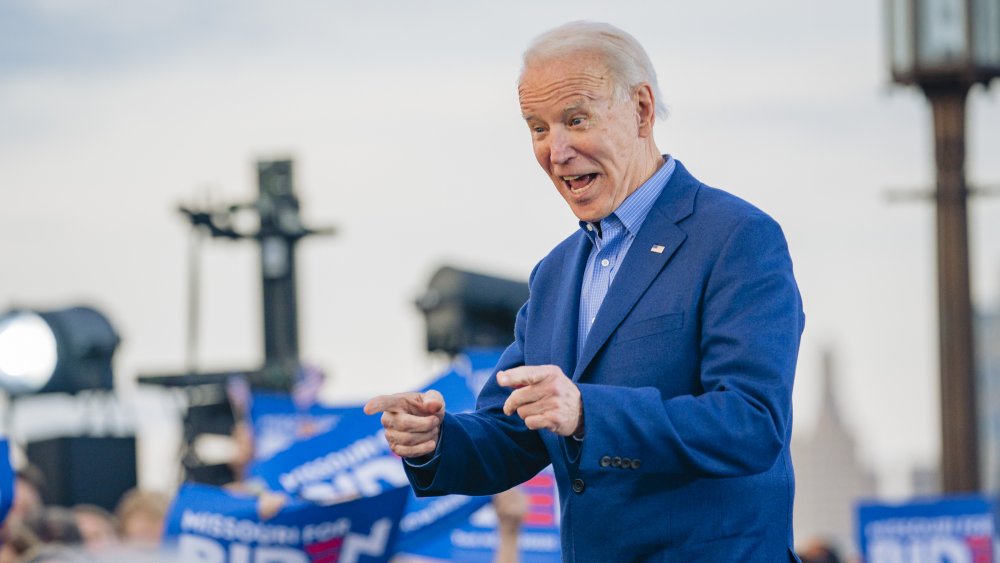 Kyle Rivas/Getty Images
Joe Biden was already known as a meme machine in popular culture, but it's the photos of the once-young Democrat that spread like wildfire online. As the Daily Mail reported, news of the hunky former VP began making their rounds in 2016, in particular, one photo which sees Biden in a red button-up shirt, smiling at the camera. "A young Joe Biden lookin' like he'd steal your girl from you with ease," one user on Twitter wrote. "Someone asked me who the hunk in my locked screen is. It's young Joe Biden," another quipped (via Daily Mail).
A young Joe Biden lookin' like he'd steal your girl from you with ease pic.twitter.com/dA64S0yZb1

— R. Saddler 📎🗽🌊🌊🌊 (@Politics_PR) November 12, 2016
Of course, with Biden having a sense of humor, he immediately went in on the joke, too. According to BuzzFeed News, in 2017, two fans Ravin Hassan and Milena Michael asked Biden to sign their poster of the iconic viral photo. "He laughed so hard," Michael explained. "He told us that this [was taken] the weekend that he met his wife." BuzzFeed reporter Ellie Hall even tweeted out a photo:
🚨 THESE GMU STUDENTS GOT @JOEBIDEN TO SIGN *THAT* YOUNG PHOTO OF HIM 🚨 pic.twitter.com/GNLHl7bbtY

— Ellie Hall (@ellievhall) April 26, 2017
While the uproar surrounding the presidential candidate's old photo was definitely hilarious, "Uncle Joe" has cleverly turned it into a marketing trick, too. At the time of this writing, Biden is selling T-shirts with his viral photograph on them on his website, with proceeds going towards the Biden for President campaign.