The Untold Truth Of Joe Biden's Wife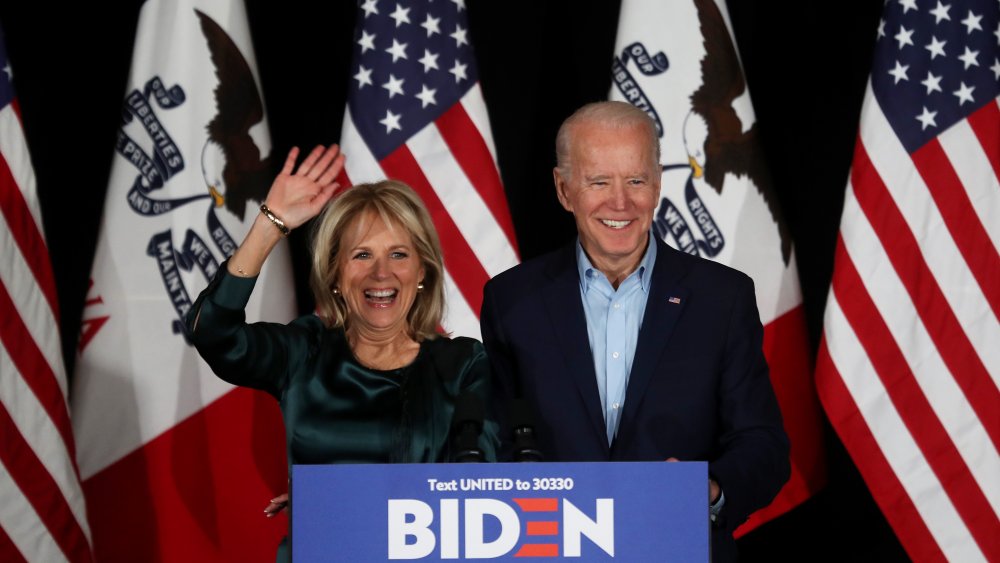 Justin Sullivan/Getty Images
Joe Biden — former vice president of the United State, accidental meme-maker, and current Democratic candidate in the 2020 election — has had a loyal sidekick at his side ever since tying the knot in June of 1977: Dr. Jill Biden (née Jacobs).
The pair initially met in the most bizarre of ways with Joe noticing a modeling advertisement at the airport. Per Dr. Biden's 2019 memoir Where the Light Enters, her future husband saw an ad campaign she once did for New Castle County's Parks and Recreation division while traveling in Wilmington, Del., and was utterly smitten. After hunting Jill down, the duo eventually started dating and the rest is, well, history.
While their marriage has sometimes been considered strange or unconventional, "Uncle Joe" has a massive support system in Jill — a former public school teacher and community college instructor, who is thought to be "the first second lady to hold a paying job while her husband is in office," as revealed by the Los Angeles Times. Per the Chicago Tribune, for the 2020 election, Jill has spent time touching on her husband's education plan, which would include "[promoting] mental health by adding more counselors and school psychologists, [and investing] in early childhood education."
While Dr. Biden is clearly a huge advocate for teaching, what else can be said about this self-described "good Philly girl"? Here's the untold truth of Joe Biden's wife.
Jill Biden always wanted her own career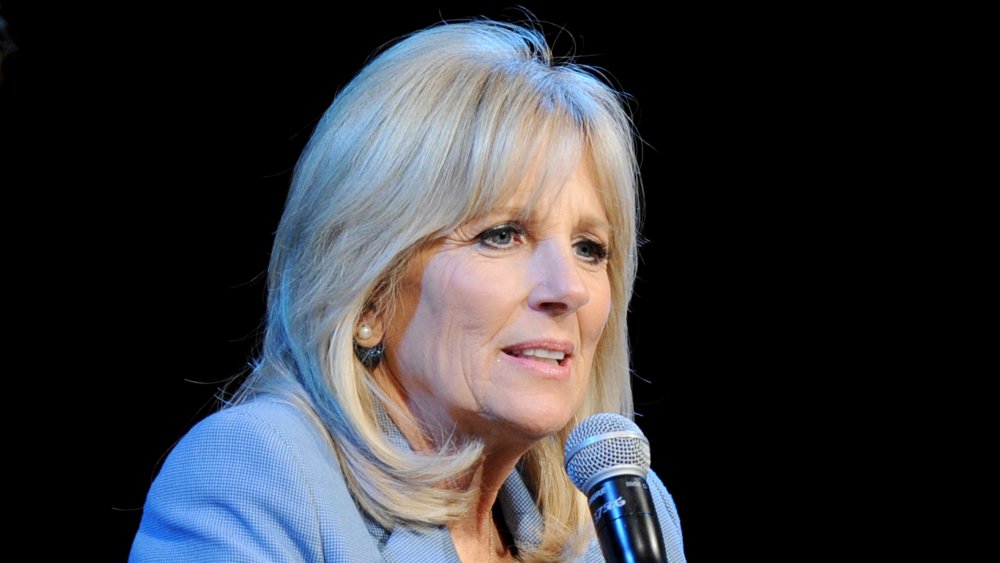 Craig Barritt/Getty Images
Perhaps one of Jill Biden's most commendable features is her passion for education, something that she's refused to give up while supporting her husband's political goals for decades. "Teaching is such a huge passion and a joy for her," her spokesperson, Courtney O'Donnell, gushed to the Los Angeles Times in 2009. Joel Goldstein, a professor at St. Louis University School of Law, echoed a similar statement to the outlet, adding, "I think she is unique ... I think Dr. Biden is the first ... to basically continue in the regular workforce."
According to a profile on the educator by Vogue, Biden briefly attempted studying fashion merchandising at a junior college in Pennsylvania before transitioning into her English major, later fine-tuning her skills and earning a master's degree in education from West Chester University in 1981. "I just had a good time. I enjoyed life ... But there was always that love of English class," Dr. Biden mused to the mag. "My grandmother sent me books, so I loved writing and reading. That was a major part of my life."
Sure enough, as the tale of Joe Biden's proposal goes, he actually had to ask Jill five times before she accepted — due to her career passions. As the professor penned in a piece for Time, "Being Joe's wife would mean a life in the spotlight that I had never wanted ... I had always wanted my own career."
Don't mess with a Philly girl
Frederic J. Brown/Getty Images
Most of the time, Jill Biden is known for her calm demeanor while accompanying her husband on his campaign trail. "As a political spouse, I've found that my stoicism often serves me well," penned Dr. Biden in a piece for Time. "In many ways, Joe's temperament and mine complement each other." That being said, the professor is known to take on a multitude of roles whenever necessary — something that she proved in March 2020 during her husband's Super Tuesday rally in Los Angeles.
In the clip that went viral, Joe Biden is seen standing on a podium with his wife, when a protester suddenly stormed the stage. Shielding her husband from the attack, another demonstrator abruptly hopped up, with Jill using her body to quite literally block the attack and protect her husband. "Jill Biden dominates. Jill Biden is a warrior," gushed comedian Amy Schumer on her Instagram account. "Jill Biden is a linebacker," joked another Twitter user.
Jill, of course, had a calm reaction to the entire situation. "I thought, 'I've got to do something right now,'" she explained to the hosts of The View (via ABC News) after the incident. "You've got to protect those you love, right?" As for her husband? "I'm probably the only candidate running for president whose wife is my Secret Service," Joe quipped at a fundraiser in California (via The Hill). "Whoa, you don't screw around with a Philly girl, I'll tell you what."