The Untold Truth Of Dave Chappelle's Wife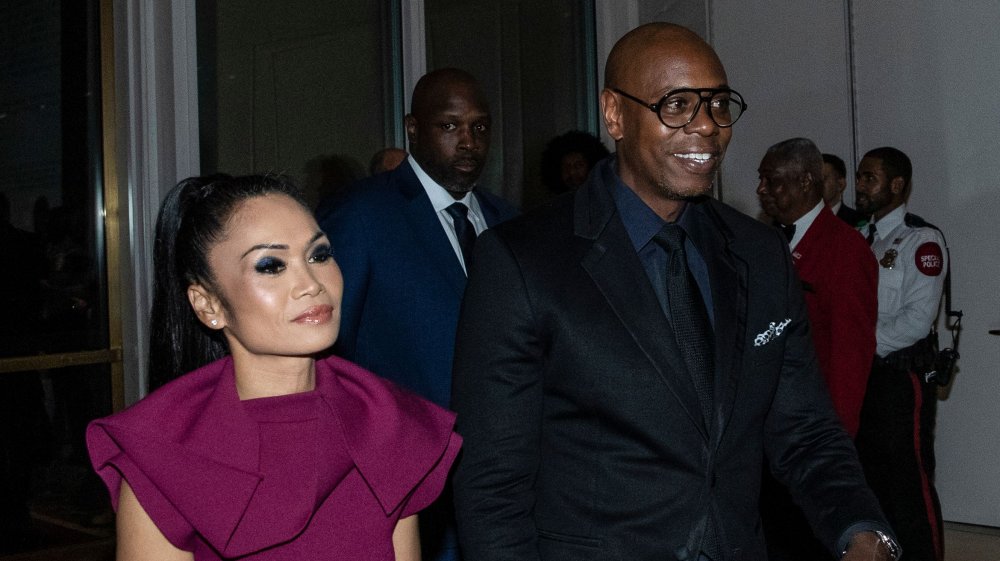 Alex Edelman/Getty Images
Comedian Dave Chappelle has had a remarkable career. His special Sticks & Stones was his fifth release with Netflix and The Chappelle Show ran from 2003-2006 on Comedy Central. Chappelle's career has also been fractious though. He abruptly left The Chappelle Show after behind-the-scenes racial dynamics made the environment unsuitable for work, according to CBS News, and as such, Chappelle walked away at "the height of his fame." 
Since the rupture of The Chappelle Show, Chappelle has come back to the spotlight in a big way, but on his own terms. He said, "I found an altitude I was comfortable with. I found a way that – to do what I liked to do and avoid some of the parts of it that I was uncomfortable with," according to CBS News.
"Altitude" is certainly the right word for it. Chappelle has since hosted Saturday Night Live in a controversial post-election appearance for which he won an Emmy Award in 2017, according to Deadline. He also hopped on stage for Kylie Jenner's 21st birthday party to congratulate the makeup mogul and continues to work on projects with notable celebrities all over the country. 
With Chappelle's very public, star-studded life, fans are often left wondering what his wife is like. It's rare to see Elaine Chappelle out and about with her famous husband, making her a fascinating and mysterious person. Here is everything we know about Elaine Chappelle. 
Elaine Chappelle's life outside of the spotlight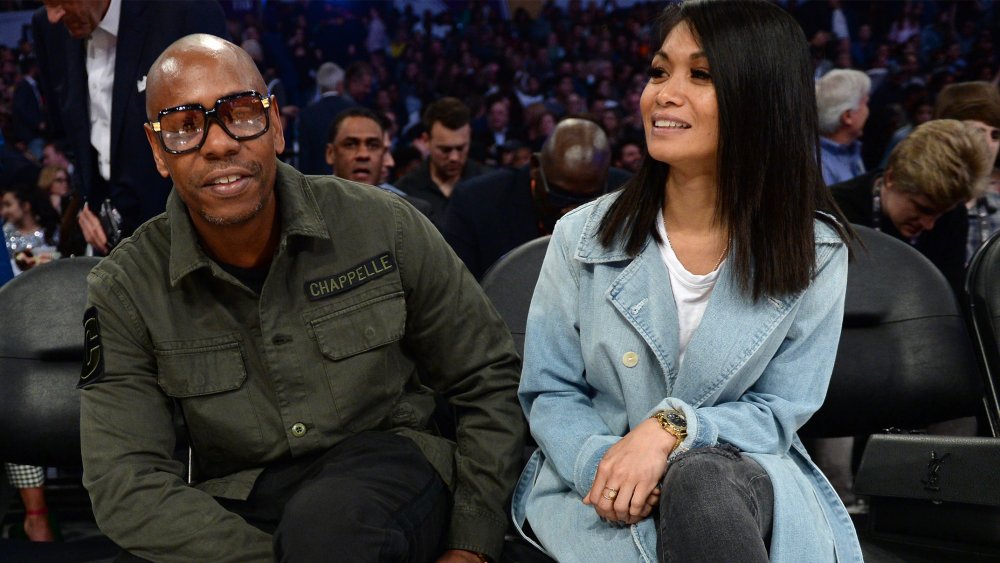 Kevork Djansezian/Getty Images
Elaine Chappelle (née Elaine Mendoza Erfe) was born to Christian Filipino parents in Brooklyn, N.Y., where she and Dave Chappelle later met, according to Newsweek. The 45-year-old now lives with Chappelle in Yellow Springs, Ohio in a 39-acre home and they share three children: Suleyman, Ibrahim, and Sanaa. 
Originally Elaine wanted to be a chef, but instead decided to be a homemaker once she had kids. As Newsweek pointed out, she doesn't use social media, so it's hard to get much personal information about her. Not only that, but the 46-year-old comedian rarely speaks about his wife in interviews. 
According to a 2014 The New Yorker report, Chappelle joked in a set about how long he and Elaine had been married: "I've been married for twelve years. Imagine talking to the same person for twelve years. What do you have to say?" Elaine also once brought one of their sons to a stand-up show and later told him to ask Daddy what he was talking about, since there were crude jokes in the set. It certainly sounds like they know how to have fun with each other.
As their marriage continues, it's clear Dave and Elaine Chappelle have found what works for them as a couple and for their family as a whole. Maybe opposites do attract? They have to in this case, since the comedian shines in the spotlight and Elaine seems more than happy to stay out of it.