The Real Reason Post Malone Has So Many Face Tattoos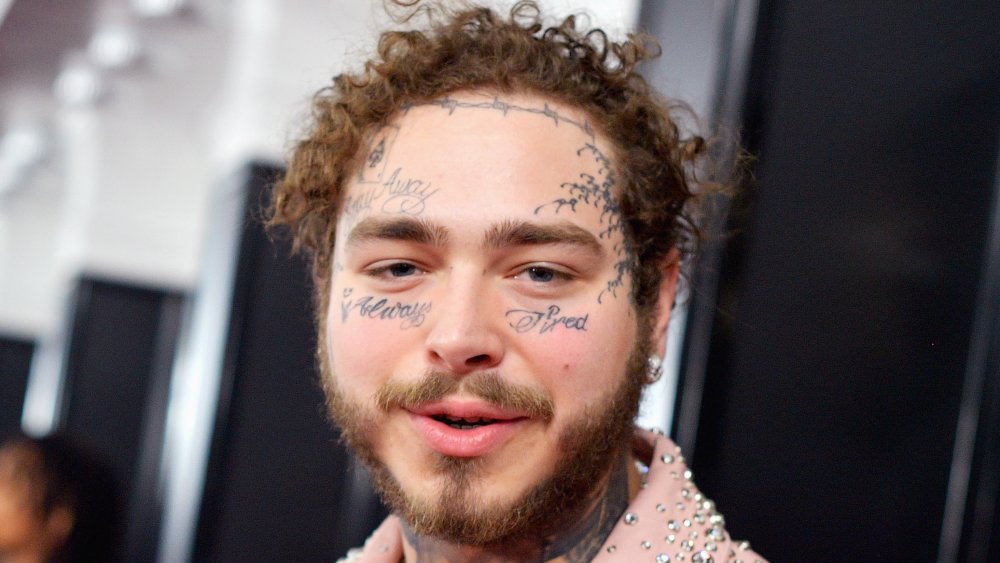 Matt Winkelmeyer/Getty Images
Post Malone (real name Austin Richard Post) has won the hearts of millions thanks to hits like "White Iverson," "Better Now" and "Wow." In addition to his versatility as an artist, what's really wow-ed us is his dedication to keeping it real with his fans. In September 2019, Malone opened up to Variety about his mental health struggles. "I'd say since the beginning of middle school, I always felt like I was always anxious and kind of sad all the time, but I kind of came out of it," he said. 
During a GQ interview in March 2020, Malone was asked whether or not he was seeking help for his mental health problems to which he replied: "I am, now—I'm trying." Malone continued, "It's difficult. Through my songs, I can talk about whatever I want. But sitting here, face-to-face, it's difficult." Malone's song "I Fall Apart" is just one example of a track that the rapper has poured his feelings into and offered some insight into painful situations in his life. 
While it's clear that Malone prefers to express his emotions through his art rather than talking them out, there's another mode of self-expression that he turns to in order to help him cope with difficult feelings. 
Post Malone's face tattoos help with his self-confidence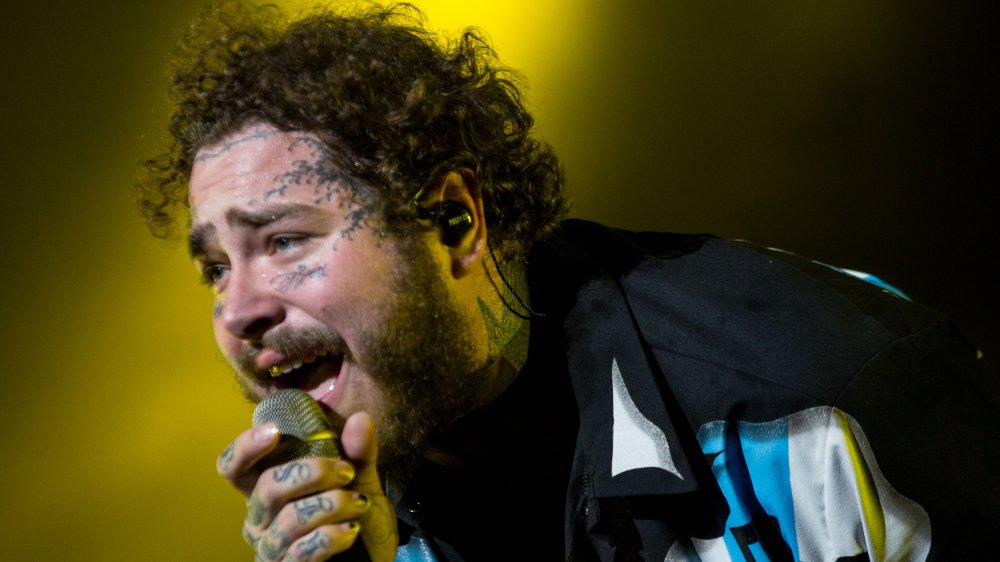 Santiago Bluguermann/Getty Images
In his March 2020 interview with GQ, Post Malone opened about why he thinks he has so many face tattoos. "I'm a ugly-ass motherfucker," he told GQ, saying that the tattoos could be a defensive strategy. "It does maybe come from a place of insecurity, to where I don't like how I look, so I'm going to put something cool on there so I can look at myself and say, 'You look cool, kid,' and have a modicum of self-confidence, when it comes to my appearance."
While some of Malone's face tattoos are there to help with his self-confidence, there are a few that he got just for fun. In January 2020, the rapper was spotted with new ink: a ball-and-chain flail, covering his right cheek.  Malone said it was thanks to his "obsessed" attitude toward "knights and medieval times and ancient Egypt and ancient Rome and s**t like that." 
In the interview, Malone also revealed that he has tattoos as tribute to fellow artists who died young. Discussing the more recent deaths of Lil Peep, Mac Miller and Juice WRLD, the rapper told GQ, "That could have been me." 
While fans aren't concerned about Malone's ever-growing collection of face tattoos, they are worried about the rapper. In light of his dark past, fans are hoping Malone will continue trying to get the help he needs. 

If you or someone you know is struggling with substance abuse and mental health, please contact SAMHSA's 24-hour National Helpline at 1-800-662-HELP (4357).