Where Does Johnny Galecki Live And How Big Is His House?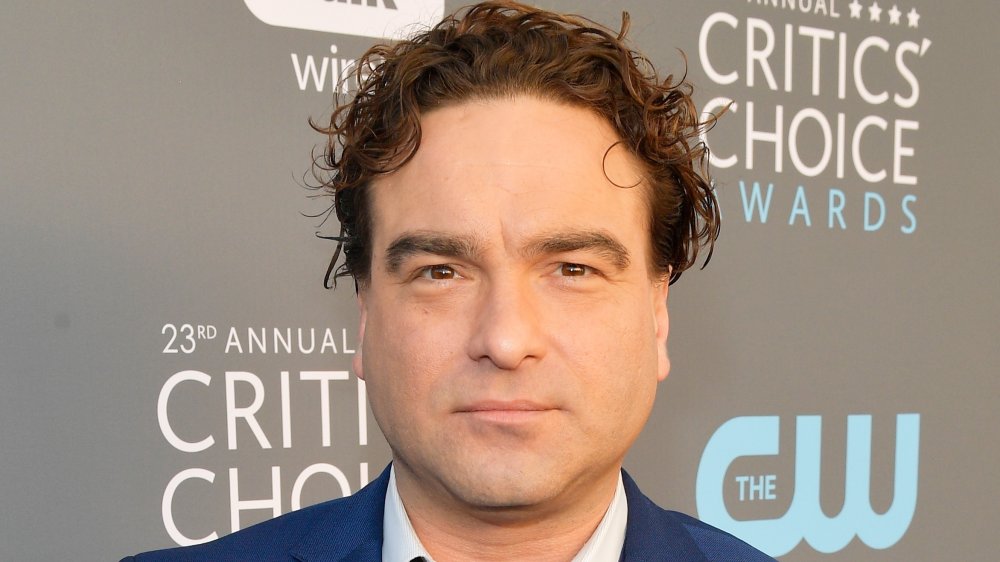 Matt Winkelmeyer/Getty Images
Johnny Galecki's life has changed quite a bit since he took his final bow on The Big Bang Theory, a show that skyrocketed him to fame and brought him a fortune. Not only is he working on exciting professional projects, but he's also welcomed a baby boy into the world. One thing that hasn't changed post-Big Bang, though, is the fact that when the star heads home after a busy day, he can return to a rather impressive residence.
Back in 2015, Galecki bought a home in the Hollywood Hills from The Fate of the Furious star Jason Statham and his wife, former Victoria's Secret model Rosie Huntington-Whiteley. Setting the former TBBT actor back $9.2 million, the house — which also once belonged to Ben Stiller — spans over 5,334-square-feet and features six bedrooms and six bathrooms. Along with the living room, dining room, and family room, the home also boasts "a gym, a breakfast area, a library, an office, and a den, as well as a landscaped swimming pool and outdoor dining patio," according to Architectural Digest. The Los Angeles Times adds that the 1929 Mediterranean house, which had been restored before Galecki picked it up, sits on a half-acre of land.
Impressed? Galecki probably was seeing as how his fabulous home is a step up from his former Hollywood Hills house, which, to be honest, was still absolutely amazing.
Johnny Galecki made a profit off of his former Hollywood Hills home
Johnny Galecki bought his current home in the Hollywood Hills after selling another residence on the west side of the same area for $2.501 million, which was "25% above his asking price of $1.995 million," according to The Los Angeles Times.
What did the new owner get for that price? The home that once belonged to actor Patrick Dempsey (Galecki paid the former Grey's Anatomy star $982,500 10 years prior), is a 1,700-square-foot, 1950's bungalow that boasts an "open-concept living space while a wall of glass doors brings natural light inside." With two bedrooms and two bathrooms, the master suite includes a walk-in closet with enough room for a star-worthy wardrobe and a soaking tub that offers the perfect way to unwind after a long day of filming. Guests will also find a living room with a cozy fireplace, a dining room, and a media room. As for the kitchen, a "vintage stove takes center stage in the otherwise modern" space.
Outside, an "angular wood deck" features a fire pit and "juts out beyond the swimming pool and spa where an opening in the greenery reveals city light views." The home and its amenities are located on more than a third of an acre of land that is surrounded by "hedges, bamboo, and mature palms."
While Galecki was able to bid a fond adieu to this home, he sold his next property under sad circumstances.
Johnny Galecki sold his Santa Margarita house after it burned in the wildfires
In 2011, Johnny Galecki bought a large property in Santa Margarita, Calif. for $1.2 million. Just six years later, the home that sat on the land burned down during the devastating wildfires that tore through the area. According to Variety, the actor sold his "longtime rural getaway" in 2019 for just $825,000.
If the new owner is inclined, they can attempt to rebuild the log cabin that once stood on the 160-acre property, which spanned almost 3,600-square-feet and included three bedrooms as well as three and a half bathrooms. While the "charred remnants" have been removed, not everything was destroyed by the blaze. Along with "[s]everal rustic outbuildings," an "elaborately designed infinity-edged swimming pool and spa with automatic cover" survived as did a "4,000-square-foot barn-style workshop" that offers a decently-sized two-bedroom and one-bathroom apartment. Beyond that, the property includes ponds, fruit trees, nut trees, and seven acres of vineyards ("five with Cabernet vines and two with Zinfindel"), which any wine-lover would surely appreciate.
While it was surely hard for Galecki to let such a lovely piece of land go, he can at least feel confident that whoever lives there now likely appreciates how special it is.