The Real Reason Amanda Bynes And Her Fiance Broke Up
Amanda Bynes certainly hasn't had the easiest past few years. Her troubles started back in 2012 when she made headlines for all the wrong reasons due to multiple arrests, which included an arrest for driving under the influence in West Hollywood. In 2013, the former child star showed up to court sporting an aqua wig after being arrested for throwing a marijuana bong out the window of her Manhattan apartment, per CBS News.
According to TMZ, just weeks after Bynes appeared in court, she was hospitalized under a 72-hour psychiatric hold after starting a fire in the driveway of a stranger in Thousand Oaks, Calif. Shortly after her hospitalization, Bynes' parents filed for conservatorship of their daughter. Bynes' mother was ultimately granted conservatorship in 2014. At the time of this writing, Bynes' conservatorship is set to last until August 2020.
Despite her complicated past, in recent years, the troubled star has seemingly been working to turn her life around. In 2019, Bynes graduated from the Fashion Institute of Design and Merchandising in Los Angeles and even joined Instagram. In February 2020, it seemed like Bynes had finally found happiness when she announced via Instagram that she was engaged, per E! News. However, the engagement was incredibly short-lived with Bynes and her fiancé calling things off just weeks after the initial announcement. So what happened?
Here's the real reason Amanda Bynes and her fiancé broke up.
Amanda Bynes' parents weren't on board with the engagement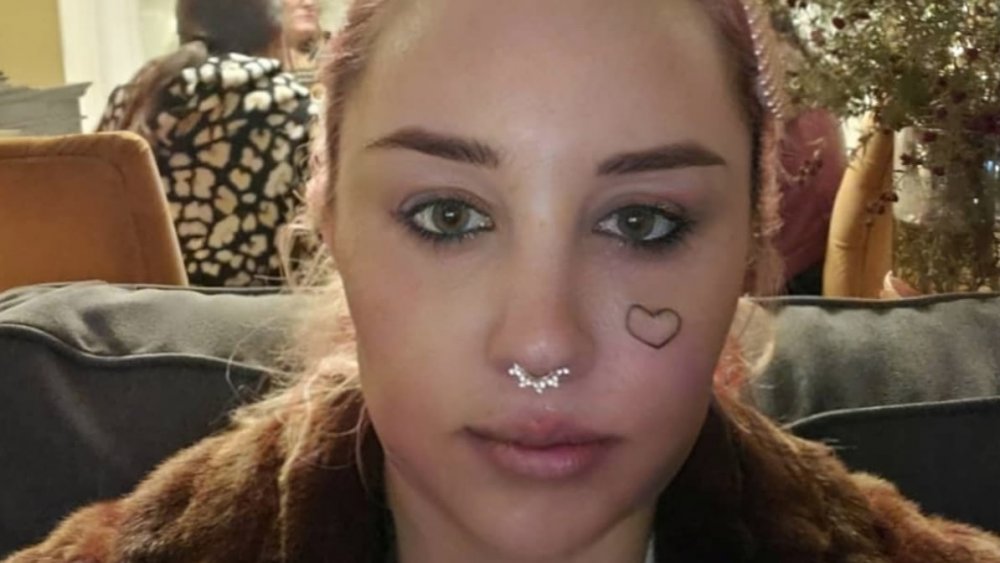 On Feb. 14, 2020 (aka Valentine's Day), Amanda Bynes took to Instagram to announce to the world that she had been struck by cupid's arrow. In a since-deleted post, Bynes wrote (via E! News), "Engaged to [the] love of my life," alongside a photo of an enormous sparkler on that finger.
When she initially posted the picture, fans had no clue who Bynes' mystery man could be. However, she didn't keep her followers guessing for long, returning to Instagram on Feb. 20, 2020 to share a video introducing her then-fiancé, Paul Michael. "Hey everyone, this is Paul, my fiancé," she said (via Entertainment Tonight). "I'm so lucky. As you can see, he's drop-dead gorgeous. And, he's also the best person on the face of the earth."
A source told Entertainment Tonight that Bynes and Michael met a few months ago while they were in the same sober living facility. The source also told the outlet that, at the time of the engagement announcement, Bynes' parents had yet to meet their daughter's fiancé, which might have played a part in the couple's split. In February 2020, an insider told E! News that it was "unlikely" the star would get her parent's permission to tie the knot with Michael saying, "Amanda's parents are fully aware of her engagement and at this point are not approving Amanda to legally get married under the conservatorship."
While neither Bynes nor Michael has publicly addressed the reason for their breakup, it seems like the lack of a parental blessing and the conservatorship might have put a strain on the couple's engagement.
It appears that there's no love lost between Amanda Bynes and her former fiancé
Amanda Bynes sparked rumors that she and ex-fiancé Paul Michael had split when, in a typical millennial breakup move, she removed every trace of Michael from her Instagram account. However, when Michael confirmed to In Touch that the two decided to call off their engagement, he had this to say about his former fiancée: "I love her though, she's my best friend."
Despite his kind words, it seems like Michael might have been the one to pull the plug on their relationship. A source told US Weekly: "Paul realized the relationship just couldn't go forward because of the obstacles of the conservatorship and Amanda must live at a sober living facility." The source also told the outlet that "Amanda is really upset about it and not taking it well at all." However, shortly after news broke about the couple's broken engagement, Bynes took to Instagram to post a selfie of the two together with the caption, "My love."
It's not super clear if Bynes was refuting news of the split or just putting on a brave face, but, regardless, it seems like there's no love lost between the couple. And who knows, maybe the two will give things another shot once Bynes' conservatorship is up in August 2020.