The Untold Truth Of Rudy Gobert
Christian Petersen/Getty Images
Amid growing concerns about the coronavirus, on March 11, 2020, news broke that the NBA was suspending its season indefinitely. "The NBA will use this hiatus to determine next steps for moving forward in regard to the coronavirus pandemic," the league said in a statement (via ESPN). The announcement came after Utah Jazz player Rudy Gobert tested positive for the virus.
According to the NBA's statement, Gobert's test results came back just before the tip-off of the March 11 game between the Utah Jazz and the Oklahoma City Thunder. Shortly after it was revealed that Gobert had tested positive for the coronavirus, the Utah Jazz released a statement confirming that a second player — who we now know is Donovan Mitchell — also tested positive for the virus. Just days before his diagnosis was made public, it was reported that Gobert "had been careless in the locker room touching other players and their belongings," per ESPN's Adrian Wojnarowski.
Prior to testing positive for the virus, Gobert wasn't exactly a household name. However, in light of his diagnosis, Gobert has been making headlines across the country. Here's the untold truth of Rudy Gobert.
Rudy Gobert is a pretty big deal in the NBA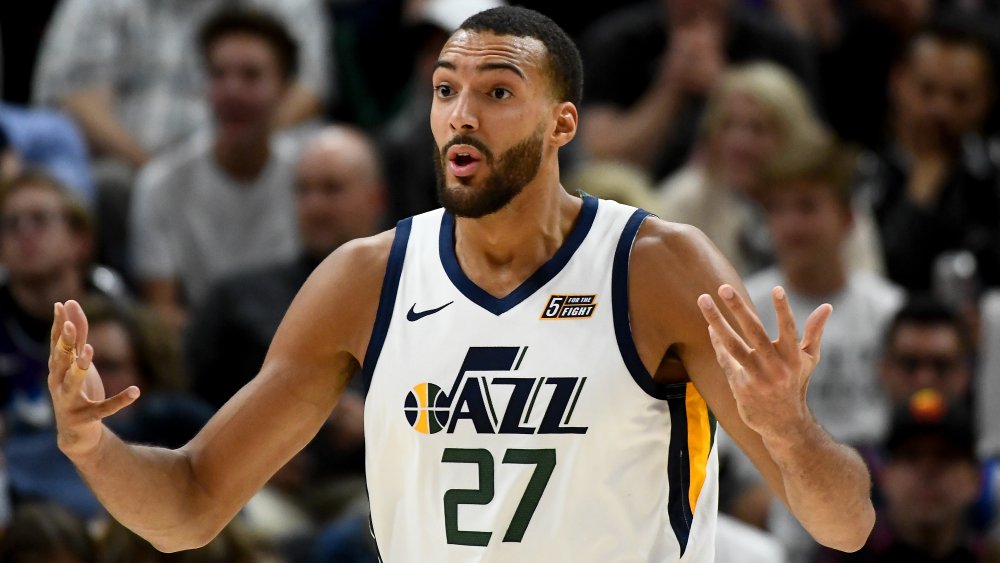 Alex Goodlett/Getty Images
While Rudy Gobert made headlines when he became the first known NBA player to test positive for the coronavirus — triggering the NBA's suspended season — he's actually been making waves in the NBA for years.
Gobert was born and raised in Saint-Quentin, Aisne, which is in the north of France. Before coming to the United States, Gobert honed his basketball skills in France. From 2009 until 2013, he played for the Cholet Basket junior team, a professional basketball club based in Cholet, France. In 2013, Gobert decided to take his talents abroad and declared for the NBA draft. On June 27, 2013, Gobert was initially selected by the Denver Nuggets as the 27th overall pick. However, on draft night, he was traded to the Utah Jazz. After just three years with the team, the NBA player signed a "four-year contract extension worth $102 million," per ESPN.
Even though Gobert is making a pretty penny as a center for the Jazz, for him, it's not all about the money. Throughout his career, the 27-year-old has explained how important it is to make his parents proud. Gobert told The Undefeated, that his career "means everything" to his father, who was a basketball player with dreams of making it to the NBA. "I can see how proud he is to watch me on television. When I talk about it with him, I feel like I am living his dream. I'm carrying his dream that he wasn't able to fulfill."
However, due to his coronavirus diagnosis, Gobert's NBA career has been put on hold.
Rudy Gobert joked about coronavirus before his diagnosis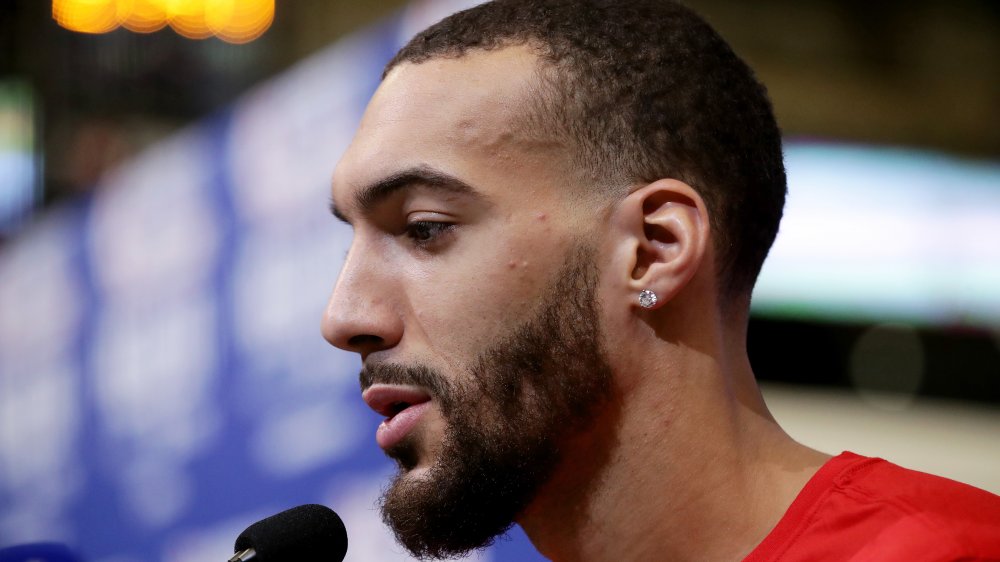 Jonathan Daniel/Getty Images
Mere days before Rudy Gobert tested positive for the coronavirus, the NBA player was caught on video making light of the pandemic. Following a pregame interview on March 9, 2020, Gobert "made a point to touch reporters' microphones and recorders in an exaggerated manner," per People. Many took it as a jab at the rules the league was implementing in order to prevent the spread of the virus.
In light of his diagnosis, Gobert has taken to social media to apologize for his "prank." I have gone through so many emotions since learning of my diagnosis...mostly fear, anxiety, and embarrassment," Gobert wrote on Instagram. "The first and most important thing is I would like to publicly apologize to the people that I may have endangered. At the time, I had no idea I was even infected. I was careless and make no excuse."
He added, "I hope my story serves as a warning and causes everyone to take this seriously. I will do whatever I can to support using my experience as [a] way to educate others and prevent the spread of this virus ." Gobert also noted that he expects a full recovery. In addition to his public apology, Gobert is also "donating more than $500,000 to support both the employee relief fund at Vivint Smart Home Arena and COVID-related social services," per the NBA's website.
Despite his attempt to make amends, Gobert isn't completely in the clear. ESPN's Adam Wojnarowski reported, "There is a lot of work to do to repair relationships ... there's a lot of frustration with Gobert."