Kardashian, Harris Pose For Photo Together, Reignite Feud With Swift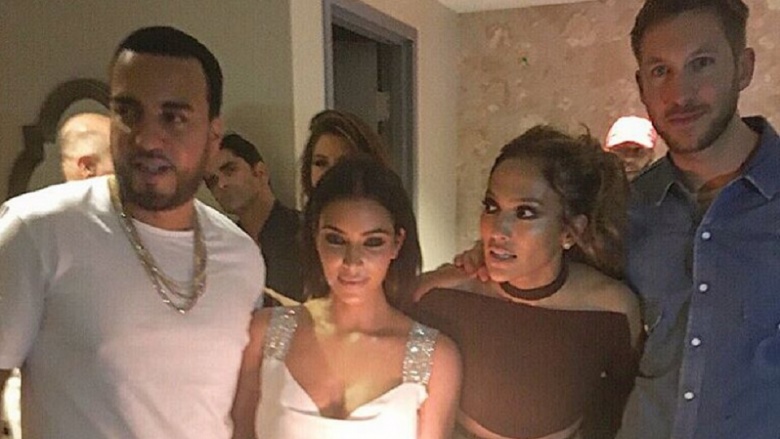 Well, it was only a matter of time. Reality powerhouse Kim Kardashian and Scottish DJ Calvin Harris sent a very strong message to songstress Taylor Swift when they posed together for a photo taken at Jennifer Lopez's 47th birthday party in Las Vegas on July 23, 2016.
The photo was posted to rapper French Montana's Instagram account the next day (via Billboard). Although Kardashian and Harris did not stand directly next to each other—J-Lo was between them—the mere fact that they posed for the same photo suggests their respective feuds with Swift aren't going to die down anytime soon.
Allow us to recap: Harris has been battling his ex ever since she started dating actor Tom Hiddleston less than a month after they broke up. Their standing took a turn for the worse two weeks ago when it was revealed that Swift secretly wrote Harris' hit collaboration with Rihanna, "This Is What You Came For." Amid the reports, Harris took to Twitter to vent his frustrations over what he felt was an unnecessary media attack.
He said Swift had initially requested to remain anonymous on the song's credits. "I figure if you're happy in your new relationship you should focus on that instead of trying to tear your ex bf down for something to do" he tweeted. He twisted the Twitter knife by bringing up Swift's longstanding feud with Katy Perry. "I know you're off tour and you need someone new to try and bury like Katy ETC but I'm not that guy, sorry. I won't allow it."
Meanwhile, Kardashian has been feuding with Swift for months over her husband Kanye West's song, "Famous." When the track was released in February 2016, West drew a heap of criticism for the lyric, "I feel like me and Taylor might still have sex / I made that b**** famous." West countered that he allegedly got the lyrics approved by Swift during an hour-long phone call before its release. Swift's camp responded by claiming that no, Swift would never approve a song with such a misogynistic message. Swift followed up by seemingly trashing West while accepting the Grammy for album of the year a few days later.
Kardashian reignited the feud in June 2016 when she told GQ magazine that Swift was totally in the loop on the song. About a month later, she posted a series of videos to her Snapchat of the infamous phone call between West and Swift. In that recorded conversation, Swift seemed to give the song her official thumbs up. Swift later called the video release "character assassination" and said none of the clips showed them talking about the lyric she took issue with, "that b****."
Swift has yet to react to Montana's party picture. To prevent this feud from turning into a Tolstoy novel, we hope she lays low on this one.