Da Brat: 8 Fresh Facts About The Iconic Rapper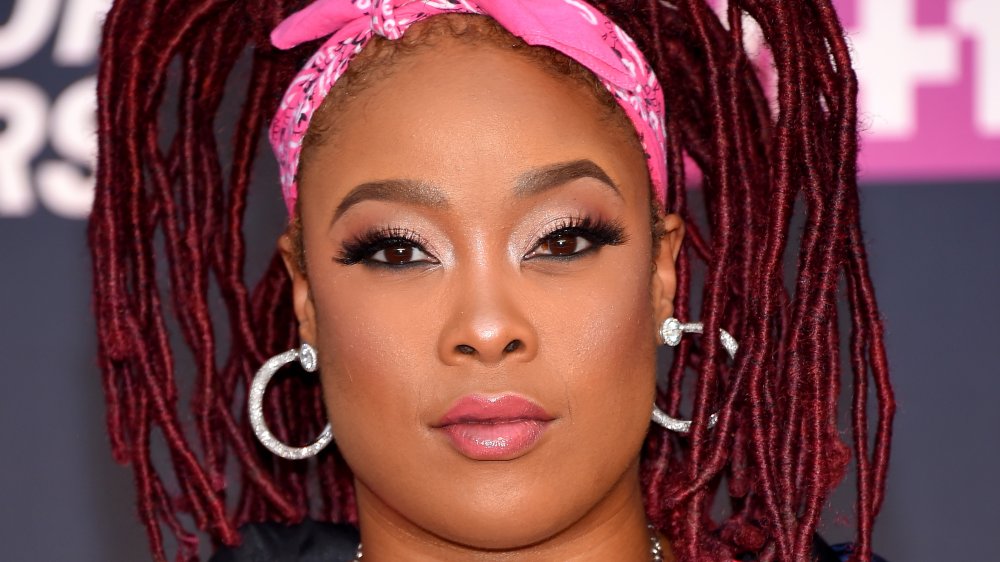 Michael Loccisano/Getty Images
When Da Brat released her debut, "Funkdafied," in 1994, she changed music forever. Thanks to the immense success of her first album, she became the very first female rapper to go platinum. The veteran musician has remained relatively quiet in recent years, but she made headlines in March 2020, when she emotionally professed her love for (and confirmed her relationship with) Jesseca Dupart, CEO of Kaleidoscope Hair Products.
Da Brat made their relationship Instagram official when she shared a video sitting in a brand new Bentley apparently given to her by Dupart as an early 46th birthday present. The clip captures the rapper in a very raw and real moment, crying tears of joy as Dupart kisses her off-camera. The haircare mogul, who is tagged in the gram, commemorated the relationship on her own Insta account with a photo featuring two white Bentleys and the caption "HERS n HERS."
Da Brat going public with her romance is the latest development in what seems like a renaissance for the Grammy Award-winning artist. Younger fans may better know her through reality shows such as MTV's "Growing Up Hip-Hop" or VH1's "Celebrity Fit Club," but there's a lot more to this game-changing rapper. Here's the untold truth of Da Brat.
Da Brat broke barriers in the music biz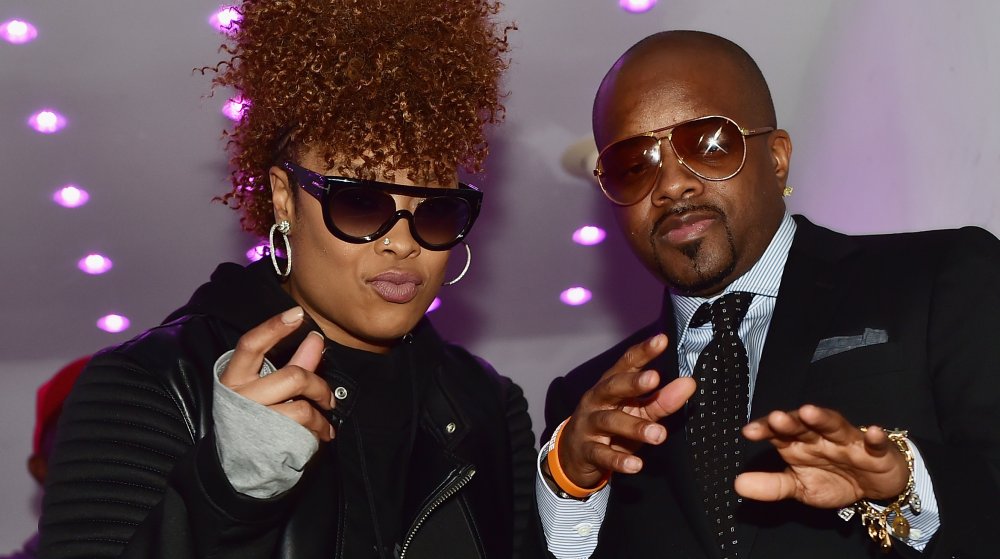 Moses Robinson/Getty Images
Da Brat (birth name Shawntae Harris) was born on April 17, 1974, and grew up singing gospel on Chicago's West Side. "I was involved with the church choir and played seven different instruments," she told Gapers Block. "There are lots of things people don't know about me; they think I'm just some ill-mannered, potty-mouthed rapper." After graduating from high school in 1992, Da Brat found success in the area's rap scene and gained recognition for winning a contest sponsored by "Yo! MTV Raps." 
One thing led to another, and Da Brat was introduced to Jermaine Dupri, who signed the burgeoning star to his So So Def label. As she once told The Atlanta Journal-Constitution (via Showbiz CheatSheet), her stage name was derived from her background as a "spoiled only child." In a 2013 interview with Complex, Dupri admitted that he was initially hesitant to give Da Brat a chance. "She was introduced to me by Kriss Kross. They saw her while they were on tour, and they came to me and said, 'We got this female rapper you should check out.' And when they did it, I didn't want no female rapper," he recalled. 
But Dupri did check her out, and she proved him — and a lot of other folks wrong — when her G-funk swagger dominated the charts and made music history. 
Da Brat seemed untouchable at the height of her fame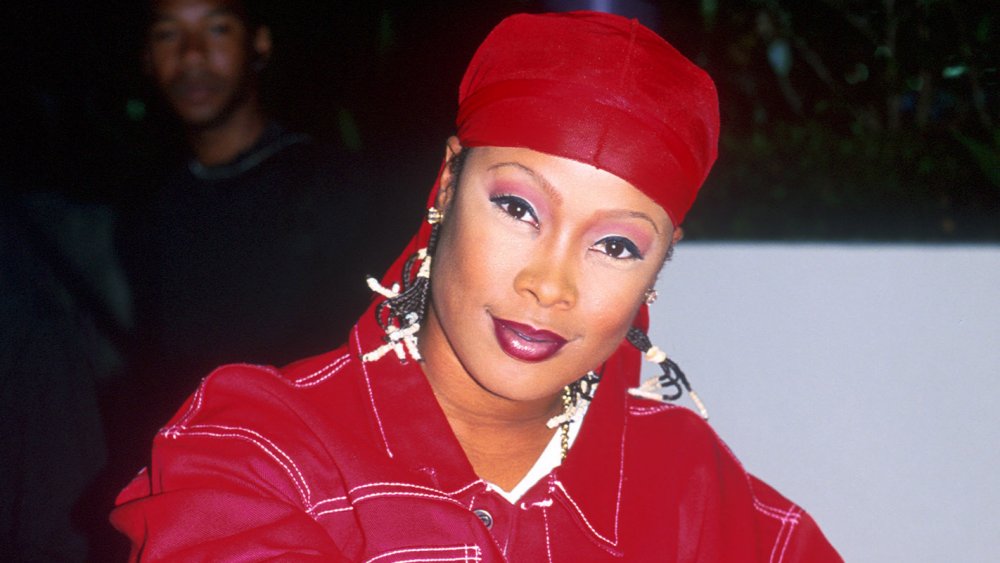 Chris Weeks/Getty Images
Da Brat's popularity soared in the '90s and early aughts. In addition to 1994's "Funkdafied," her third album, "Unrestricted," was also certified platinum in 2001, and her signature style was often the cherry on top of other artists' tracks. She rapped on the remix of Mariah Carey's "Always Be My Baby" and on Mimi's iconic breakup bop "Heartbreaker." Da Brat graced Missy Elliott's "Sock It 2 Me" and T-Boz's single "Ghetto Love." She also branched out into acting — well, sort of — appearing as herself in Shaquille O'Neal's genie kid flick "Kazaam."
In a 2000 interview with Rolling Stone, Da Brat was riding high with a modeling contract, TV and movie offers, and — wait for it — a seemingly never-ending stream of pages from a pager. "I'm having a ball. I love performing, rapping; I love people recognizing my talent. My dream came true, and now I'm trying to take it further," she said at the time.
The future seemed to hold only more promises of success to come for Da Brat, but life took a dark and violent turn.
Da Brat nearly knocked out her career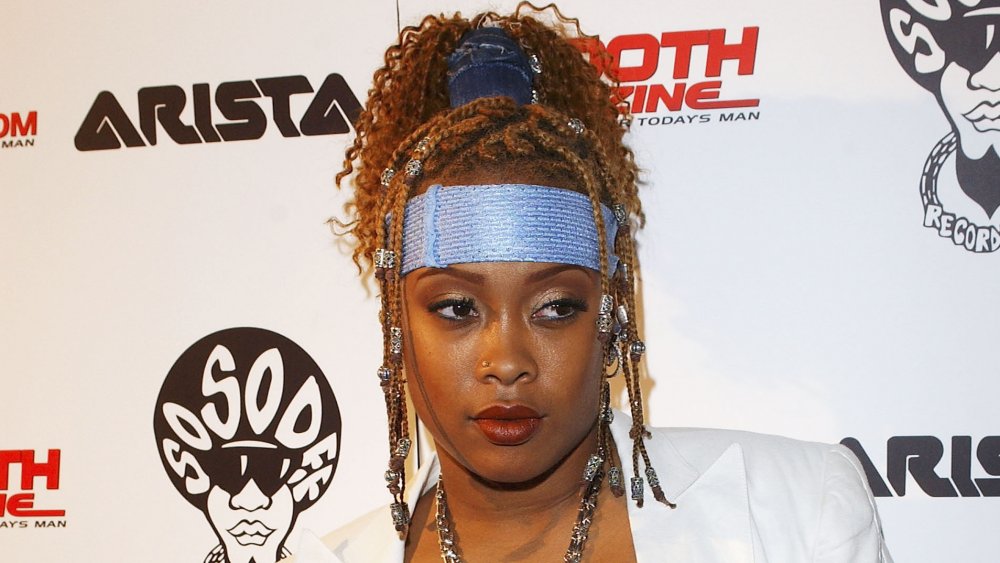 Amanda Edwards/Getty Images
All that success nearly came crashing down when Da Brat landed in serious legal trouble. In 2007, she pleaded guilty to felony charges after she hit a woman with a bottle at an Atlanta nightclub owned by music producer Jermaine Dupri. According to MTV News, Da Brat got three years behind bars. According to The Atlanta Journal-Constitution, a judge ruled in 2014 that she owed the woman over $6 million in damages.  
And that wasn't the first time Da Brat landed in hot legal water. As MTV News noted, she pleaded guilty to misdemeanor reckless conduct after she was charged with hitting a woman involving a gun in 2000. The rapper did not go to jail, but she was ordered to pay a fine, do community service, and complete probation. 
Da Brat has managed to stay out of trouble with the law in recent years — a trend we hope she'll continue — and she's worked her way back into the spotlight via reunion shows and, of course, reality TV, including appearances on "The Surreal Life," "The Rap Game," and "Growing Up Hip Hop: Atlanta." 
Rumors about Da Brat's love life have followed her for years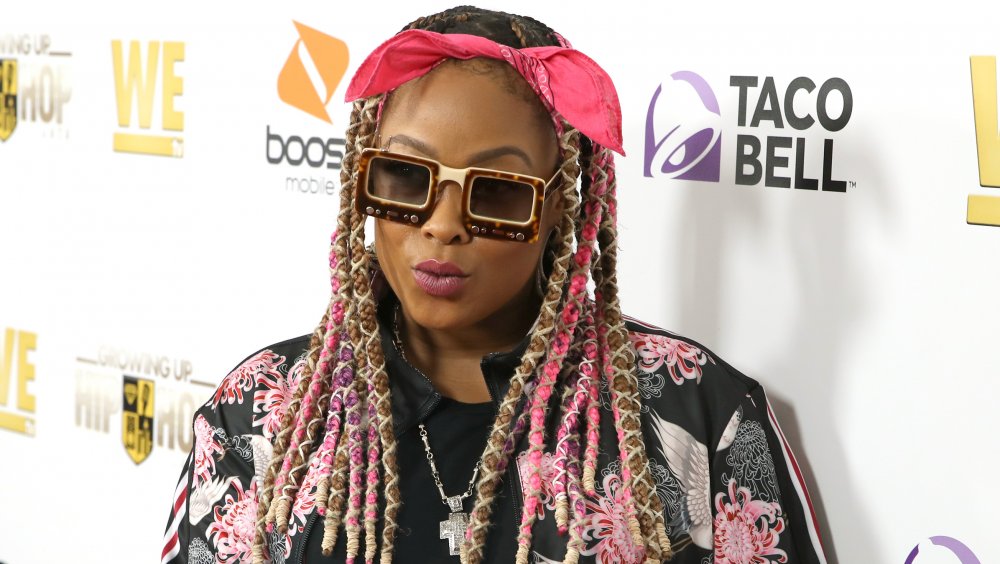 Randy Shropshire/Getty Images
Unsubstantiated rumors about Da Brat's sexuality have circulated throughout her career. Most notably, the hip-hop star was supposedly linked to Bay Area rapper Kreayshawn in 2011, a claim which both performers quickly shut down. 
On her now-defunct Twitter account, Da Brat vehemently denied having any relationship with the "Gucci Gucci" star, claiming they'd never even met in person. "Yooo! I jus got word dat I'm spose to be an item w Kreayshawn???? We haven't even talked or had a convo yet??" Da Brat tweeted at the time. She asserted that any rumored romance was just a testament to both artists being "da s**t!" Kreayshawn concurred. "I like that rumor, but it wasn't true," she said.
Now that Da Brat is out of the closet with beauty mogul Jesseca Dupart, is it possible that we'll hear more about her past love life? Possible ... but not likely.
Da Brat found her 'heart's match' in Jesseca Dupart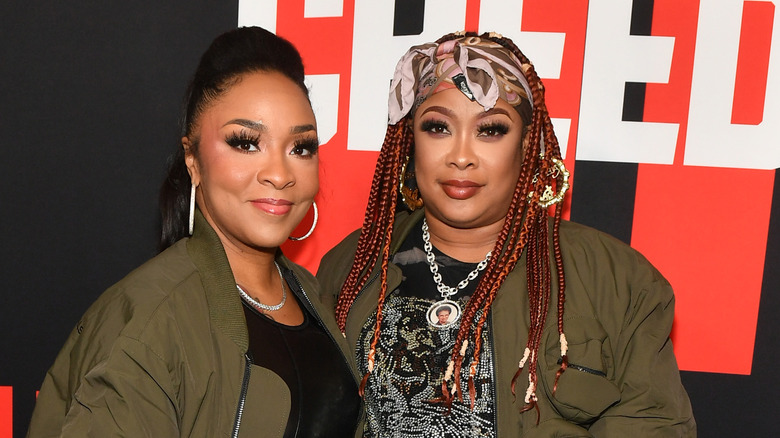 Paras Griffin/Getty Images
The lack of information on any of Da Brat's prior romantic relationships can best be summed up by the rapper herself. "I've always been a kind of private person until I met my heart's match," she stated in a headline-making Instagram post that went up on March 26, 2020. In the video clip, Da Brat breaks down into tears as over her birthday gift from Jesseca Dupart — a white Bentley with a big red bow on the hood. "I have never experienced this feeling," Da Brat said. "It's so overwhelming that often I find myself in a daze hoping to never get pinched to see if it's real so I can live in this dream forever." 
According to Forbes, Dupart used the power of social media to grow a business that includes Kaleidoscope Hair Products, philanthropy, and more. As she told the outlet, "I risk it all when the ideas come to me because I believe in what I am trying to create ... When you trust in your ability and vision, you are not as scared to take chances."
It looks like Dupart has taught Da Brat to take chances to and invest in the idea of a happily ever after. It's nice to be reminded that love can still thrive under any circumstances.
Da Brat has a famous half-sister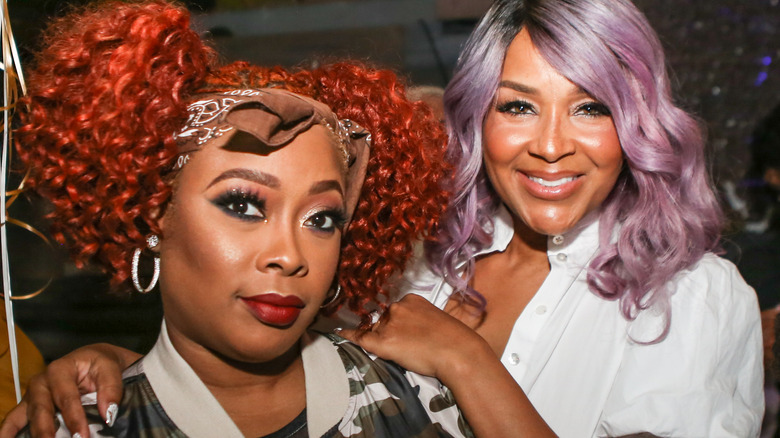 Thaddaeus Mcadams/Getty Images
Da Brat is certainly a household name, and her half-sister is also kind of a big deal. Not only is LisaRaye McCoy an accomplished actor, she is also the former First Lady of Turks and Caicos. In 2006, McCoy married Prime Minister of Turks and Caicos, Michael Misick. The couple had a gorgeous wedding, but the union itself was not built to last. Amid allegations of Misick's infidelity, and after having filed domestic violence charges against each other, the couple split in 2008. "I have put myself out there as an independent Black woman, a single mom, a go-getter, a hustler who isn't afraid to survive," McCoy told Essence. "If you get with a man who goes against who you are or what you believe in, people who know you begin to say, 'Hey, that's not the LisaRaye I know.'
And Da Brat's sis was not going to be kept down for long. She had a solid acting career before her stint as first lady, and her career has continued to thrive. She recently starred in the series "The Family Business," as well as the Daytime Emmy-nominated show "A House Divided."As for her relationship with Da Brat, the sisters have had their fair share of ups and downs, but we hope they can stay close moving forward.
Da Brat married Jesseca Dupart in 2022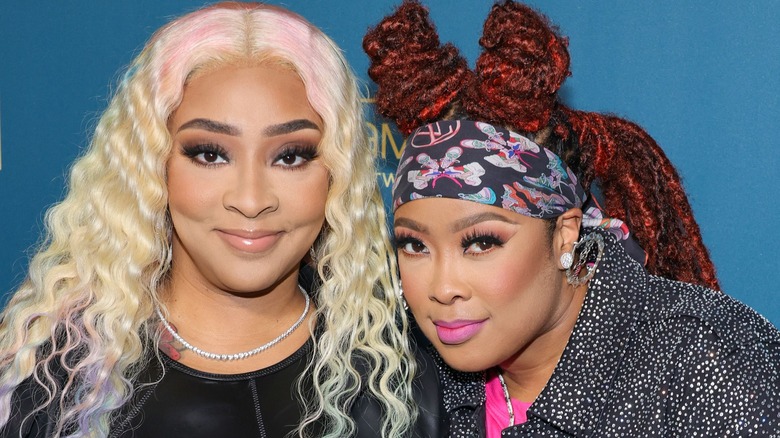 Theo Wargo/Getty Images
In February of 2022, Da Brat tied the knot with her love, Jesseca "Judy" Dupart. The beautiful ceremony was held in Fairburn, Georgia, and while the guest list was small, it was star-studded. In attendance were "Real Housewives" stars Eva Marcille, Kandi Burruss, and Porsha Williams. Jermaine Dupri served as a groomsman, and comedian and radio host Rickey Smiley danced the father-daughter dance with his longtime pal Da Brat.
The date of the ceremony was special for the happy couple as well. "We've been calling each other twin flames for a while. So this date, 2/22/22, is a significant event. We just didn't want to miss it because it comes once in a lifetime," Dupart shared with People. "It signifies angel numbers, and it also is reminiscent of twin flames." And it's clear these two soulmates were meant for each other. Da Brat was over the moon discussing her love for Dupart, telling People, "I met somebody that made me want to be so out loud and tell everybody and scream it from the mountaintops ... It was like a weight lifted. I promise you, she was sent to me by God."
Da Brat opened up about being pregnant at 48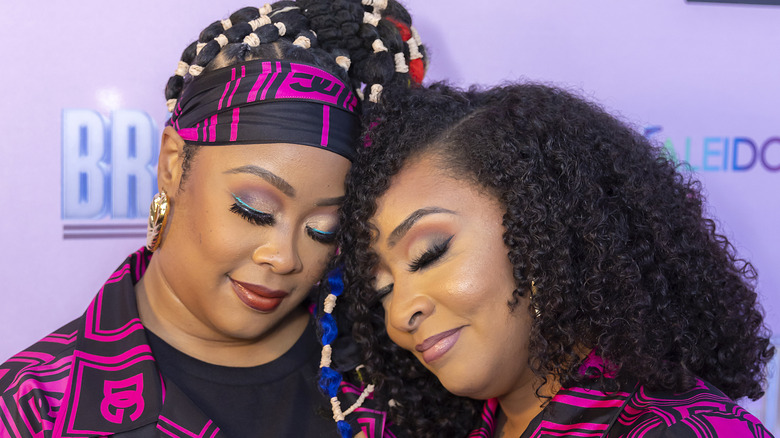 Terence Rushin/Getty Images
In February 2023, Da Brat revealed her pregnancy at the age of 48. While Da Brat's wife, Jesseca Dupart, has three older children, this is the rapper's first time being pregnant. "I never thought I was going to have kids," she told People. "I just thought it wasn't in the cards for me. I've had a great career, a full life. I felt like, because I didn't get pregnant earlier on, then it just wasn't going to happen for me."
And the road to motherhood has not been easy for the couple. Both women suffered from health issues following the egg retrieval and embryo transfer procedures. Da Brat then experienced a devastating miscarriage that changed her outlook. "I had never been so excited about something that I didn't even know I wanted," she said. "I fell in love with the idea and then it was all snatched away from me." The couple did not give up, and Da Brat made her announcement well into her second trimester. She said that while she's sleepy and emotional, she's not experiencing any unpleasant pregnancy symptoms. "It's just a blessing. I'm excited!" Da Brat told People.
Da Brat and Dupart have other collaborations to share with the world as well. The couple co-created a line of hair care products, Da Brat X Kaleidoscope, and Season 3 of their reality show "Brat Loves Judy," premieres in April 2023 on the WE network. We will be watching to see what this power couple does next.