This Is What Meghan Markle Really Thinks Of Donald Trump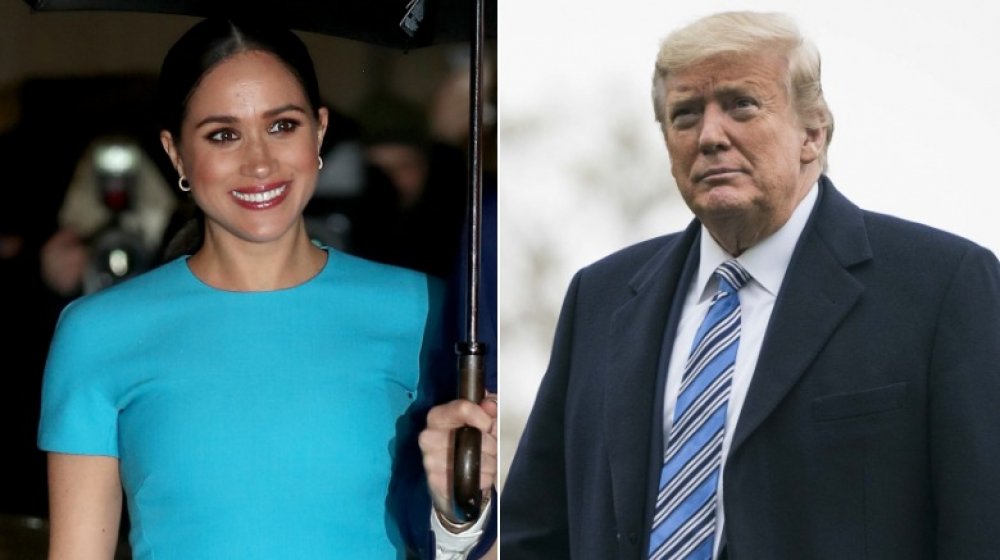 Chris Jackson, Sarah Silbiger/Getty Images
Meghan Markle hasn't been too shy when it comes to revealing her true thoughts on President Donald Trump. The wife of Prince Harry isn't a huge fan of the United States president, and she's been vocal about her opinion since before he was even elected and before she officially became a royal.
Markle first talked about her feelings about Trump in an interview on The Nightly Show With Larry Wilmore in May 2016, according to Vanity Fair. When asked about the election, the former actress said during the segment, "It's really the moment I go, 'We film Suits in Toronto and I might just stay in Canada.'"
"Yes, of course, Trump is divisive," Markle continued. "Think about just female voters alone, right? I mean, like I think it was in 2012 the Republican Party lost the female vote by 12 points — that's a huge number, and with as misogynistic as Trump is, and so vocal about it, that's a huge chunk of it."
The duchess didn't stop there. She went on to explain that people don't just support Hillary Clinton in the 2016 election because she's a woman, but because, as she put it, "Trump has made it easy to see that you don't really want that kind of world that he's painting."
Here's what President Trump really thinks of Meghan Markle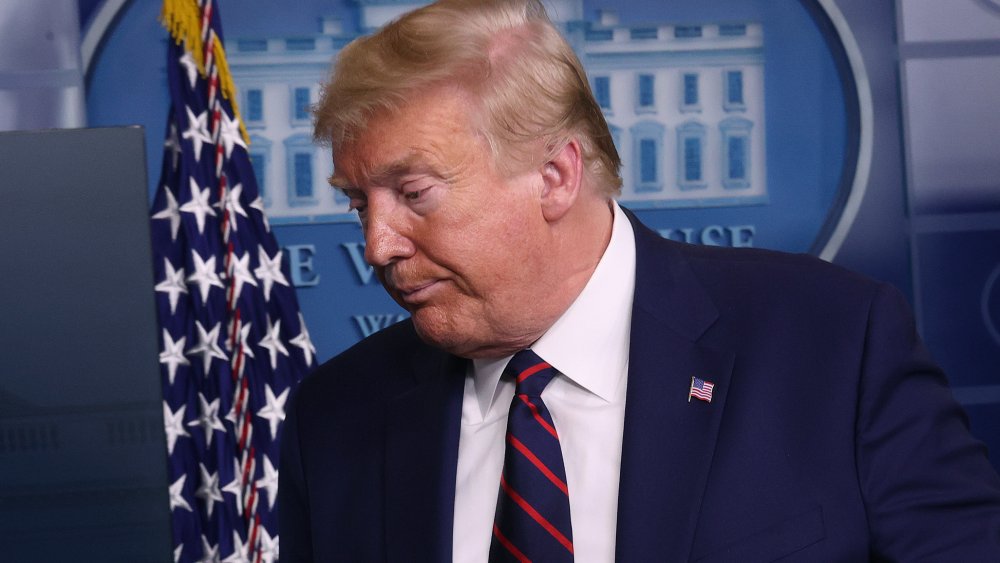 Win Mcnamee/Getty Images
After Meghan Markle went on The Nightly Show With Larry Wilmore and talked about President Donald Trump being "misogynistic" (per Vanity Fair), Trump gave a response a few years later. A reporter from The Sun asked the president if he'd heard what Markle said about him and Trump responded in June 2019, "I didn't know that. What can I say? I didn't know that she was nasty."
According to People, in a sit-down interview with Piers Morgan during a visit to the U.K. soon after, Trump was asked about his "nasty comments." He claimed the remarks were taken out of context and tried to clarify things. "She was nasty to me, and that's okay for her to be nasty," he said to Morgan. "It's not good for me to be nasty to her and I wasn't."
Markle was pregnant during Trump's official visit to the royal family that same month, so the two didn't meet face to face, according to People. He did, however, spend some time with Prince Harry, although they weren't photographed together. Trump told Morgan of Harry, "I think he's a terrific guy. The royal family is really nice."
As for Markle, President Trump said at the time, "She's doing a good job, I hope she enjoys her life... I think she's very nice." Well, that's a change of tune, huh?
The latest in the Meghan Markle and President Trump rift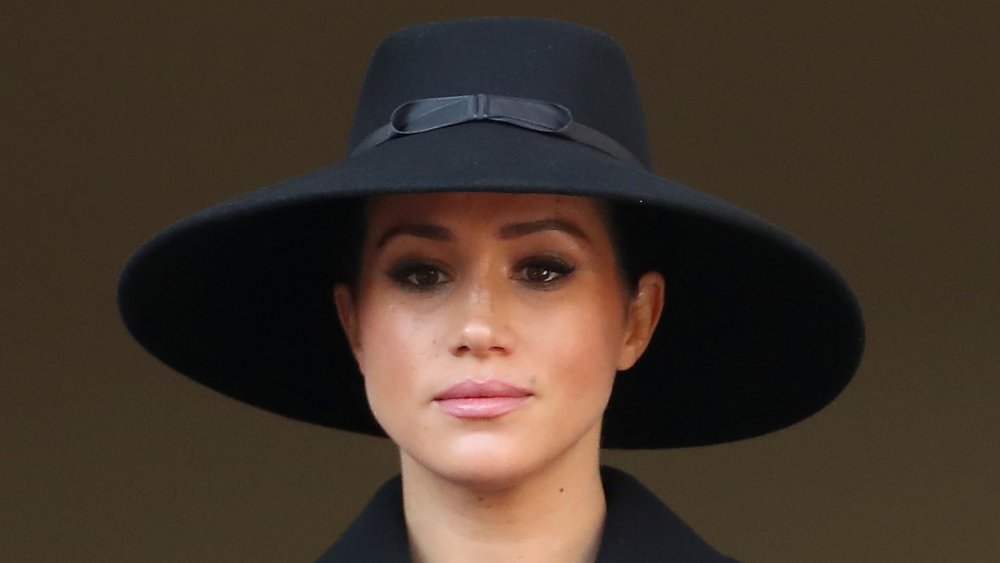 Chris Jackson/Getty Images
Meghan Markle and Prince Harry made the big move from Vancouver Island in Canada to Los Angeles at the end of March 2020 (per People). As soon as President Trump heard the news, he announced that the United States would not be footing the $1 million per year bill for their security.
"I am a great friend and admirer of the Queen & the United Kingdom," Trump tweeted. "It was reported that Harry and Meghan, who left the Kingdom, would reside permanently in Canada. Now they have left Canada for the U.S. however, the U.S. will not pay for their security protection. They must pay!"
Through their spokesperson, Markle and Harry responded immediately, explaining that they never expected or asked the U.S. to pay for their security. "Privately funded security arrangements have been made," their rep shared.
The couple is currently residing at a compound in LA, but they're not going out in public due to COVID-19. According to People, they plan to stay in the area for the foreseeable future. "Harry is looking straight ahead at his future with his family," a source told the magazine. "They will be spending time in California... He's not looking back." Not only have they left Canada, but Markle and Harry left their Instagram page behind as well.