Celebrities Who Had Affairs That Ruined Their Careers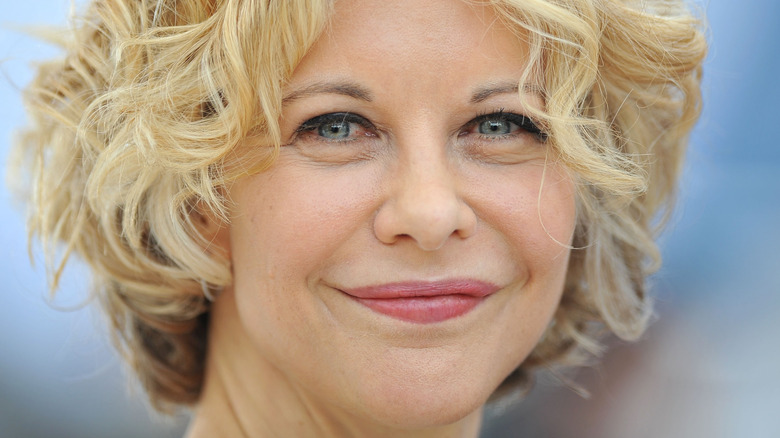 Pascal Le Segretain/Getty Images
The following article includes brief references to excessive drug use and domestic abuse allegations.
The aftermath of adultery isn't pretty for anyone involved, but when it's a celebrity affair, things can get especially messy. From Oscar winners to reality stars, and singers to sports icons, these celebs have dealt with more than just public disdain for their bad bedroom behavior — it's also taken a toll on their careers. Sure, there are certain famous folks who got their affairs out of their systems prior to making it big. John Legend, for example, admitted that his history of infidelity went back to his pre-fame 20s on the "Armchair Expert" podcast in 2020. "I escaped 'technically cheating' by keeping my relationship ill-defined. But it was really cheating," the singer-songwriter, who would eventually change his ways and settle down with Chrissy Teigen, said. "I definitely was dishonest and selfish."
Some of the following celebs, however, engaged in infidelity after becoming famous and have faced the music by addressing their subsequent bad press head-on — owning up to the circumstances of the past. But others have pushed back, eventually claiming that enough is enough. Meg Ryan, for instance, went this route, eventually spilling the tea on her own relationship, but more on that in a bit. 
While the careers of some of these scandalous stars — here's lookin' at you, Tiger Woods — are showing signs of new life, others (cough cough: Jesse James) are going nowhere fast. Let's take a closer look at some celebs who were entangled in affairs that ruined their careers. 
Billy Crudup's cheating scandal paused his career for decades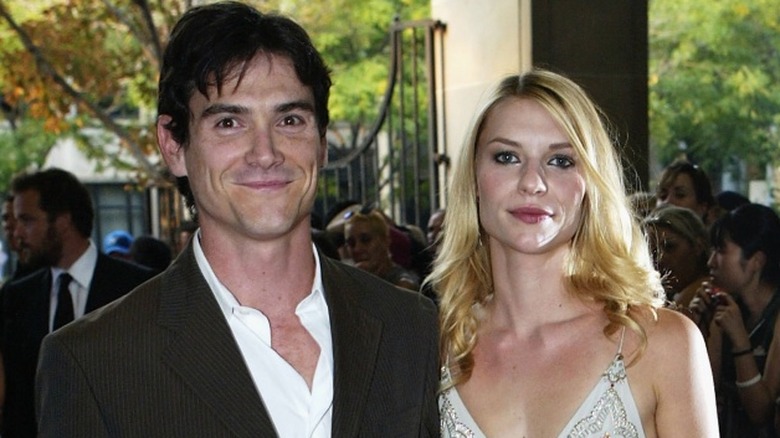 Donald Weber/Getty Images
Billy Crudup put the "crud" in his own name when he notoriously ditched his then-seven-months-pregnant girlfriend of eight years, fellow actor Mary-Louise Parker, to have an affair with his "Stage Beauty" co-star, Claire Danes, in 2003. Before the bad publicity, Crudup had earned Hollywood headliner status in films such as "Without Limits," "Almost Famous," and "Big Fish." He was fast establishing himself as a true talent on his way to the top, but the aftermath of his highly publicized betrayal impacted his reputation and star power. 
More than a decade later, Danes reflected on the avalanche of bad press that accompanied their romance. "That was really hard," she told Howard Stern (via Us Weekly). "I was just in love with him. And needed to explore that and I was 24. ... I didn't quite know what those consequences would be." Her career rebounded, and today she's well known for the long-running series "Homeland," but Crudup's superstar status fizzled. He still gets plenty of work, but he's often a supporting or ensemble actor rather than a leading man.
On the upside: Crudup reportedly has a great relationship with his son, William Parker, and he thinks his best years in Hollywood are yet to come. "I feel like my fifties are when I'm going to really shine," he told Mr. Porter in 2017.
Rupert Sanders' affair cost him his career and his marriage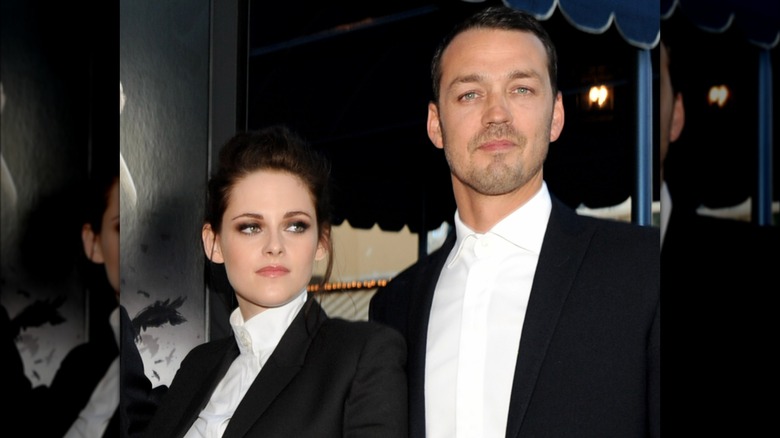 Kevin Winter/Getty Images
When this British director was chosen to helm Universal Pictures' fairy tale live-action vehicle "Snow White and the Huntsman" for his feature film debut, it seemed like the start of a promising career for Rupert Sanders, but just a few weeks after the 2012 film's lackluster theatrical debut, he and "Huntsman" star Kristen Stewart were captured in a compromising position together. Both issued public apologies for the affair — Stewart had cheated on her "Twilight" co-star, Robert Pattinson, and Sanders was unfaithful to his wife of 10 years, Liberty Ross, with whom he has two kids.
KStew fizzled, Ross and Sanders divorced, and nothing substantial transpired between Stewart and her boss, who were both absent from the film's sequel. While Stewart's career has continued to progress following the scandal, it took Sanders years to secure a second feature directorial gig with 2017's "Ghost in the Shell," which was crushed by critics. At the time, he was still imploring the public to forgive and forget. 
"Everyone makes mistakes. I am bound to make more mistakes, and I wouldn't expect my life to be exciting if I didn't," Sanders told Vanity Fair, adding, "If you took people off the table for a momentary lapse, there would be no one making art."
Jude Law was the originator of the nanny affair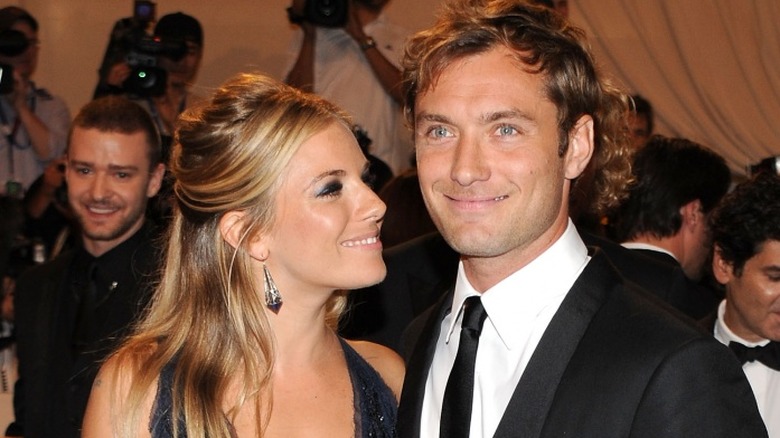 Larry Busacca/Getty Images
Jude Law's dalliances with his children's nanny became a true celebrity spectacle. The actor's paramour went public with the alleged details of their romantic episodes in 2005, and so he eventually issued a public apology to his then-fiancée, Sienna Miller, for the affair. "I just want to say I am deeply ashamed and upset that I've hurt Sienna and the people most close to us," he declared (via People), adding, "There is no defense for my actions which I sincerely regret."
While it wasn't the first time he'd been accused of stepping out, the high-profile nature of his relationship with fellow actor Miller made Law's cuckolding that much more damaging to his career. Before his transgression, Law enjoyed A-list status with leading roles in "The Talented Mr. Ripley," "Cold Mountain," and "Closer," but after the affair, it took years for him to recoup his mainstream appeal by way of the "Sherlock Holmes" films. Law's career is doing just fine these days, perhaps because he's keeping his personal life low-key.
LeAnn Rimes and Eddie Cibrian's affair happened right on screen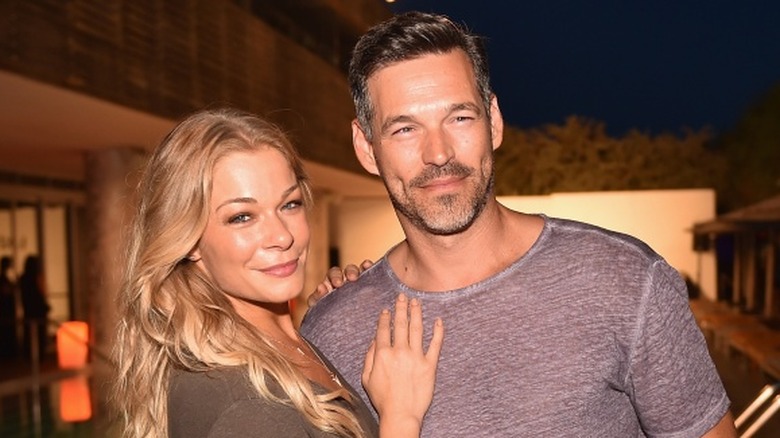 Fabiano Silva/Getty Images
The Twitter wars and shocking headlines that have surrounded LeAnn Rimes marriage to actor Eddie Cibrian make it easy to forget that she's actually a renowned country music artist and author. Rimes met Cibrian, who was then married to future "The Real Housewives of Beverly Hills" star Brandi Glanville, while she was on the set of the 2009 TV movie "Northern Lights." Rimes was also married at the time to dancer Dean Sheremet. The demise of their respective marriages and the lasting bitterness with Glanville, who is the mother of Cibrian's two children, overshadowed Rimes' professional pursuits.
Rimes' acting career stalled, and her record sales also suffered. Before the affair, she'd nabbed a whopping six Grammy nominations (and two wins). After the scandal? Rimes earned just one Grammy nod in 2011 for "Swingin'," and her 2013 album "Spitfire" tallied disappointing sales, despite it being her turn to tell her side about all that personal drama. "I find that the people that get angry at me and say 'How dare you!' for actually telling the truth are the ones that still haven't dealt with something within themselves," she told The Hollywood Reporter. "It should be just a song to them. For me, it's a lot more."
Cibrian's career hasn't fared any better. In fact, in their VH1 reality show "LeAnn and Eddie," he defended himself against haters who thought he was living off his wife's music earnings (via the Daily Mail): "Contrary to what some people think [pretends to cough] my ex-wife, I do actually work."
Tiger Woods' infidelity sent his game right into the bunker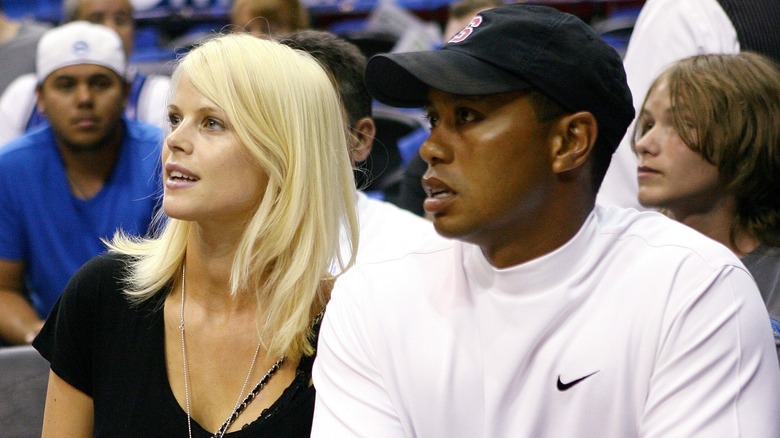 Elsa/Getty Images
Few professional golfers have ever earned the kind of household name status of Tiger Woods, and even fewer have watched their reputations sink into the mud quite like his did in 2009, when his many extramarital affairs were unearthed. 
Woods had been married to Swedish model Elin Nordegren since 2004, and she'd just given birth to their second child when the tabloids unearthed one of Woods' relationships with another woman. Nordegren's own investigation reportedly exposed even more dalliances, per the New York Post, prompting a single-vehicle crash heard 'round the world. No longer a family-friendly face, Woods lost millions in endorsement deals and was even blamed for billions in shareholder losses. His golf game suffered as a result of the personal drama, too.
Woods' career on the green briefly recovered in 2013, but it didn't take long for his personal proclivities to tarnish his image yet again. New allegations surfaced, claiming he'd cheated on girlfriend Lindsey Vonn, a beloved Olympic skier. Coupled with his 2017 arrest for driving under the influence, and it looked like the damage done to Woods' reputation may be irreversible, or was it? In September 2018, it seemed as though the public had forgiven and forgotten Woods' past transgressions, as thousands of fans openly celebrated his 80th PGA Tour win, per ESPN.
Gavin Rossdale and Jude Law have something in common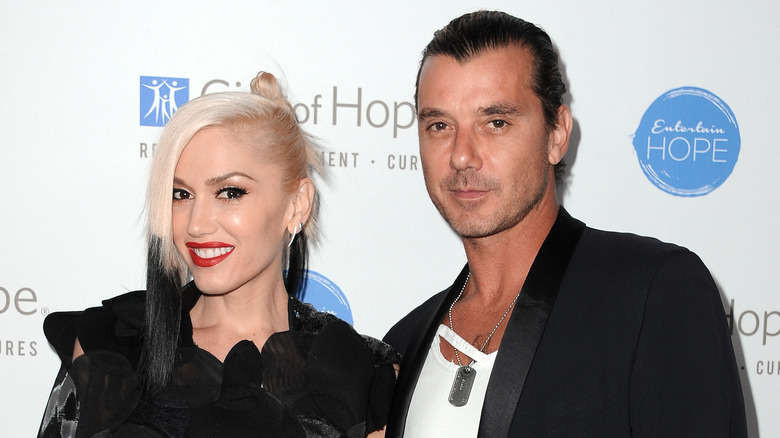 Angela Weiss/Getty Images
Although he broke into the entertainment biz in the mid-'90s, thanks to the popularity of his grunge rock band Bush, Gavin Rossdale was largely known as Mr. Gwen Stefani after the turn of the millennium. His long-lived marriage to the former No Doubt frontwoman — who went on to enjoy a solo career and made a name for herself as a bold fashionista, socialite, and "The Voice" coach — kept Rossdale's on our radar, too. Stefani even made a few cameos on his tour stops to increase the buzz surrounding his shows, but that all changed when Rossdale allegedly cheated on Stefani with their nanny. Stefani supposedly found out about it in 2015 through illicit texts and photos that were discovered on one of their son's tablets, per E! News.
At this point, it still looks like Rossdale may forever be known as the guy who supposedly cheated on America's punk princess. His subsequent professional efforts, such as starring in "The Voice UK," have been overshadowed by his personal drama — and by Stefani's in-your-face rebound romance with country star and fellow "Voice" coach Blake Shelton. Rossdale might have made a name for himself as a heartthrob musician, but nowadays, even he knows he's got some work to do to restore his reputation.
"Well, if you divorce America's sweetheart, you're in trouble. Or rather, if she divorces me," Rossdale told The Guardian in 2017, adding of the backlash he'd received in the media, "I don't read that stuff, but I know I've been portrayed as a bad guy."
Did unconfirmed cheating derail Ben Affleck's superhero status?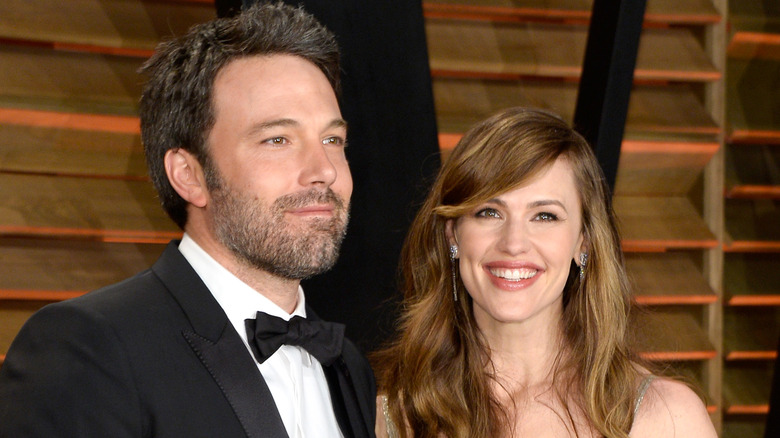 Pascal Le Segretain/Getty Images
Another half of a Hollywood power couple who ended up embroiled in a nanny scandal was Oscar-winning actor Ben Affleck, whose life became the stuff of tabloid fodder as he simultaneously realized his lifelong dream of portraying Batman for "Batman v. Superman: Dawn of Justice." Affleck allegedly cheated on his wife, fellow actor Jennifer Garner, with their children's nanny in 2015. Affleck's rep denied the reports, but the couple separated soon after rumors of the affair emerged. That wasn't the last of the cheating allegations overshadowing Affleck: When his relationship with "Saturday Night Live" producer Lindsay Shookus was made public, reports claimed they were fooling around or years before his divorce from Garner was announced. 
Affleck was riding high before his reputation became embroiled in bad press. He won an Academy Award for best original screenplay for "Good Will Hunting" and another Oscar for best picture for "Argo," not to mention earning critical acclaim for his work in "Gone Girl," among other career wins. However, his star status faded significantly in the years following the implosion of Bennifer 2.0 (though he and Jennifer Lopez have since reunited, tying the knot in 2022). Not only did Affleck endure several box office bombs, including "Justice League" and passion project "Live by Night," but he also become something of a punchline meme.
Two years after he and Garner finalized the end of their 10-year marriage, Affleck told The New York Times in 2020, "The biggest regret of my life is this divorce."
Jesse James' affairs landed him in rehab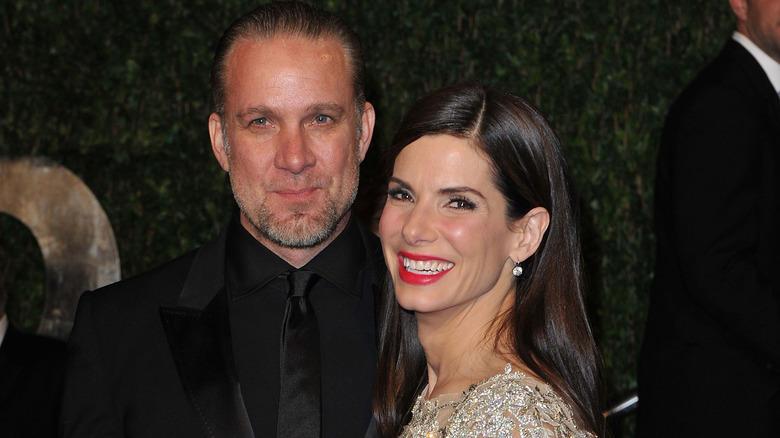 Pascal Le Segretain/Getty Images
Perhaps no celebrity has been quite as universally shamed for his bad behavior as Jesse James. During his marriage to beloved actor Sandra Bullock, he was a successful motorcycle manufacturer and reality TV star. He founded West Coast Choppers and starred on the hit series "Monster Garage." The Austin-based muscle man was married to Bullock for several years and stood at her side as she won the Oscar for best actress for "The Blind Side" in 2010.
Soon after her stellar awards season, which included a Golden Globes speech dedicated to James, allegations about his infidelity exploded in the press. It got so bad that James publicly apologized to his wife and checked into a rehabilitation facility. As lurid details about his behavior flooded the tabloids, Bullock filed for divorce that April. 
James quickly struck up an ill-fated relationship with "LA Ink's" Kat Von D, but that ended in an even more salacious news cycle the following year. He has since had trouble rebuilding his reputation and his career. He attempted to get back to what made him popular in the first place — his talents as a motorcycle mechanic — with the 2012 Discovery Channel series "Jesse James: Outlaw Garage," but that show kicked the bucket quickly.
Ryan Phillippe's resume went bust post-Reese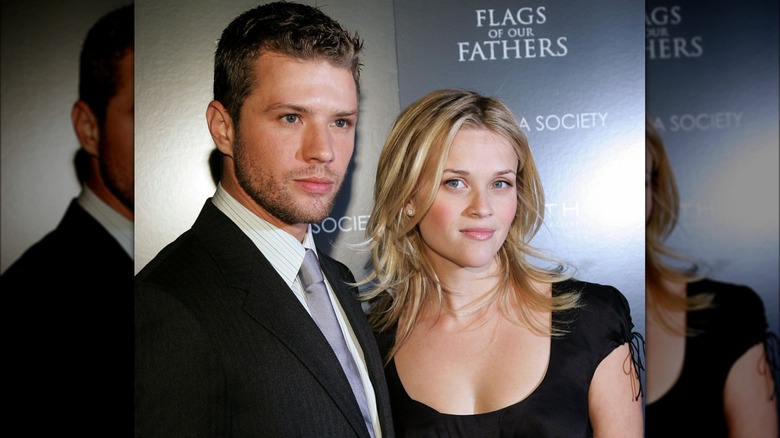 Evan Agostini/Getty Images
The amount of fan furor that followed the demise of Reese Witherspoon and Ryan Phillippe's relationship was intense. The pair had starred as romantic leads in the angsty 1999 romantic drama "Cruel Intentions" and attracted a generation of ardent followers deeply invested in the couple's marriage and two kids. Many thought theirs would be a happily ever after, but the union fell apart after eight years. Fans were furious when rumors emerged that Philippe cheated on Witherspoon, who had given him a shout out as she received the 2006 Academy Award for best actress for "Walk the Line," saying (via BBC News), "I want to say thank you to my wonderful husband ... for loving me so much and supporting me." 
That very same year, Philippe allegedly stepped out with his "Stop-Loss" co-star, Abbie Cornish. Even though their divorce filing cited "irreconcilable differences" rather than an affair, and even though he said Cornish was not the genuine cause of his split, and even though the exes successfully co-parent their kids, Phillippe's career has never quite recovered from the negative press associated with the breakup. Seemingly overnight, he lost the Hollywood heartthrob status he'd once boasted in films such as "I Know What You Did Last Summer" and "Flags of Our Fathers." 
Phillippe has since grown weary of the public's vitriol. "I'm tired of getting s**t on," he told Howard Stern in 2010 (via Us Weekly). "I don't feel like I deserve it. Things happen!"
Meg Ryan's affair with Russell Crowe was the beginning of the end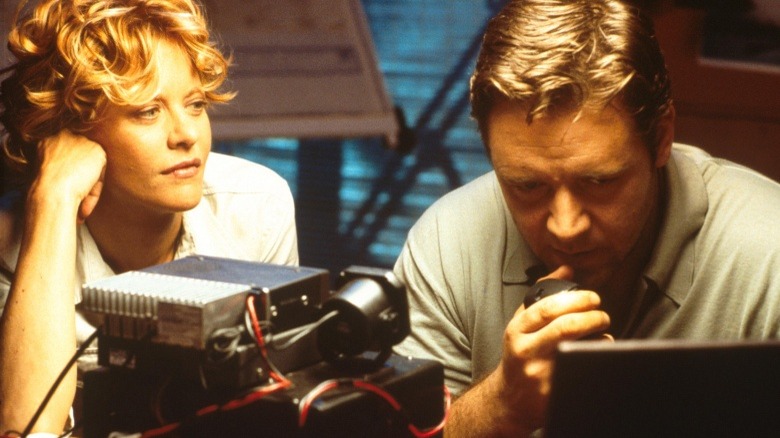 Frank Connor/Newsmakers/Getty Images
During Meg Ryan's heyday, she was one of America's most in-demand screen sweethearts. Ryan nabbed the romantic lead in a slew of successful pictures that included "Sleepless in Seattle," "When Harry Met Sally," "City of Angels," and "You've Got Mail," but her girl-next-door image was completely sullied when rumors emerged about a tryst with "Proof of Life" co-star Russell Crowe. The tabloid-frenzied affair was publicly perceived as the reason for her divorce from her husband of nine years, Dennis Quaid, and led to a serious decline in her popularity.
"I definitely have moments of wanting to straighten it all out and tell everyone what really went down, but you know, who would I be proving anything to?" she told Harper's Bazaar of the media fracas that followed her seemingly salacious split. Ryan also denied that her fling with Crowe was the reason for the divorce: "My marriage was breaking up long before it became a matter of public discussion." 
Though there may be plenty of blame to go around, it was Ryan's career that suffered a dramatic slump. "Proof of Life" bombed at the box office, and the Golden Globe-nominated actor has yet to wield the marquee status that made her such a household name in the '90s.
Robin Thicke's TMI album recorded low sales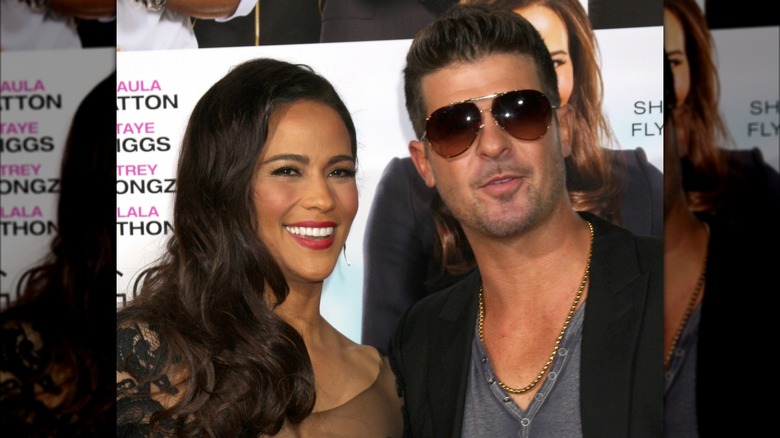 Kathy Hutchins/Shutterstock
At the very peak of Robin Thicke's career, he released the No. 1 hit "Blurred Lines" off of an album with the same name. Featuring Pharrell Williams and "Whatever You Like" hitmaker T.I., the crowd-puller brought newfound recognition for Thicke in 2013 — plus a whole load of marital trouble. 
"My marriage to Paula was crumbling," Thicke admitted in a 2021 conversation with People. "... Everything seemed to burn down there for a few years," he added, in reference to disagreements between him and his ex-teen love that wound up in divorce. According to an earlier People article, the couple's 2014 separation was an ugly affair, fueled by accusations of excessive drug use, extramarital sex, and physical and emotional abuse — that eventually led Paula Patton to seek a protective order. Their son, Julian, who was only four at the time, was caught in between.
Meanwhile, Thicke's career suffered a major blow. While "Blurred Lines" had amassed earnings in the neighborhood of $16 million, as a legal war with Marvin Gaye's estate gave away, the debut of Thicke's follow-up body of work "Paula" could barely reach a four-figure sale mark in the United Kingdom, while selling around 25,000 copies stateside (via Vanity Fair). In a 2015 sit-down with HOT 97, Thicke addressed his thought process then. "I had so many reasons to make that album and name it 'Paula,'" he said. "... At the time, I thought I was doing the right thing for everyone involved." Thicke further mentioned that he ought to have dealt with his marital woes privately.
If you or anyone you know is struggling with addiction issues, help is available. Visit the Substance Abuse and Mental Health Services Administration website or contact SAMHSA's National Helpline at 1-800-662-HELP (4357).
If you or someone you know is dealing with domestic abuse, you can call the National Domestic Violence Hotline at 1−800−799−7233. You can also find more information, resources, and support at their website.
Ned Fulmer was axed from The Try Guys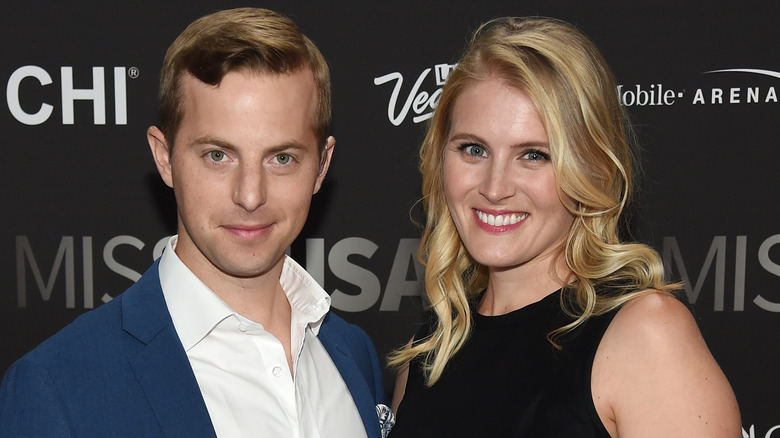 Ethan Miller/Getty Images
Ex-BuzzFeed employees Ned Fulmer, Keith Habersberger, Eugene Lee Yang, and Zach Kornfeld — collectively known as The Try Guys — grew an audience to the tune of millions on the publication's platform before going independent. In addition to creating entertaining content with his colleagues, Ned branded himself as the ultimate family man. Shortly after he and his wife, Ariel Fulmer, marked their fifth anniversary in 2017, he shared that he had no doubts about picking her as a partner, as it was love at first sight. "In a lot of ways, I knew right away on the first evening that we met," Ned told BuzzFeedViolet.
However, in September 2022 — a little over 10 years after the couple, who shares two children, tied the knot — the house that Ned built came tumbling down. According to a video released by the three remaining members of The Try Guys the following month, a unanimous decision had been made to oust Ned, who had gotten into an affair with a member of staff. This cheating allegation was confirmed by Ned himself, who'd put out a statement earlier on Instagram that read in part, "Family should have always been my priority, but I lost focus and had a consensual workplace relationship." The Try Guys went on to announce that Ned wouldn't make appearances on any prerecorded material going forward.
Ethan Hawke took a long break from acting amidst divorce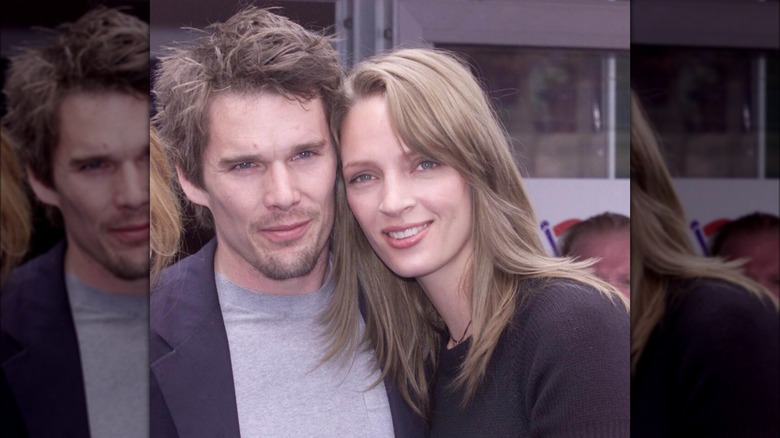 Dave Hogan/Getty Images
In another world, "Boyhood" actor Ethan Hawke would choose a life away from the screens and focus on writing. This was clear in 2000, when Hawke — then a 30-year-old budding novelist with two books under his belt and a string of acting credits — spoke to The Guardian. "Acting was something that came very easily to me. ... But the people I admired the most were not really movie stars," he revealed. "I was full of Jack London and Jack Kerouac."
Nevertheless, he made the most out of the craft, enough to bag a best supporting actor nom at the 2002 Academy Awards. "In a lot of ways, it could have been the beginning of something. It was the best moment of my career," the "Training Day" star disclosed to GQ. "... But I got divorced and my personal life fell apart." Indeed, by 2004, Hawke's marriage to "Kill Bill" actor Uma Thurman officially came to an end.
While rumors of an affair remained unconfirmed, fans certainly had questions when Hawke married their kids' former nanny, Ryan Shawhughes, in 2008. He further fueled the infidelity angle when he aired these thoughts with Mr. Porter (via E! News): "People have such a childish view of monogamy and fidelity. 'He's cheated so he's bad, she's cheated so she's bad,' as opposed to a recognition that our species is not monogamous." As far as his career goes, Hawke was largely missing in the scene in 2002 and 2003, having a single appearance on an episode of "Alias."
Eric Benét's career went silent after his Halle Berry divorce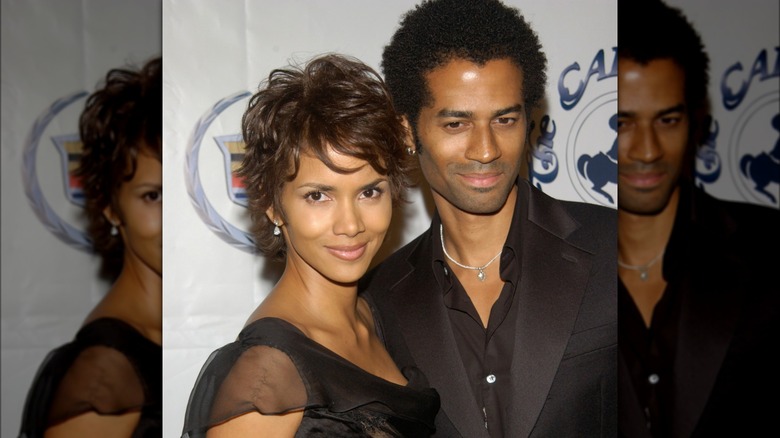 Featureflash Photo Agency/Shutterstock
In 2002, Halle Berry made history at the Oscars when she earned the best actress award for "Monster's Ball." Berry's speech as the first woman of color (and only one so far) to win the coveted accolade included an ode to her then-better half, Eric Benét, and his daughter, India. "My husband, who is just the joy of my life, and India, thank you for giving me peace. Because only with the peace that you've brought me have I been allowed to go to places that I never even knew I could go," a teary-eyed Berry expressed.
Shortly after her memorable win, the news of Benét's infidelity made tabloid gold. Berry later went on "The Oprah Winfrey Show," where she shared the extent of his admitted unfaithfulness in detail. In a 2003 statement to Associated Press (via People), Berry had previously confirmed that their marriage couldn't be salvaged.
At the time, Benét, a musician, had released two albums under Warner Bros. Music-wise, there was pin-drop silence amid the cheating scandal — and it wasn't until the confirmation of his 2005 divorce from Berry that the R&B singer released new music (record No. 3 "Hurricane") the same year. Still, word of some creative conflict between Benét and his record label got around. When asked whether he was worried about mass perception of his work after the highly publicized scandal, Benét told NPR at the time, "Let me put it this way, I'm much more concerned with my character than my reputation."
Amy Robach and T.J. Holmes' 'unlikely' return to morning television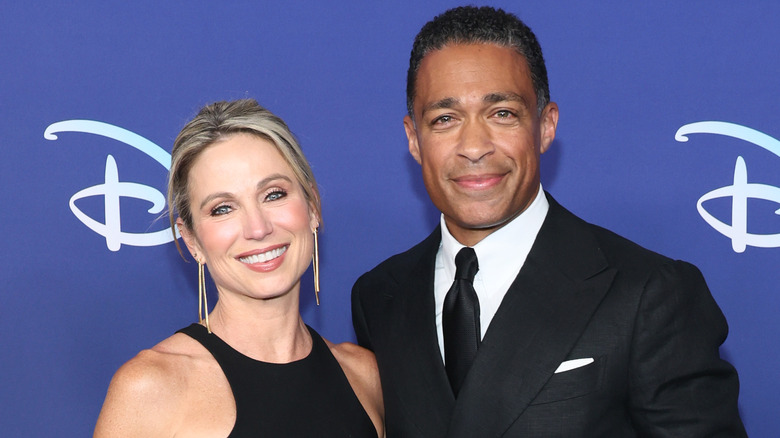 Dia Dipasupil/Getty Images
It wasn't so good an American morning when the Daily Mail splattered 64 images of "Good Morning America" co-hosts Amy Robach and T.J. Holmes' alleged clandestine rendezvous in November 2022. One after another, each picture suggested that the pair's involvement was more than a harmless friendship, given that both parties were publicly known to be married. In one such snapshot, purported to have been taken during a romantic trip, Holmes' hand appeared to be grabbing Robach's backside.
An uproar ensued online, which saw the duo vanish from social media, only for Robach to resurface after the disclosure of a looming Holmes divorce in late December, per ET. According to People, the public may not be looking at an affair, after all. An informant divulged that Holmes and Robach had ended their respective 12-year unions to Roc Nation attorney Marilee Fiebig and actor Andrew Shue prior to getting together. "This was two consenting adults who were each separated," a source claimed. "They both broke up with their spouses in August within weeks of each other."
As of this writing, Robach and Holmes have remained off the air since early December, and their future with ABC is still seemingly shaky amid the network's investigation into their romance. Noting that they hadn't been fired, another insider alleged to People in January 2023, "There are no negotiations about their future. ... It is unlikely they will return in the capacity they were in."