How Many Grandchildren Does Donald Trump Have?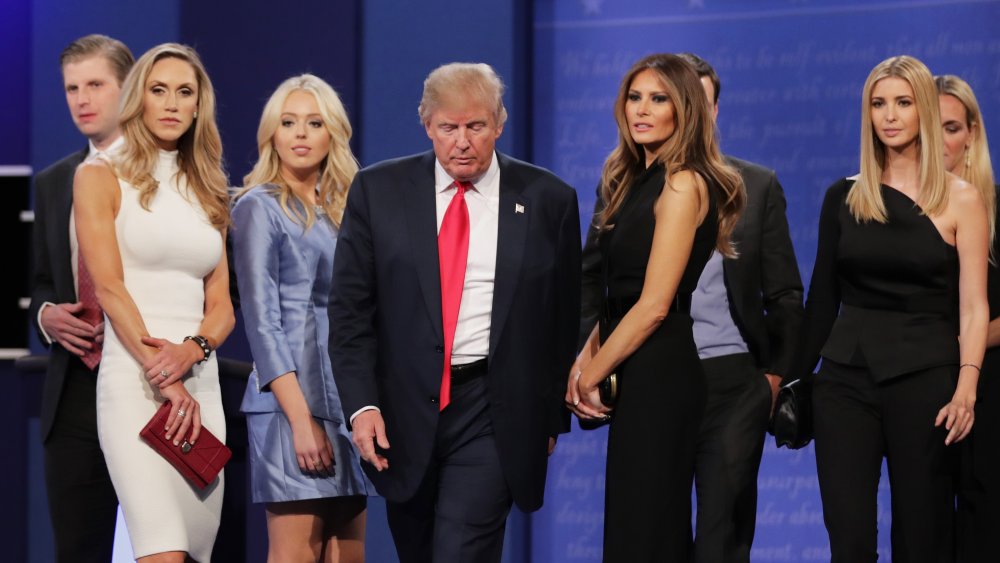 Chip Somodevilla/Getty Images
Whatever your political views are, there's no question that Donald Trump and his family are dominating American media. While President Trump is not shy to hold the spotlight himself, he also includes his family in his public world, especially his five kids: Donald Jr., Ivanka, Eric, Tiffany, and Barron. Since some of Trump's children have gone on to have children of their own now, how many grandkids does the president have?
According to USA Today, when Trump's son Eric and his wife, Lara, had their second child in August 2019, the event marked the birth of Trump's tenth grandkid. Eric and Lara have a son, Luke, and their newest addition, a daughter named Carolina, who's the youngest Trump grandbaby.
Don Jr. has children with his former wife, Vanessa, per Page Six. The couple married in November 2005 and had five kids: Kai, Donald III, Tristan, Spencer, and Chloe. Don Jr. and Eric run the Trump Organization while their father is president, and the pressures of their positions can take a toll on relationships, according to Page Six. As the news outlet claimed, "Don Jr. has been busy traveling, which has contributed to their problems."
The outlet also shared that Vanessa opened an envelope filled with white powder back in 2018 and was taken to the hospital as a precaution. Thankfully, it was non-hazardous, but the publicity of the Trump family has impacted their lives with young kids. Don Jr. is currently dating Kimberly Guilfoyle, according to Town & Country.
Ivanka Trump, Jared Kushner, and their kids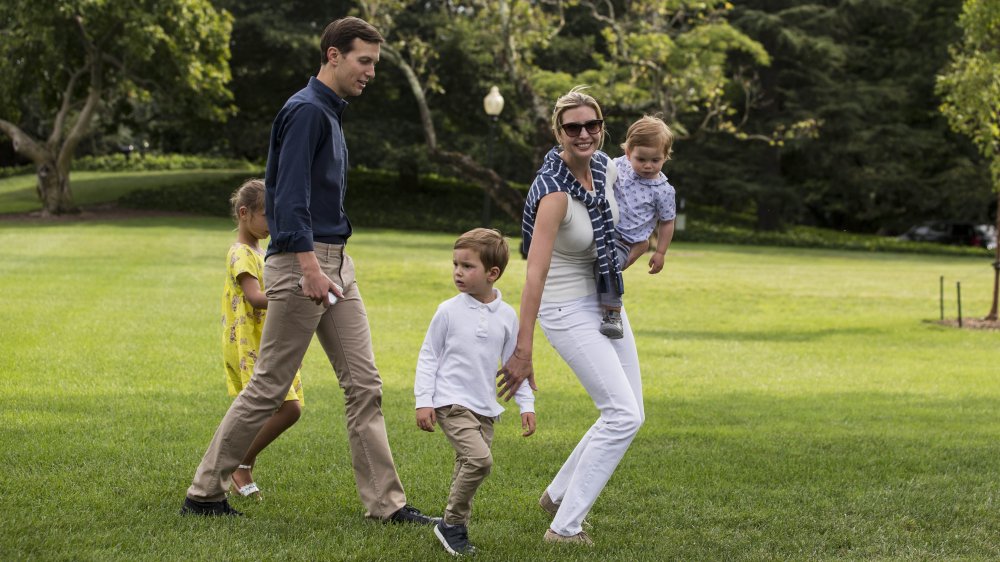 Pool/Getty Images
Meanwhile, Donald Trump's daughter Ivanka Trump shares three children with her husband, Jared Kushner: Arabella, Joseph, and Theodore, according to USA Today. These three children now live very public lives, thanks to their grandpa's presidency and Ivanka's involvement in it. According to the White House's official page, Ivanka's job title is "Advisor to the President," and she focuses primarily on "the education and economic empowerment of women and their families as well as job creation and economic growth through workforce development, skills training and entrepreneurship."
Don Jr., Ivanka, and Eric are the three children from Trump's marriage to Ivana, his first wife, per USA Today, but Ivanka seems to be favored among her siblings. According to The Atlantic, "Ivanka was always Trump's favorite." Similarly, an article in Time said of Ivanka, "It's clear she has the full admiration and trust of her father." No wonder she has such a prominent position in the White House!
Meanwhile, Trump has two other children. He shares daughter Tiffany with Marla Maples, who was his mistress until he divorced Ivana and married her, according to People. Trump's youngest child is his son, Barron, whom he shares with his current wife, Melania. Neither Tiffany nor Barron have kids of their own.