Is Donald Trump Really Considering Releasing Joe Exotic From Prison?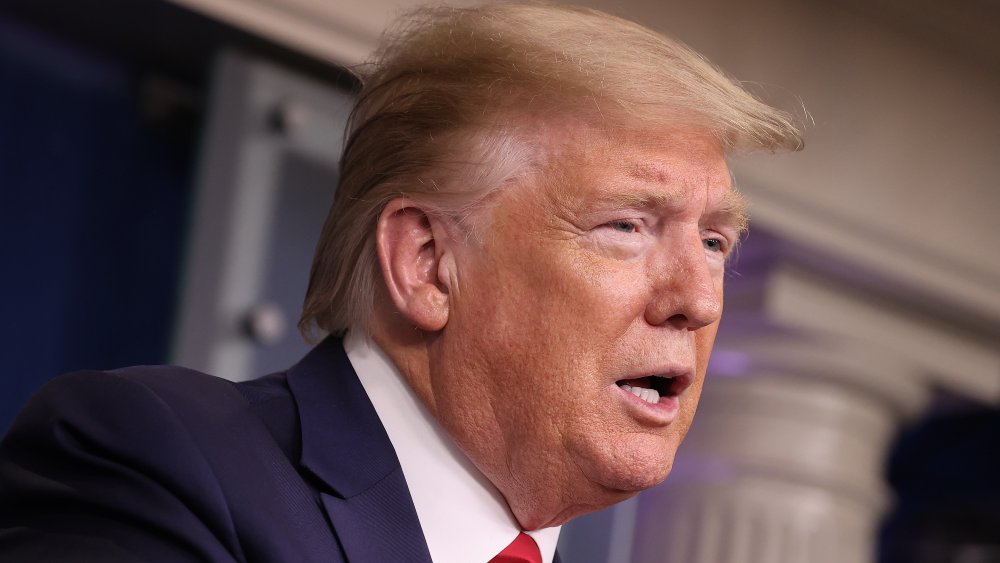 Chip Somodevilla/Getty Images
It seems like everyone is talking about Netflix's Tiger King and even President Donald Trump is getting in on the conversation. During a White House briefing on April 9, 2020, Trump joked that he would "take a look" at pardoning Joe Exotic and polled reporters in the room as to whether they'd recommend a pardon for the big cat enthusiast or not, per Vanity Fair. 
Trump admitted he knew "nothing" about the docuseries about the Oklahoma zoo keeper yet, and he had to ask what Joe Exotic, whose real name is Joe Maldonado-Passage, had done to get a 22-year sentence. He added, "Do you think he didn't do it? Are you on his side? Are you recommending a pardon?"
Fox and TMZ are airing another Joe Exotic special with "never before seen footage" in mid-April, so the president will surely have more than enough opportunity to catch up on the alleged crimes and see for himself whether he thinks Exotic tried to kill Carole Baskin or not.
As Business Insider pointed out in February 2020, "Trump's clemency power is sweeping — he can decide to legally forgive or free anyone convicted of federal crimes." The outlet noted that Trump's clemencies have included "people who have been championed by conservative media, prominent Republicans, or celebrities," and the latter description is fitting of Exotic. Even Cardi B tweeted about wanting to help the Netflix star get free.
Joe Exotic asked President Trump for a pardon last month
As it turns out, Joe Exotic already issued a request for a presidential pardon and filed a lawsuit against the federal government and his former business partners in late March 2020, just as over 3.4 million viewed the Netflix series about his life. 
Exotic said in a press statement on Facebook, "This lawsuit has been filed in the name of Justice, The Trump Administration must be made aware of the Overreach, perjury, abuse of power and the failure to uphold the Oath of their position which is truth and Justice for all."
The lawsuit asks for a total of $94 million from the U.S. Fish and Wildlife Service and his former partner Jeff Lowe. Exotic added, "I have been illegally charged with these crimes and the Trump Administration, the United States Department of Interior along witht [sic] the Federal Wildlife service must be held accountable for what they have done to me, my parents and my family, along with my animals."
Joe Exotic is currently in jail for murder for hire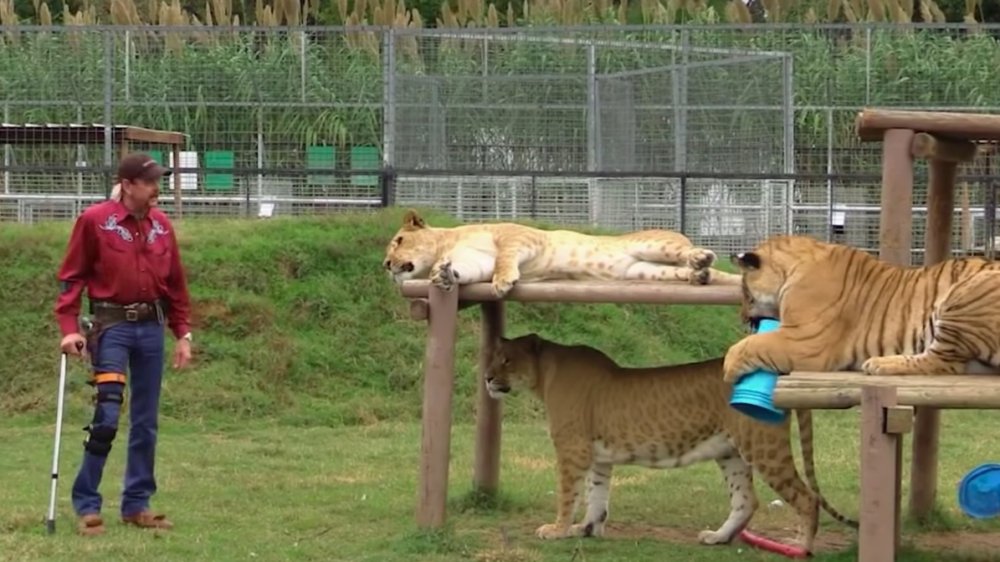 Netflix
Joe Exotic is currently serving 22 years in prison for allegedly trying to kill his rival, Carole Baskin, an animal rights activist who wanted him to shut down his big cat zoo. Exotic was arrested in September 2018 after reportedly giving one of his employees $3,000 to go to Florida to kill Baskin, and when that plan failed, he was recorded offering an undercover federal agent $10,000 to try again. 
He's also in prison for 17 other counts — eight of which are for violating the Lacey Act, a law that prohibits trafficking wildlife. Exotic allegedly forged forms that said animals were being donated instead of sold. 
Through it all, Exotic maintains his innocence. He said in a video statement released by Netflix that he's "done with the Carole Baskin situation." He added, "It's now time to turn the tables and Joe get out of jail a free man and exonerated from all these charges," and joked that he wishes he could be out in public in order to experience being "famous out there." 
That's a sentiment that President Trump can likely empathize with. And 2020 is already turning out to be one bonkers year, so at this point, Trump pardoning Joe Exotic wouldn't be that much of a shocker.