The Real Reason Honey Boo Boo's Sister Works At Walmart
Anna Cardwell, daughter to Mama June Shannon and sister to Honey Boo Boo, took to Instagram in April 2020 to share with her fans that she's working at Walmart. The 25-year-old reality star took a selfie at work and referenced the coronavirus with the caption: "When ur ready to leave from counting people all day," with the hashtags, "walmart" and "lovemyjob."
Many fans thanked Anna for showing up to work during a global pandemic. One person wrote: "Thanks for working during these times Anna!!!!" Another added: "Thank you for risking your life for customers."
It's so lovely that Anna is getting recognized for doing her part and helping to keep grocery stores open for the public, but fans had an even bigger question. Why is Anna working at Walmart at all? Fans also wanted to know about her publicized plastic surgery, which cost her approximately $47,000, according to Hollywood Life. And it wasn't just Anna who got work done. According to the Daily Mail, Anna and her younger sister, Jessica Shannon, both went to see Dr. Obeng and got "new smiles, breast lifts and implants" for a grand total of $120,000.
With a reality TV family and extensive plastic surgery, it surprised fans to find out that Anna was working for the retail giant.
Anna Cardwell was back at Walmart one week after plastic surgery
Honey Boo Boo's sister, Anna Cardwell, surprised fans by sharing a selfie at her place of employment, Walmart, following some very public plastic surgeries with her sister. Someone commented on her Instagram pic, suggesting that Anna needs to push her way into Hollywood: "U need the right mgmt... You could do well in TV.. I really think you need to start branding yourself differently.. I love that [you're] a regular woman working a reg job but there's a place for u in Hollywood if u play the game right." But someone else responded by saying, "Maybe [s]he does not want to be in the limelight?"
Anna actually responded to some of her Instagram followers, so when a fan asked how long she had worked at Walmart, she answered: "[I've] been there for 2 years." Even after her surgery, Anna didn't have long to recover before going back to work. In an interview with Hollywood Life, Anna shared that she's a stocker at Walmart and her job involves some heavy-lifting. She was home resting for a week, but then went back in. She said, "I was scared to go to work, with the scarring, because I still had my tape on and I still had stitches." 
Fortunately, nothing happened and she was given a lighter workload so she was able to heal safely.
What are Honey Boo Boo and Mama June Shannon actually worth?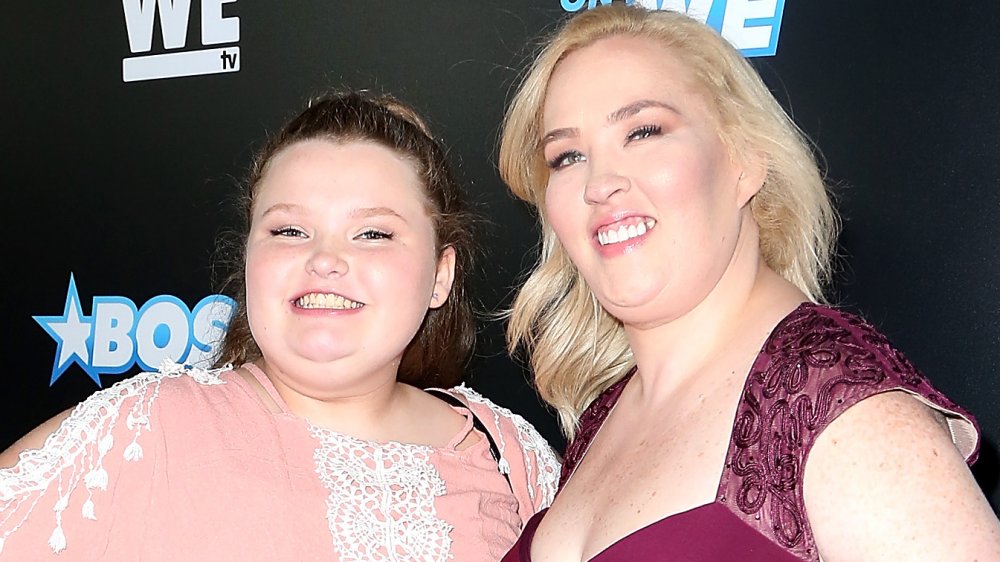 Maury Phillips/Getty Images
After sharing selfies of her on shift at Walmart, Anna Cardwell is totally earning the respect of fans thanks to her work ethic. Many comments showed that fans were delighted at the sight of a reality star working a normal job, but others wanted to know where Mama June Shannon's money is and why Anna has to work. The answer? Just because the family is well known in the world of reality TV doesn't necessarily mean they're rich enough to stop working. According to Celebrity Net Worth, June Shannon is worth $50,000. Meanwhile, per the outlet, Honey Boo Boo is worth $500,000. 
With those numbers representing a good chunk of the family's net worth, it makes sense that Anna still hustles on her own. In addition to her steady Walmart income, Anna also has some sponsored content on Instagram with Boom Bod. The reality star regularly advertises weight loss shot drinks on the 'gram. Hey, if Khloé Kardashian can do #sponcon, so can Anna!