The Truth About Mama June And Sugar Bear's Relationship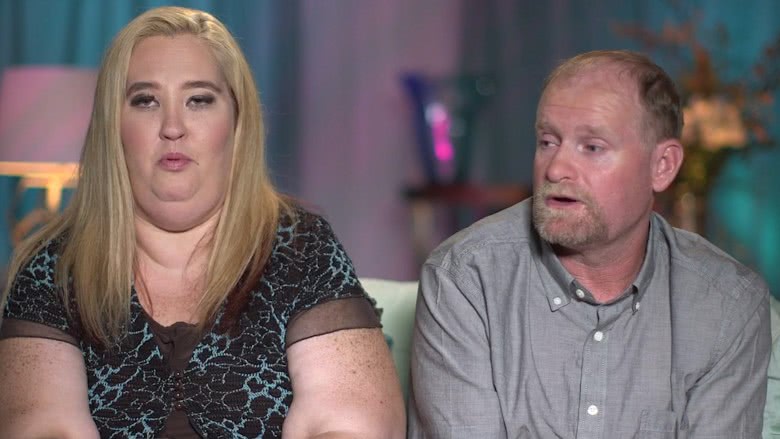 YouTube
June "Mama June" Shannon and Michael "Sugar Bear" Thompson have had an extremely tumultuous relationship, pre-dating even the Here Comes Honey Boo Boo heyday. Now that they're totally done (for now, anyway), let's examine exactly what went down between these two to get them to such a volatile point.
They were never actually married
In May 2013, Mama June and Sugar Bear exchanged vows in a televised wedding — but it wasn't a legal ceremony. The duo eventually took to calling the big day a "commitment ceremony." After the big day was done, Mama June gave some possibly prophetic perspective to People about relationships.
"Never settle for a man who doesn't treat you right. If a guy doesn't love everything about you, move on! There are plenty of other fish in the sea," she said. "I give this advice to my daughters because I always want them to be themselves and surround themselves with people who love them for them."
He may have cheated on Mama June ...
In September 2014, Mama June and Sugar Bear split after she allegedly discovered he had dating profiles for online services, including PlentyOfFish.com. They told TMZ in a joint statement, "Sugar Bear and I have decided to take some time apart to figure out some things in our relationship. We are taking things day by day but regardless of what happens the girls will always be our #1 priority. We want to thank ya'll for your support."
It was later revealed during their time on Marriage Boot Camp: Reality Stars (via Radar Online) that Sugar Bear sought out both men and women online, with Mama June saying on air during the series that she saw X-rated photos he'd exchanged with other males. Still, he insisted that while he talked to several other people on the phone, he only actually cheated with one other person. He also claimed to be suffering from sex addiction, but Mama June considered taking him back, telling a pal, "I'm very proud that he's been honest. I'm very proud he's come clean."
... but it may have been fabricated for fame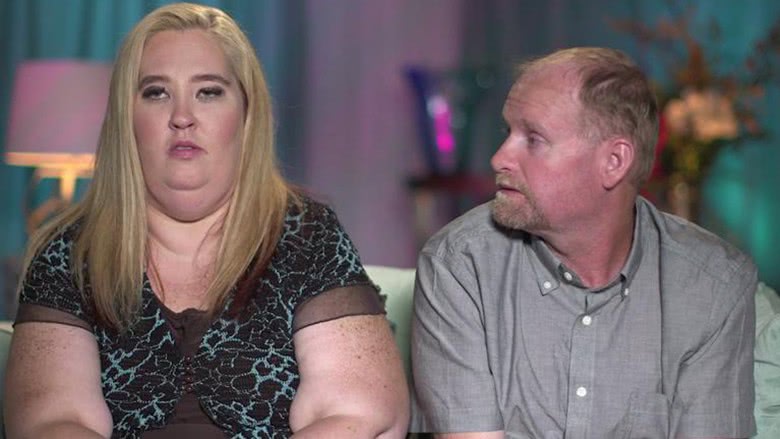 YouTube
Insiders claimed that Mama June and Sugar Bear invented his bisexual cheating scandal to extend their 15 minutes of reality fame after Here Comes Honey Boo Boo was yanked from airwaves following Mama June's alleged fling with an ex who served time for sexually assaulting her daughter Anna "Chickadee" Cardwell. "It's all for show," a source told Radar Online. "June is desperate for attention and to stay relevant without their reality series, and she has Sugar Bear along for the ride ... They know that bringing the drama will bring them big bucks."
Mama June thinks he cheated on her with his new wife
In the Mama June: From Not To Hot reunion special (via People), Mama June said she believes Sugar Bear started dating Jennifer when she was still dating him herself. "He can't keep that thing in his pants for two seconds. I mean, the only reason that he's been faithful to her this long is because he's not allowed to do anything without her up his a**," Mama June snapped. "The moment that she gives him a minute just to breathe, he's going to do it again."
Jennifer denied anything untoward going on during Mama June and Sugar Bear's relationship, however, saying that until Mama June and Sugar Bear were 100 percent dunzo, "It was nothing more than, 'Hey, how are you?' Actually, it was even 'How are you and June doing?' It was nothing that was 'Hey, come spend the night at my house.' So there was no cheating."
Sugar Bear concurred, "People's like got the wrong impression on me because, yes, I'll admit it, I did cheat on June. I normally don't cheat but when you got a phone in your hand and you're talking to this woman here and that woman there, you'll do it. I've changed from that and I love [Jennifer], she loves me."
He may chosen Jennifer over Alana
Alana "Honey Boo Boo" Thompson claims that Sugar Bear ditched his daughter after he met his current wife, Jennifer.
"He puts on this face for TV, to make it seem like he's the perfect guy but when he's off camera and stuff he's really not. He found Jennifer and he didn't come and see me anymore," Alana said in the Mama June: From Not To Hot reunion special (via People). "He was just gone. He would text like maybe once every three weeks. It would've been good to have a good relationship from the beginning. I do want him to be a more involved dad, but I feel like if he changes just a little, it's not enough. I would want him to stop being so angry all the time. I would like him to start being my father, actually."
Alana also told Entertainment Tonight that when she does speak to Sugar Bear, he often makes her feel bad about herself and her appearance. "He calls me every once in a blue moon, so if there's a blue moon outside, he's going to call me. The other day we were on the phone ... and we were talking about something, and he was like, 'I need to cut my grass,' so I was like, 'Yeah, I'll come do it. I'm [going to] need a riding mower,' and he said, 'You're gonna need a push mower, 'cause it wouldn't hurt.'"
Sugar Bear hinted that the acrimony between Jennifer and Mama June was behind the distance between him and Alana. "It's kind of hard to see a woman I used to love and a woman I love now fighting," Sugar Bear said (via E! News). "I wish they could both sit down and kind of be friends for Alana's sake and my sake. That way, we can get along real good."
He's accused of being abusive …
Shortly before Mama June: The Confrontation was set to air on April 14, 2017, Mama June went on a press tour in which she told several outlets that Sugar Bear was physically and emotionally abusive towards her and her daughters while they were together.
"It's time the world sees him for what he really is," Mama June told Page Six on April 10, 2017. "I'm tired of hiding. I'm tired of brushing his a** underneath the rug. [Daughter Lauryn] Pumpkin's eye buckle was caused by him because he got mad. There's so many emotional scars and physical scars with the kids, that anything else — after the incident that happened I'd say about a month ago, when we tried doing the [Mama June: From Not To Hot] reunion special ... it didn't turn out good and I'm not going to put my kids through that ever again."
Indeed, during the reunion, Sugar Bear got into a heated argument with Pumpkin in which he ripped off his own shirt, but neither party actually got physically violent in front of cameras.
... but he denies it
Sugar Bear adamantly and vehemently denied ever being abusive to the children, as well as to allegedly dropping off the face of the earth from Alana. "The abuse allegations are not true ... I have text messages where I text June and try to talk to Alana, but no response back from her," Sugar Bear told Entertainment Tonight on April 11, 2017. "The last time I saw Alana was at mine and Jennifer's wedding. I've tried to stay in touch with my daughter but June won't let me."
He added, "I have never told Alana to lose weight or said anything to Alana about her weight. June's a damn liar. I would never hurt Alana in any way. Everything I've said is the truth. I'm just tired of being put down for it. June is saying these things because she's pissed at me. I never hurt any kid."