The Truth About Too Hot To Handle's Harry And Francesca's Relationship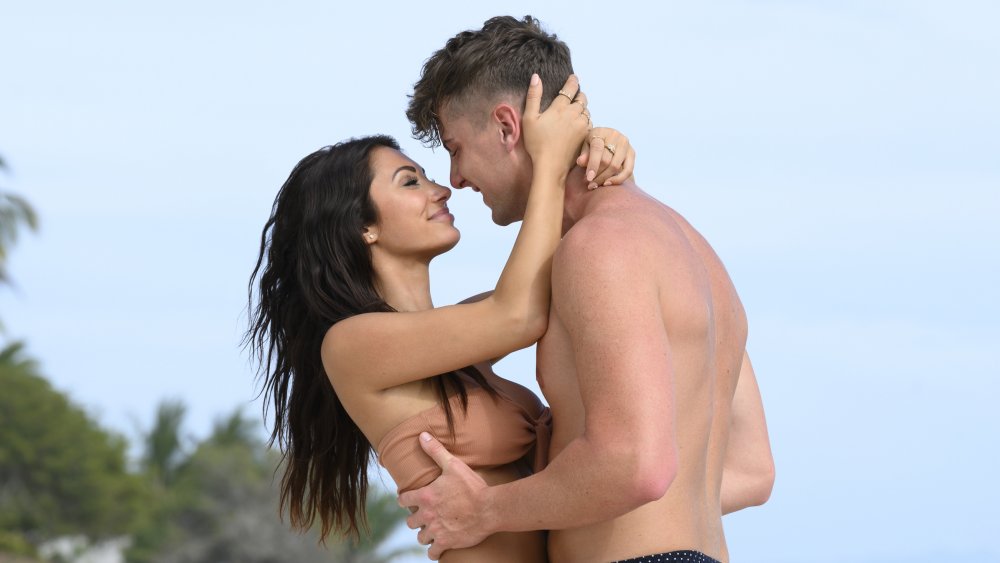 Ana Cristina Blumenkron/Netflix
On the heels of Netflix's Love is Blind, the streaming service released another juicy reality series, Too Hot to Handle, on April 17, 2020. The show follows 20-something singles living in a tricked-out house together, and their only concerns are booze and partying. The catch? "None of them are allowed to do any 'sexual touching' of any kind — not to each other, and not even to themselves — without incurring a literal fine from a collective $100k cash pot," Variety's chief TV critic, Caroline Framke, reported. As one might expect, this challenge proves difficult for the series' contestants.
Spoilers ahead: As it turns out, this task proved to be especially tough for Francesca Farago and Harry Jowsey, who formed a strong connection during filming. Harry, an Australian YouTuber living in Los Angeles, and Francesca, a Canadian model, were so distraught about the twist that it brought them both to tears. "We were the only people that had formed a relationship at that point," Francesca told Cosmopolitan. "Everyone else was just laughing at us and we were like looking at each other."
So did Francesca and Harry's relationship survive this reality TV experiment? We reveal the truth about their love story below.
Harry and Francesca bonded over being 'weirdos'
Considering Harry Jowsey and Francesca Farago were driven to tears about the rules against them hooking up, it's fair some viewers are curious to know what bonded them together in the first place. "When I met her I just was shaking," Harry revealed to Cosmopolitan about their initial connection. "I was shaking. I've never felt like that, ever, in any situation until I met Francesca. And I was like, "Oh s**t, this is legit, like this is real." 
Although some fans might assume their bond is purely physical, it appears this isn't the case. Harry explained, "And then when we started talking, and we spoke about deep stuff, and we had a couple deep chats and then the more we hung out our senses of humor matched up. We're both weirdos and everything just fit and made sense, and here we are."
However, their relationship wasn't without road bumps, and Francesca did go after another contestant at one point. "I knew after, probably, 30 seconds of me pursuing this other person that it wasn't what I wanted to do," she explained. What a relief for Harry!
As if the two are still together, Cosmopolitan noted the pair are keeping the information on the DL for now. In the meantime, you can check out all the others shows that really messed with reality stars' minds.