The Truth About Christopher Meloni And Mariska Hargitay's Relationship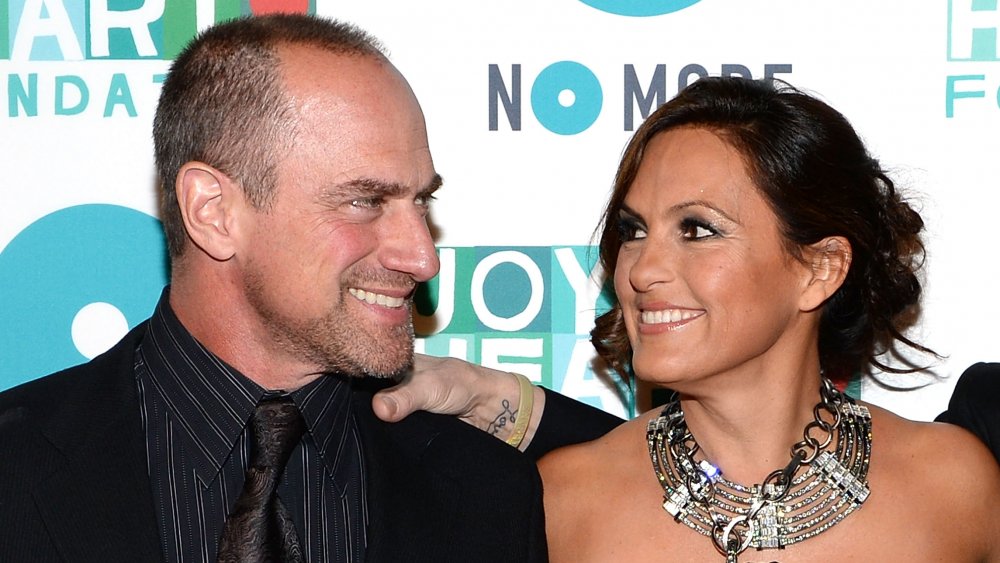 Andrew H. Walker/Getty Images
Olivia Benson and Elliot Stabler are one of the most iconic duos in television history. The same can be said for their real-life counterparts, Mariska Hargitay and Christopher Meloni. The actors played detectives in the series Law & Order: SVU for the first 12 seasons.
As fans know all too well, Meloni left the show in 2011 over issues related to contract negotiations, something he referenced during a 2017 episode of Watch What Happens Live With Andy Cohen. During that episode, host Andy Cohen asked Meloni if he had any regrets about leaving the show and he said he didn't — "not even for a day."
Meanwhile, Hargitay is still going strong as the only original cast member remaining on the series. Nevertheless, despite her continued success and the unrelenting support of the Law & Order: SVU fans, she couldn't help being in her feelings about her co-star's departure. In January 2020, E! News reported Hargitay admitted, "It's been really difficult over the years to see people leave and painful and scary. I didn't want them to go." This is a sentiment that many viewers strongly relate to. During that same interview, she remarked, "People come into our lives and then they leave their lives. You feel all of that and it's a lot to feel and you keep on going. You keep on going." 
On some level, she has a point. However, these two have never truly "left" each other's lives, much to the delight of the SVU fandom.
Christopher Meloni and Mariska Hargitay have stayed close throughout the years
Rob Kim/Getty Images
While Detectives Stabler and Benson haven't been solving crimes on TV together in a few years, Mariska Hargitay and Christopher Meloni have managed to fill in that void, thanks to social media. The duo has entertained the SVU viewers with their real-life Instagram updates throughout the years. In December 2018, Hargitay shared a photo of the two of them, enjoying a vacation. In September 2019, she shared a series of selfies from a "Sunday night dinner," which seemed pretty casual in real life, but was a huge deal for Law & Order fans to see on Instagram.
Most recently, Hargitay shared a throwback photo from their SVU days and wrote "Happy Birthday @chris_meloni Congratulations and welcome home Elliot Stabler." No, Meloni is not returning to SVU, unfortunately. However, there is a possibility for a Stabler and Benson reunion.
On March 31, 2020, Deadline reported that NBC ordered 13 episodes of a Law & Order spin-off series with Meloni reprising his role as Elliot Stabler. This time around, Stabler will be running his own organized crime unit. Unfortunately, Stabler and Benson will not be working together, but there's no reason to lose hope. The Law & Order franchise had crossover episodes between its series previously, so fingers crossed that happens with this new show. Fans have been dying to see Hargitay and Meloni back together outside of Instagram, and it seems pretty likely since the two have such an electric chemistry.
Christopher Meloni and Mariska Hargitay have an undeniable chemistry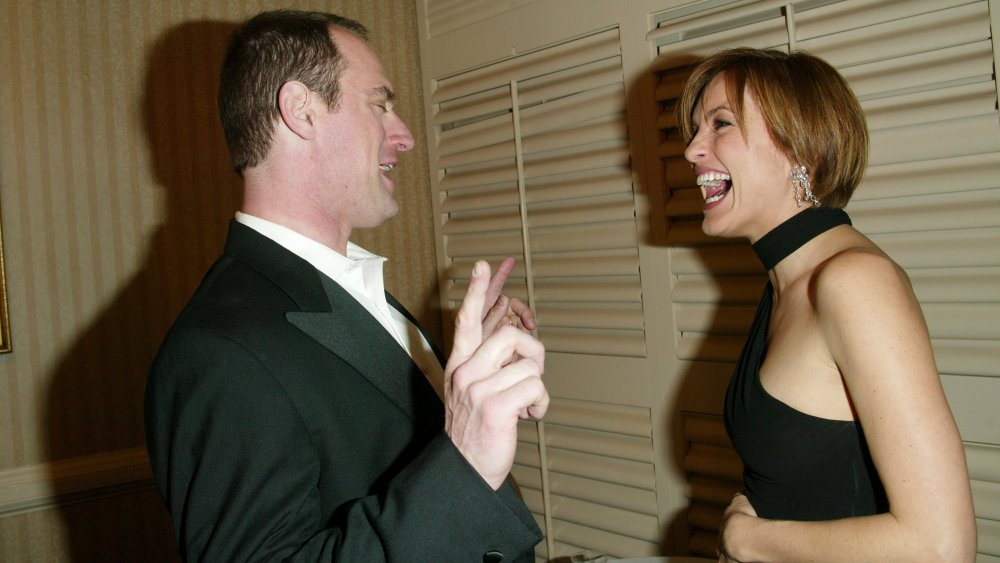 Evan Agostini/Getty Images
While Law & Order: SVU has been full of many riveting storylines, part of its initial appeal was the strong rapport between Mariska Hargitay and Christopher Meloni. In 2017, Meloni told People TV, "Mariska and I had instant chemistry. Just add water. You know, that was a great run." The run was so great that fans often rooted for a romance between their characters.
However, they've both shot down that idea a few times. In September 2019, Hargitay told Parade, "If that happened, the chemistry and alchemy and the magic of the relationship would have been gone." She even declared, "It was perfect just the way it was. A romance would have ruined it." During a 2005 episode of The View, Star Jones asked the actors about the possibility of their characters hooking up. Meloni shot down that notion and declared, "I just don't see our chemistry in that vein." Hargitay joked they actually had zero chemistry and then they faked everyone out by going in for an almost kiss.
In the same interview, Hargitay revealed she loves seeing her co-star with his family. She's also the godmother to one of Meloni's kids, which is just another reason that these two are linked for life.
Benson and Stabler will live on forever in fans' hearts, through TV reruns, and on Instagram, of course. Let's just hope their characters end up back together (platonically, of course) on the upcoming Law & Order spin-off.