The Untold Truth Of Matthew Smith From Too Hot To Handle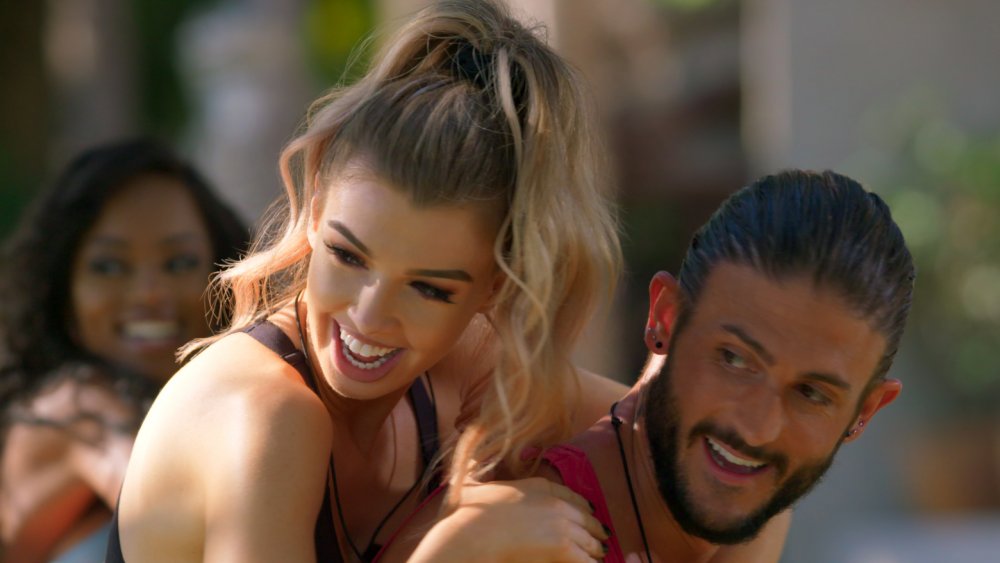 Courtesy of Netflix
With a nickname like "Jesus," Matthew Smith was bound to be a little out of place on Netflix's steamy new reality show, Too Hot To Handle. That's because the series follows ten hot young singles as they lounge at a resort in Mexico for a couple of weeks and get bossed around by an Alexa-knockoff named Lana for a grand prize of $100,000. The catch? They're not allowed to have any sexual interaction with each other — not even a kiss. And if they do, Lana (or the producers, really) deduct money from the prize money. 
Spoiler alert: Alliances are quickly made as some of the gang decide that giving in to temptation is just too much fun, while others all but writhe in pain every time someone cops to making out or heavy petting. Many of the singles eventually couple up throughout the course of the series — except for poor Matthew, who the rest of the cast calls Jesus because of his thin stature and long hair. He really does kind of resemble him, TBH.
Doppelgängers aside, it's clear there's a lot of interest from fans regarding Matthew's background and life before starring on the reality series. 
Is Matthew still single?
Matthew Smith self-eliminated himself from Too Hot To Handle ahead of the finale. He said that the whole purpose was to find someone to connect with — emotionally — and at least be tempted to a little bit to break Lana's rules. Alas, there was no lucky lady on the beach for him, even after he tried miserably to flirt with Madison, so he headed out. 
It's not clear why romance didn't work out for Matthew during the "retreat," as Lana called it, although it's obvious some fans found his behavior offensive. "Matthew in Too Hot To Handle literally sucks, misogynist much," one person tweeted, while someone else said," Matthew from Too Hot to Handle looks like he mansplains Tame Impala to girls."
If these opinions aren't off-putting to all you ladies out there, feel free to slide into his DMs, because it looks like he is single as of this writing, at least judging by his Instagram account. And bonus points if you're religious, as his profile says that he's Christian, meaning there's a good chance spirituality is important to him. 
As for his feelings about sex, he joked that he didn't "know one man who has gone a month without getting off" when Lana explained that not only could the contestants not hook up, but they would be under strict rules to not masturbate, as well. Interesting! 
Matthew is no stranger to reality TV
As it turns out, this is not the first time Matthew Smith — aka "Jesus" — has tried his luck on a TV show. He's also been on shows such as New Girl, Stitchers, Face Off and America's Next Top Model, according to his bio on IMDb. He moved to Los Angeles from Denver in 2011 and get this — his middle name isn't Jesus, it's Stephen. And his real nickname? It's supposedly "Sweet Smith." So there's that. 
Although Matthew left the show after just six episodes, he seems to have enjoyed his time there. He wrote in an Instagram caption under a trailer for the show that it was an "adventure," adding, "Imagine if everyone on Tiger King had to be celibate for an extended period of time... Well, this isn't far from that LOL! Get excited, I promise, y'all will be entertained." A cheesy joke, to be sure, but good-natured all the same. 
Sort of sums up all of his personality on Too Hot To Handle, too. Although Matthew didn't last till the end of the series, we won't be surprised if he pops up on some other show soon given his past TV appearances. 
As we wait to see what Matthew does next, let's take a moment to review what Rhonda Paul has been up to.