The Truth About Shannon Beador's Relationship With Tamra Judge
In Season 14 of Real Housewives of Orange County, fans saw cracks in Tamra Judge and Shannon Beador's friendship, which is interesting because, before that, they were each other's ride or die co-stars. The breakdown started when other cast members accused Tamra of stirring the pot with those Kelly Dodd sex train rumors. Then Kelly told Shannon that Tamra supposedly trash talks her all the time and came through with screenshots, leading Shannon to wonder whether she was foolish for trusting her best friend. The RHOC editors even threw in some previously unaired footage of Tamra throwing Shannon under the bus, talking smack as soon as Shannon got up to use the restroom at lunch. Despite these issues, Shannon remained a card-carrying member of Team Tamra, defending her and hating on Kelly. 
Welp, things change quickly in the Real Housewives universe. Tamra and Vicki Gunvalson left the show in 2020, meaning that Shannon was the last Tres Amiga in the cast. Although she had been close with Tamra and Vicki, it's literally her job to interact with the cast members on this show. This is something that Vicki and Tamra should probably understand, but they're supposedly not happy about how Shannon is behaving as she films Season 15.
As for the evidence of their discontent? It all centers around Shannon's Instagram photo from March 14, 2020.  
Tamra and Shannon might be growing apart
The picture that sparked this beef shows Shannon Beador hanging out with her new man, John Janssen, Kelly Dodd, and Kelly's fiance, Rick Leventhal. And although this might seem innocent to some, Tamra and Vicki are seemingly not happy about Shannon connecting with their nemesis, aka Kelly, and they've both unfollowed her on Instagram. "Tamra called me. She's like, 'I can't believe this,'" Vicki told Hollywood Life about picture-gate. "And I'm like, 'I can't believe it either.'"
So did Tamra end her friendship with Shannon over an Instagram post? The Cut Fitness owner addressed this question via her Instagram Stories in April 2020, telling one follower who asked why she "ditched" Shannon (via Reality Blurb), "Not sure where you got your information from but I never 'ditched Shannon. I've been nothing but there for her." Someone else said to Tamra, "Are you still friends with Shannon? I thought you were so close!!" Tamra might have thrown some shade when she responded, "I thought we were. I just don't hear from her very often."
As for Shannon's take, Reality Blurb reported the reality star said she was "shocked" by the entire situation. She also confirmed that they hadn't spoken recently and admitted, "I don't know what's happening so... It is what it is!"
The mom also seemingly defended her friendship with Kelly Dodd when she mentioned how Kelly was there for her throughout her divorce from David Beador. 
Tamra dives deeper into her Instagram drama with Shannon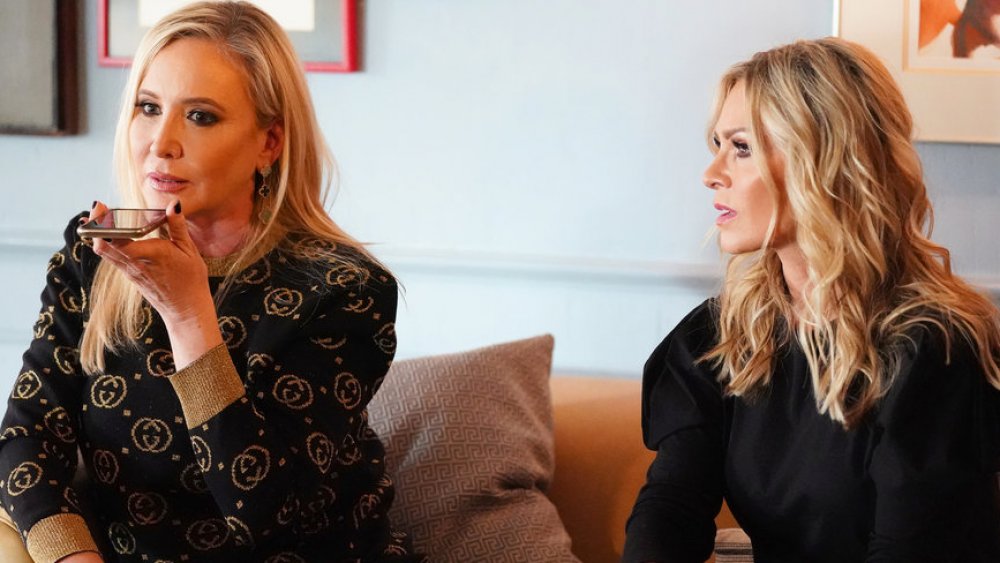 Nicole Weingart/Bravo
In April 2020, Tamra Judge explained during an interview with Hollywood Life why she unfollowed Shannon twice on Instagram. The first time was after Tamra left the show, and she also unfollowed all of the remaining cast members. The mom-of-four confessed it was motivated by her leaving RHOC, sharing, "I didn't want to think about it. It was hard for me, it was 12 years of my life." 
The second unfollowing was triggered by Shannon's rekindled friendship with Kelly Dodd. Tamra admitted, "You know what, I just don't want to see it. It's just that simple." However, there's clearly more to it than that. Tamra elaborated, "I haven't really talked to Shannon about some things that are bothering me...but when I have the chance to talk to Shannon, I'll talk to her about it."
It's evident that Tamra and Shannon aren't in touch as much as they used to be, but beyond that, they both seem to be confused by each other's social media activity. That being said, their friendship has survived worse. And there's a good chance they'll be just fine if they ever get the chance to hash it out.