Why We're Worried About Aaron Carter's Baby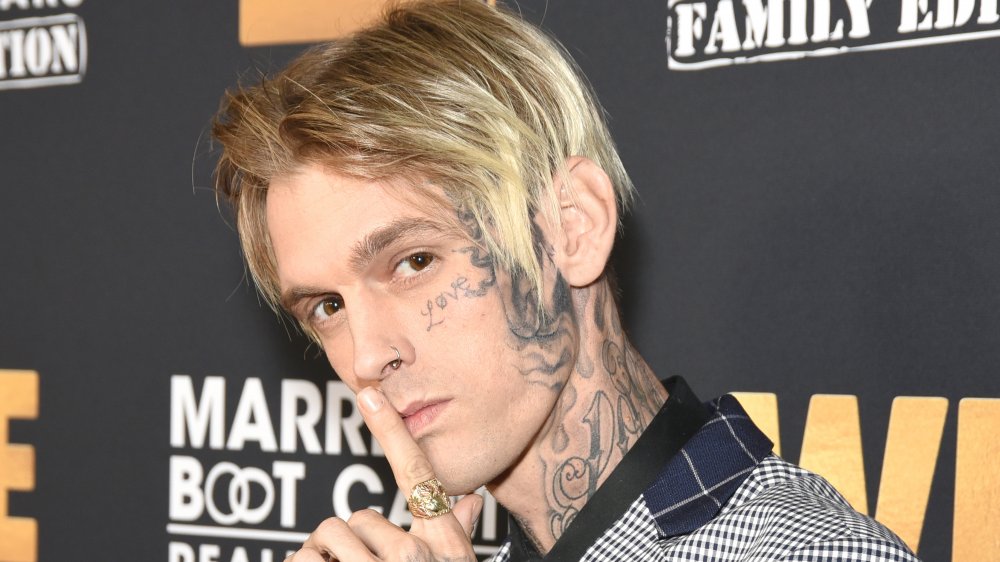 Presley Ann/Getty Images
On April 21, 2020, Aaron Carter took to Instagram Live to announce that he and girlfriend Melanie Martin are expecting a baby, per E! News. The 32-year-old showed off the positive pregnancy test and said, "I'm going to be a busy father for sure." A new baby is always good news, but given Carter and Martin's rocky relationship, they definitely have a lot of issues to deal with. Adding a baby to the mix will either bring them together or tear them apart for good — babies are like that. 
Still, Carter told People that he and Martin were thrilled. "We both were trying for it. I'm just focused on the future and being a dad. I want to be a good dad. I'm focused, my music career has been doing really well, and touring, having my clothing line out, all that stuff I have going for me that isn't necessarily just music. Family is most important to me," he said. 
When some fans expressed concern for him, Carter shared on Instagram Live, "I won't need a babysitter. I'm going to make a very good father. I'm all about love, give that baby nothing but love," per Us Weekly. 
Still, Carter and Martin's relationship has certainly had its ups and downs, which is why it's understandable to be a little anxious for their little one.
Aaron Carter and Melanie Martin have a tumultuous relationship
Aaron Carter and Melanie Martin announced that they were having a baby just weeks after Martin was arrested at the couple's home on domestic violence charges, per Page Six. Martin was released on a $50,000 bond and doesn't have a new court date due to the ongoing coronavirus shutdowns, but according to TMZ, Carter had "visible marks on his body." 
Carter told the outlet that Martin "informed him [she was] pregnant right before they got into the argument that led to her getting arrested." He added that he thought she was lying, and told TMZ that they definitely weren't getting back together. Obviously, she wasn't lying and had known for some time before going public with the news. However, it doesn't bode well for the baby or their relationship that there was "no chance" of getting back together mere weeks before the announcement.
The singer tweeted about the incident on March 30, 2020, writing, "so sad, ;( I hope she gets the help she needs. no one deserves domestic abuse female OR MALE #DomesticAbuse #Cheater she literally chocked me out.... I'm devastated." Considering that he sent that tweet out to the world shortly before he shared his baby news, it seems impossible that the dynamics could have changed so drastically.
Aaron Carter and Melanie Martin are moving fast
Unfortunately, Aaron Carter's relationships often come with arrest records. In 2017, he was arrested with his then-girlfriend Madison Parker for allegedly driving under the influence and possessing marijuana and other drug paraphernalia. At the time, Carter posted a statement on Twitter saying that "his 'celebrity' was targeted."
After sharing his statement, Carter then got into a public spat with his brother, Nick, and sister Lauren, who made it seem like they had not talked in sometime, tweeting that they didn't even have his phone number. What was that about family coming first? 
Domestic violence allegations and tumultuous family lives should be enough to contend with without adding a new child to the mix. Additionally, it's pretty early in their relationship for things to be getting so intense. Martin and Carter only made things Instagram official in January 2020, per Page Six, which means, at the time of their pregnancy announcement, the couple had only publicly been together about four months. That's quite a quick turnaround time to start thinking about planning a family. 
Sure, couples get pregnant and fall in love on their own time, but something about Carter and Martin's relationship just feels rushed. Hopefully, Carter makes good on his promise to let love and good vibes guide him into fatherhood. 
If you or someone you know is dealing with domestic abuse, you can call the National Domestic Violence Hotline at 1−800−799−7233 or TTY 1−800−787−3224. You can also find more information, resources, and support at www.thehotline.org.