Inside Tom Brady's Relationship With Rob Gronkowski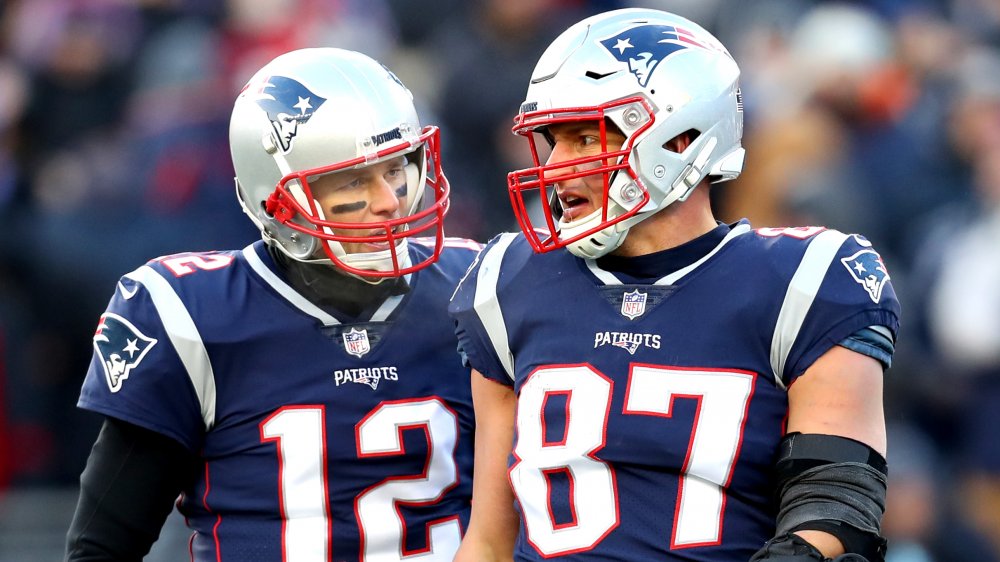 Maddie Meyer/Getty Images
Amid speculation from fans, former New England Patriots players Rob Gronkowski and Tom Brady confirmed they'll reunite on the football field for the 2020 NFL season. Gronkowski shared the news in a heartfelt Instagram post shared on April 23, 2020, revealing he'll play for the Tampa Bay Buccaneers, the same team that Brady signed with in March 2020. 
Gronk "retired" from the NFL in March 2019, but there were ongoing rumors that he'd return to the field one day. During an April 2020 appearance on Watch What Happens Live with Andy Cohen, Gronk shared, "The day that I retired, within 24 hours, there were already rumors that I was coming out of retirement." 
When Andy Cohen asked about the gossip that he would come out of retirement specifically to play with Brady again, he was pretty coy, telling the host, "I'm feeling good right now, I'm happy where I'm at, and you just never know, man.' Well, just a couple days later, he sure knew. 
No one was more pumped about Gronk's career move than Brady, as well as Tampa Bay Buccaneers fans, obviously. He welcomed his friend to the team with a funny Instagram video, in which he declared, "Time to run it back Gronky!" 
Even Brady's wife Gisele Bundchen gave the reunion her seal of approval, commenting on the post, "I love this."
Now that this exciting news is out, let's take a closer look at Tom Brady's relationship with Rob Gronkowski.
Rob Gronkowski confided in Tom Brady about his return to the NFL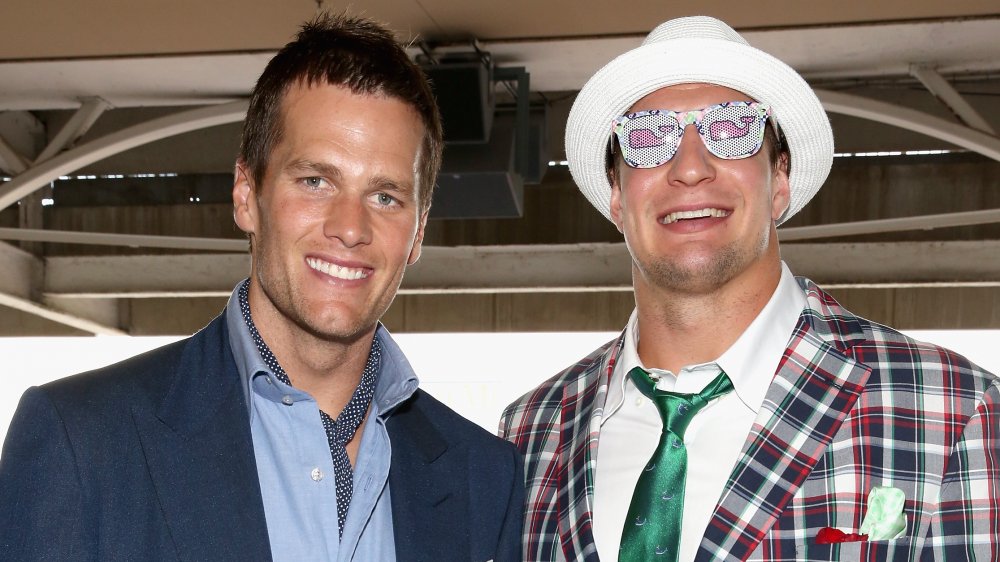 Robin Marchant/Getty Images
Interestingly enough, Rob Gronkowski revealed to ESPN that this reunion has been in the works for months. It all started during a workout session in March 2020, with Gronk confiding to Tom Brady, "'Hey, I'm kinda getting that fire underneath me again.'" Obviously, that "kinda" eventually became a definitely.
In the same interview, Gronk also dished on his rapport with the California native. He explained, "You've seen it many times with many other players — they can switch teams, and they might not have the same chemistry as they'd have with one of their other quarterbacks. So we have a great chemistry out there. And every time we get together, it's just like the old days."
The adoration is mutual. In November 2019, the quarterback talked about Gronk on WEEI's Greg Hill Show, stating, "I am really good friends with Gronk. We have had a great relationship for 10 years." Playing coy about his friend's possible NFL return, he explained, "Just because things are reported doesn't necessarily mean they are always true, just for the record... I don't know. Those are conversations I am not privy to." 
And, just a few months later, everything changed. Brady seemingly became privy to those conversations, and Gronkowski announced his return to football.