Queen Elizabeth's Great-Granddaughter Looks Just Like The Legend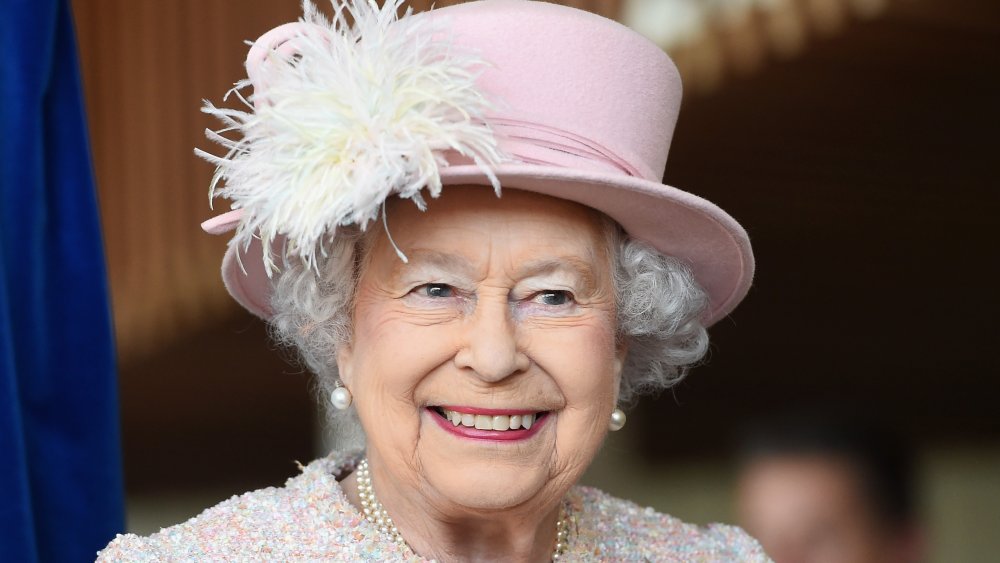 Stuart C. Wilson/Getty Images
Some people think Princess Charlotte takes after her grandmother, the late Princess Diana, but one could also argue that the young royal is, as Oprah magazine puts it, the "mini-me" of her great-grandma, Queen Elizabeth. The second child of Prince William and Duchess Kate Middleton, who have three kids in total (and likely won't have another), Charlotte has the same round cheeks, elegantly curved chin, and sweet smile as the monarch. And the ways that the princess mirrors her elite elder is only becoming clearer as she gets older.
When Kate posted a video of her little ones to Instagram in March 2020, the duchess' followers took to the comments to note the apparent resemblance. "Can't believe how much Princess Charlotte looks like Queen Elizabeth," one person wrote, per Daily Mail. Another felt the same way, writing, "I think Princess Charlotte is the image of Her Royal Highness."
As for those who need more evidence that these two are twins? We've got you covered. 
Princess Charlotte inherited two of the queen's key qualities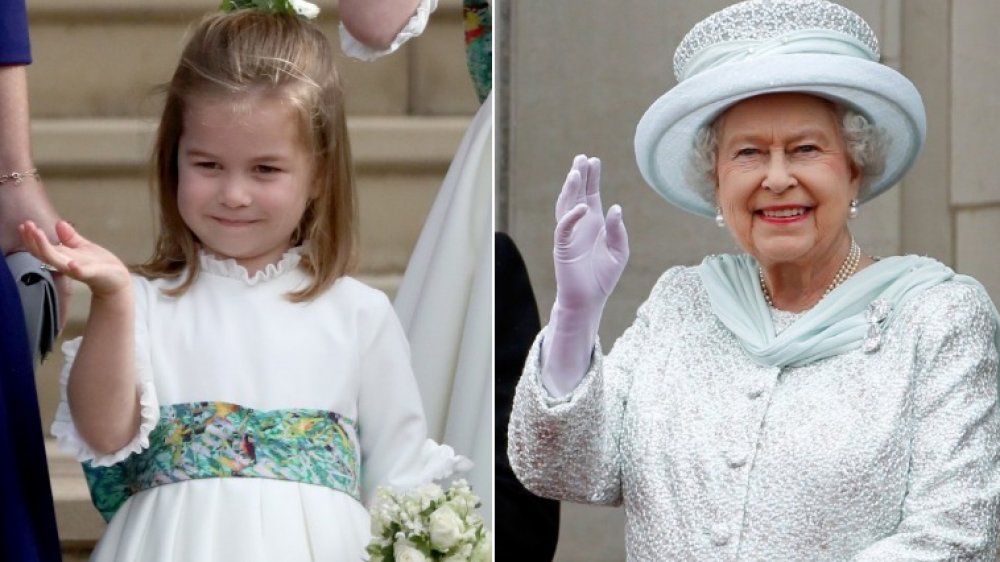 Wpa Pool, Wpa Pool/Getty Images
Queen Elizabeth didn't just pass down aspects of her appearance to her great-granddaughter, Princess Charlotte. The younger royal also seemingly inherited the mannerisms and personality traits the monarch is famous for, including her aristocratic wave. Throughout the years, Queen Elizabeth has been known to use a dignified motion of her hand in order to greet crowds, a move Helena Bonham Carter — who played a version of Princess Margaret in The Crown — compared to "polishing a lightbulb" in an interview with Emmy Magazine (via Chatelaine). Charlotte often uses the same kind of understated action when greeting a crowd.
However, the familiar familial gesture isn't the only way their personalities are alike. While the queen and the princess can both be friendly and are willing to engage with the public when appropriate, they also assert themselves when necessary. For instance, when Prince Harry and Meghan Markle stepped back from their royal duties, it was the queen who oversaw the move, and Charlotte was sure to have a word with photographers outside of her younger brother's christening in order to keep them in their place. And then there was the time that she stuck her tongue out at an event when she was obviously feeling sassy (although that's probably not something that the queen would do).
But wait — we have more to share about the similarities between the Queen and Princess Charlotte. 
The princess and queen are two peas in a pod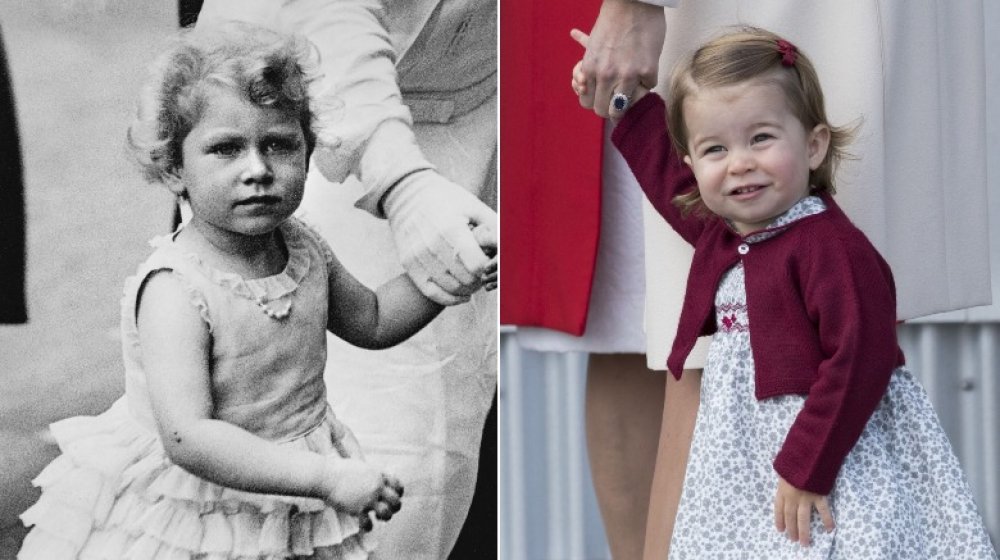 Pool/Getty Images
Although genetics is responsible for the fact that Queen Elizabeth and Princess Charlotte look alike, upbringing also plays a part in their overall similarities. 
Unlike Kate Middleton and Meghan Markle, both Elizabeth and Charlotte were born into the royal line as princesses. On top of that, Elizabeth wasn't expected to inherit the throne (a change in succession made her father the king) and neither is Charlotte, despite the fact that she sits fourth in the line of succession, as her older brother George is expected to take over the top role, behind Prince Charles and Prince William.
However, if Charlotte does end up wearing the crown, there's a good chance she'll be ready for the role thanks to her top-notch education from Thomas's Battersea private school (which costs $23,000 a year, if you're curious). The queen herself also received a (likely pricey) private education while studying at home under the guidance of tutors, learning French, mathematics, and history, as well as creative subjects such as art, singing, and dancing. Unsurprisingly, Charlotte also loves these activities, especially where it concerns dance, as Middleton once revealed to a fan (via the Daily Mail).
Of course, these are two aren't the only lookalikes in the royal family — Duchess Camilla bears a striking resemblance to her granddaughter, Eliza Lopes.