Kristin Cavallari And Jay Cutler: Who Will Be Worth More After The Divorce?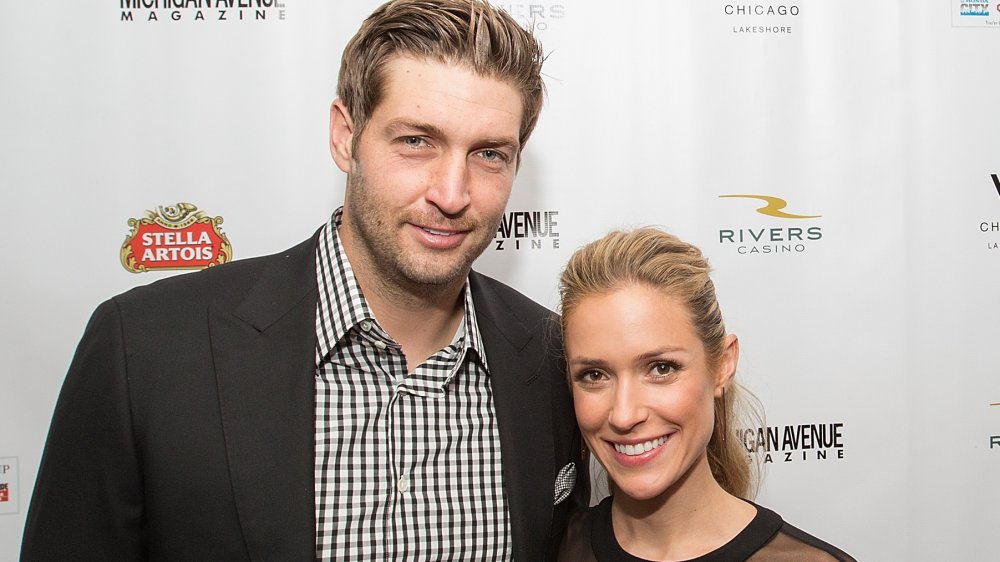 Jeff Schear/Getty Images
Very Cavallari star Kristin Cavallari and former NFL quarterback Jay Cutler announced their divorce on April 26, 2020, after 10 years in total together. The couple, who wed in June 2013, have three young children: Camden, Jaxon, and Saylor.
Although the Nashville residents attributed the split to "growing apart" in their identical announcements, there are lingering questions about Cutler's rumored affair with Cavallari's ex-BFF, stylist Kelly Henderson. However, Henderson and the athlete were strictly friends, and Cavallari herself never believed the gossip. "Not for one second have I ever thought that it was true," the Uncommon James boss said during an episode of Very Cavallari (per People). "It wasn't the actual accusations of them having an affair that made me upset, it was how Kelly went about it."
Now that we've squared those rumors away, let's discuss the exes' finances. Both parties are successful in their own right, and fans of Cavallari's E! reality series got to watch her build the Uncommon James empire, which includes brick-and-mortar stores in both Nashville and Chicago as of this writing. As for Cutler, he spent 12 seasons collecting paychecks from the NFL.
That all being said, it appears there is one party who will walk away with more cashola after the divorce is final.
Kristin Cavallari and Jay Cutler reportedly have a prenup
After starring on MTV's Laguna Beach as a high schooler, Kristin Cavallari earned a role on The Hills, for which she supposedly earned $90,000 per episode, The Daily Beast reported. Along with her co-stars, Cavallari reportedly took home "between $20,000 and $25,000 for personal appearances," the outlet noted.
Post-The Hills, Cavallari married Jay Cutler and moved to Nashville, during which time she launched her jewelry line, Uncommon James. A brick-and-mortar store followed in March 2018, and in October 2019, the mom opened up another location in Chicago. 
The reality star also published three successful books, Balancing in Heels, and True Comfort, and True Roots.
With all of these accomplishments under her belt, Cavallari was worth a reported $3.5 in March 2019, per Celebrity Net Worth (via Refinery29). The outlet has since updated her net worth to reflect Cutler's, which is a whopping $30 million. The athlete made Business Insider's "list of the 37 highest-paid NFL players of all time," and USA TODAY reported he received "base salaries of $22.5 million in 2014, $15.5 million in 2015, and $16 million in 2016." 
So could Cavallari get a cut of this fortune post-divorce? The Blast reported Cutler asked the court to "enforce" their prenup, and he wants joint custody of their three kids.
We don't know what the prenup entails, but it sounds like Cutler will walk away with his NFL fortune intact. However, this is TBD.