DJ Khaled Is Unrecognizable In Isolation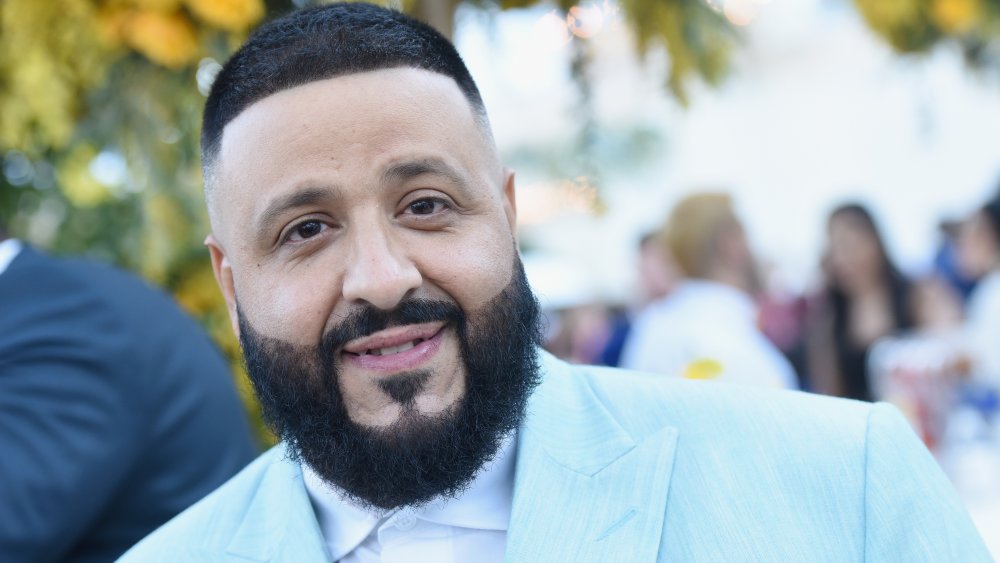 Vivien Killilea/Getty Images
Due to stay-at-home orders and social distancing efforts related to the coronavirus pandemic, many celebrities are without their glam teams and go-to stylists. Take actor Blake Lively, for example, who gave her husband, Ryan Reynolds, a hilarious quarantine haircut. "In the end, it looked like she'd done the whole thing only using a lighter or like those gloves made of sandpaper," Reynolds joked about the look during a conversation with comedian Stephen Colbert.
Of course, Lively and Reynolds aren't the only celebs out there who are navigating this new normal the best they can. DJ Khaled, for instance, shared a video on April 27, 2020, in which he sported a very different look. The new vibe raised some eyebrows from fans, marking the second time Khaled has caught heat for his style during the coronavirus. The criticism was so loud, in fact, that the rapper and producer directly addressed the comments on Instagram.
So what does DJ Khaled look like in isolation? We reveal his unrecognizable appearance below.
DJ Khaled embraces his scruff
DJ Khaled typically sports a manicured beard and styled haircut, so some fans were understandably surprised when he was spotted with ungroomed scruff in an Instagram video shared April 27, 2020. Not only has the "I'm the One" star's beard grown a bit, but he also appears to have some gray hairs. Talk about an isolation transformation! 
Although some might assume the Louisiana native is bothered by comments urging him to "shave," it appears he has a sense of humor about the whole thing. "The THEY DONT WANT ME TO GET A HAIRCUT SMH!" he captioned a hilarious side-by-side of himself on April 13, 2020. "I will get a haircut. I will figure it out soon lol." He added, "I'm get my Barbour [barber] a space suit stay tuned! I NEED MY BEARD! OIL! Lol!"
Singer Tamar Braxton had a great response to Khaled's post, writing, "Don't worry about it bro!! It's the people who aren't really quarantined who is talking!! Those of us who has been looks JUST like you... and me." She continued, "Our family loves us anyway and right now, that's was matters! Be tore up in peace."
But wait — DJ Khaled isn't the only star who has switched up his look. Sarah Hyland is also unrecognizable in isolation.