Anne Gwynne's Grandson Looks Just Like The Legend
Anne Gwynne may not be the most recognizable name these days, but during the silver screen era, she was one of the biggest stars in Hollywood. Born in Waco, Texas in 1918, Gwynne became a "horror icon at Universal in the 1940s," according to the Los Angeles Times. Making more than 40 films with the studio, she was considered one of the "leading scream queens" and appeared in classics such as 1940's Black Friday, 1941's The Black Cat, and House of Frankenstein in 1944. While Gwynne also dabbled in "westerns and even musical-comedies," she made her mark by "ventur[ing] into the sci-fi realm, playing the evil Lady Sonya, a henchman of the nefarious Ming the Merciless, in the 1940 serial Flash Gordon Conquers the Universe."
As author Tom Weaver explains, "to the fans of Universal horror films of the 1940s, Anne was one of the best and most popular leading ladies" due to the fact that she "was the spunky, bubbly, very American girl-next-door type — the stuff of instant crushes for these movies' mostly male audiences." That's also why she "was voted the No. 1 pinup girl of World War II servicemen in 1943-44 by Yank magazine."
Gwynne passed away in 2003 at the age of 84, leaving behind a son, Gregory Gilford, and a daughter, Gwynne Pine, as well as two grandchildren, including one that you'll surely recognize, not only because he looks like his iconic grandmother, but also because he's just as famous.
Chris Pine inherited Anne Gwynne's talents and looks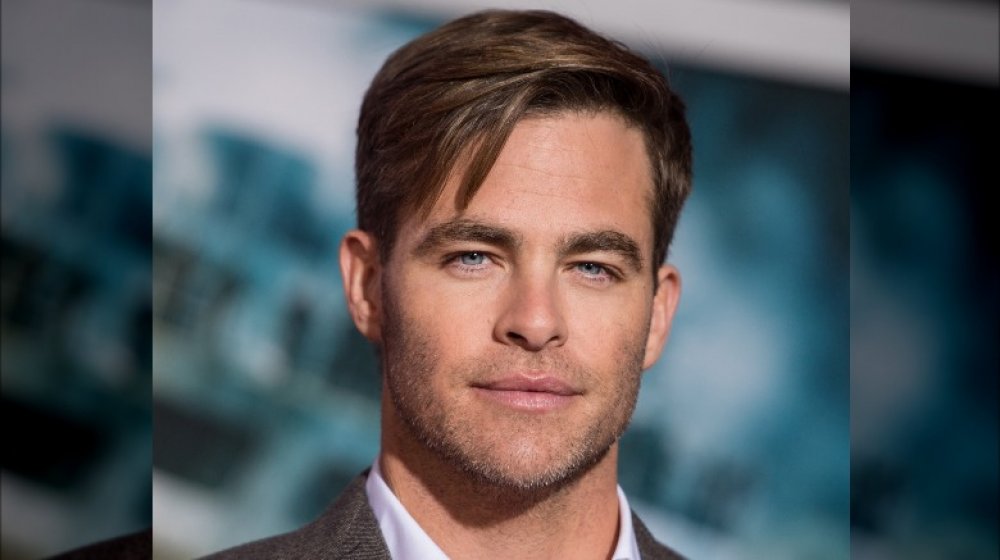 Jason Kempin/Getty Images
Depending on your level of fandom when it comes to this Star Trek actor, there might be a few facts that you didn't know about Chris Pine. For instance, while he may be forging a successful path in show business, he's also following in the footsteps of famous members of his family. Not only was Hollywood legend Anne Gwynne the actor's grandmother, but Chris is also a the son of another famous face. His father, Robert Pine, played Sgt. Joseph Getraer on CHiPs from 1977 to 1983. However, when it comes to screen-worthy features, you can definitely count Chris among the ranks of grandchildren who look like their legendary grandparents.
Notice the shape of Gwynne's face, then take a look at her hooded eyes, and fawn over her luscious hair. You can definitely see hints of those features reflected in her handsome and talented grandson. Honestly, how could Chris not have gone into the entertainment industry when he's the "sexiest dreamboat" around? "In addition to becoming one of the best actors of his generation, the man with the piercing blue eyes has easily made viewers swoon over the years," reports Cosmopolitan, and fans are surely grateful for the opportunity to admire his crush-worthy looks onscreen.