Florence Pugh Is Unrecognizable Without Makeup In Isolation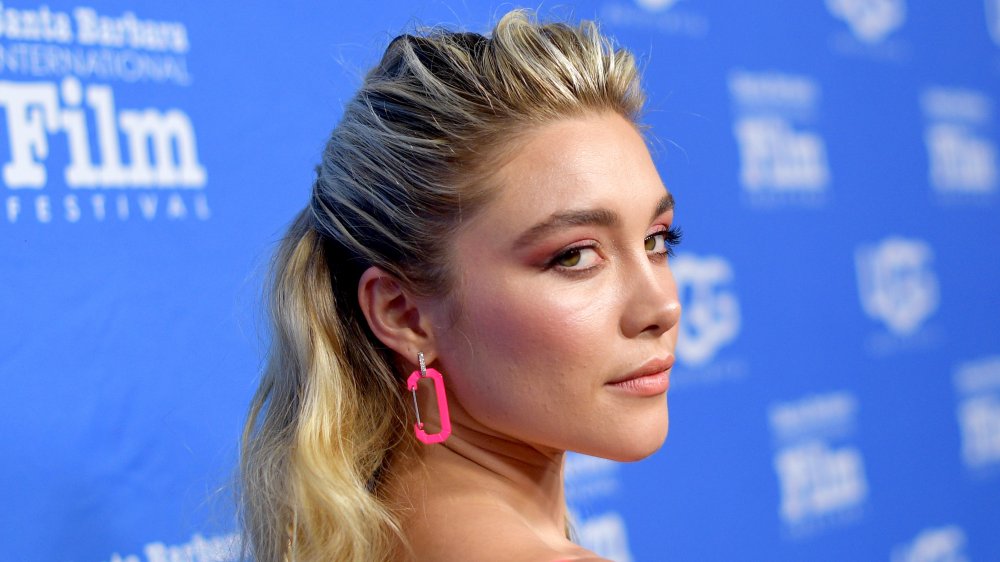 Matt Winkelmeyer/Getty Images
You most likely know Florence Pugh from her career-defining role as Amy in Little Women, or perhaps you loved her as Dani in the creepy hit movie Midsommar. She was the breakout star of 2019 and has an incredible lineup of movies hitting theaters in 2020 and 2021. The raspy-voiced star was a fixture during awards season, making waves on the red carpet with her unique fashion sense and must-have beauty looks (those eyebrows!)
Since she's been in isolation due to the coronavirus, fans have gotten a peek inside her home life — including some makeup-free photos and videos of the star on her Instagram. While the lips and eyebrows are undeniably her, she looks a bit different than she does on the red carpet. Pugh has been showing off her natural side, and we gotta say, she still looks fabulous!
Refinery29 caught up with Pugh's makeup artist for some behind-the-scenes tidbits about her the star's beauty regimen. "Florence truly has one of the most gorgeous faces, with her big eyes and full lips," makeup artist Naiko Scintu said. "My whole approach is about enhancing her natural beauty, and that starts with a fresh skin base." Scintu, like the rest of Hollywood, is a huge fan of Pugh's eyebrows: "Luckily, Florence wasn't a teen in the '90s, so she never over-tweezed her brows."
Florence Pugh claps back at bullies & defends her love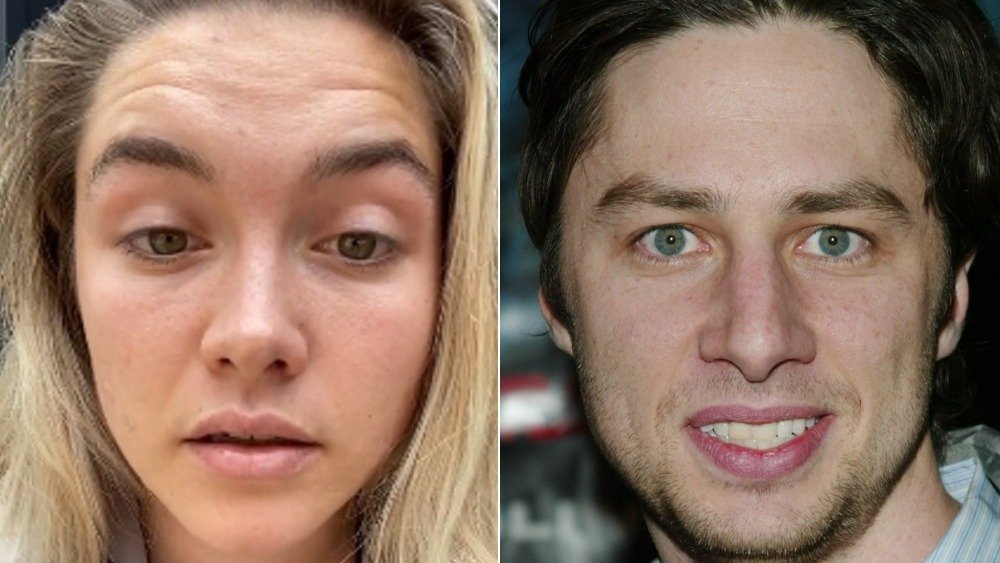 Instagram, Evan Agostini/Getty Images
In early April 2020, while in isolation, Pugh posted a happy birthday message to her boyfriend, Scrubs star Zach Braff, on Instagram. Almost immediately, her comments were full of people bashing her relationship and the age difference between them, according to The Cut.
The actress did not take too kindly to the commenters and just a few days later posted a nearly four-minute response video on Instagram. "Within about eight minutes of the photo being posted, I had about 70 percent of the comments hurling abuse and being horrid and basically bullying someone on my page," Pugh said (via The Cut). "I will not allow that behavior on that page." She continued, "I do not need you to tell me who I should or should not love and I would never in my life — ever ever — tell anyone who they can or cannot love. It is not your place, and really it has nothing to do with you."
One of the elements that made her response even more powerful was the fact that she was not the glammed-up starlet we're used to seeing on the red carpet. She was just a woman, bare-faced and raw, promoting compassion during a pandemic. She ended her Instagram rebuttal with the phrase: "Being hateful is not trendy." Pop star Ariana Grande agreed, responding with her own two cents: "'being hateful is not trendy' a new tattoo for my chest."
We couldn't agree more!