The Untold Truth Of Andrew Cuomo's Daughters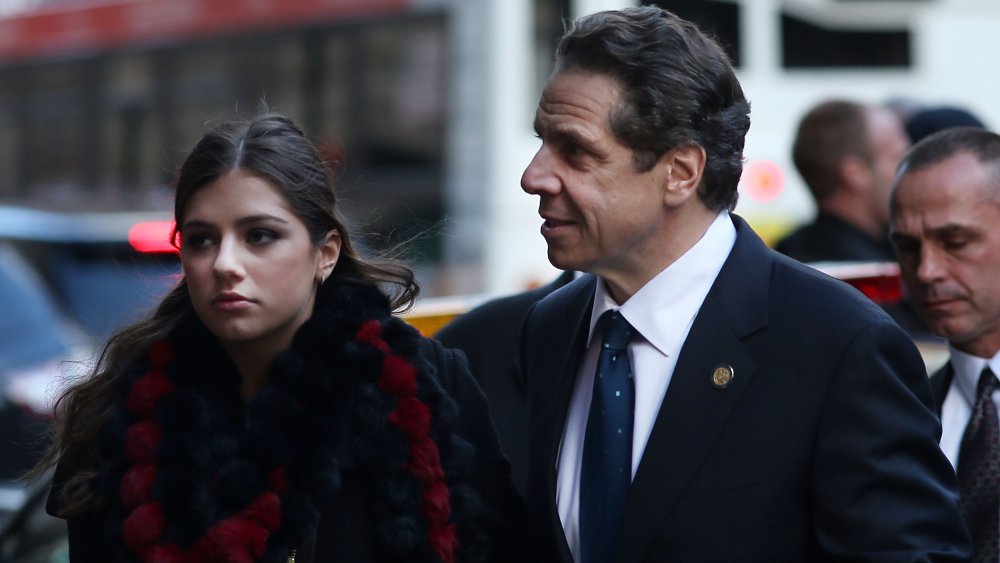 Spencer Platt/Getty Images
As the coronavirus continues to take hold of headlines, this global pandemic is unearthing some real truths about everything from countries to celebrities to politicians. While most of the American public is bound by shelter-in-place orders, many are turning to the television and other virtual methods to keep up to date with friends, the news, and pretty much anything that will break the monotony of staying indoors. 
And like many crises, out of this time have also risen leaders for the public to turn to — like Dr. Anthony Fauci, who is on the coronavirus task force and has become a familiar face to many, and state leaders like Governor Gavin Newsom from California or Andrew Cuomo of New York. Governor Cuomo, in fact, has built such a fan base in recent weeks that some have speculated on a potential future run for presidency.
Whether or not Cuomo will ever run for president, he certainly has had to make some tough decisions while leading the state hit hardest by the virus. Seeing his leadership, it's no wonder that some of his political prowess was passed down to his three daughters. 
Politics and activism run in the Cuomo family's blood
Mariah, Cara, and Michaela Cuomo are the three daughters of Andrew Cuomo and his ex-wife, author, and activist Kerry Kennedy. This link to the Kennedys means that not only are the Cuomos somewhat of a powerhouse family, but they're also related to the late President John F. Kennedy. JFK was, in fact, the daughters' great-uncle. 
The amount of politics (and money) in their blood can definitely be seen throughout the turns their lives have taken. All three attended Ivy League universities, according to the Oprah Magazine, with Cara going to Harvard, her twin Mariah going to Brown, and Michaela following in Mariah's footsteps with a degree from the same Rhode Island university.  
The three of them pursued their interests in politics and advocacy in college and beyond. Michaela, 22, is often involved in the It's On Us campaign and worked with Joe Biden for the sexual assault awareness cause. Cara, 25, took a different route — her work has led her to places like Rwanda and Malaysia, where she does humanitarian work as an associate for the Robert F. Kennedy Human Rights nonprofit. Mariah, also 25, has supported the same nonprofit and is now an associate at a successful global CEO consulting firm. 
During the coronavirus, the three women have been quarantined with their father and supported his message around social distancing. Will we see more of them in the political sphere? Only time will tell.