Pierce Brosnan's New Quarantine Look Is Unrecognizable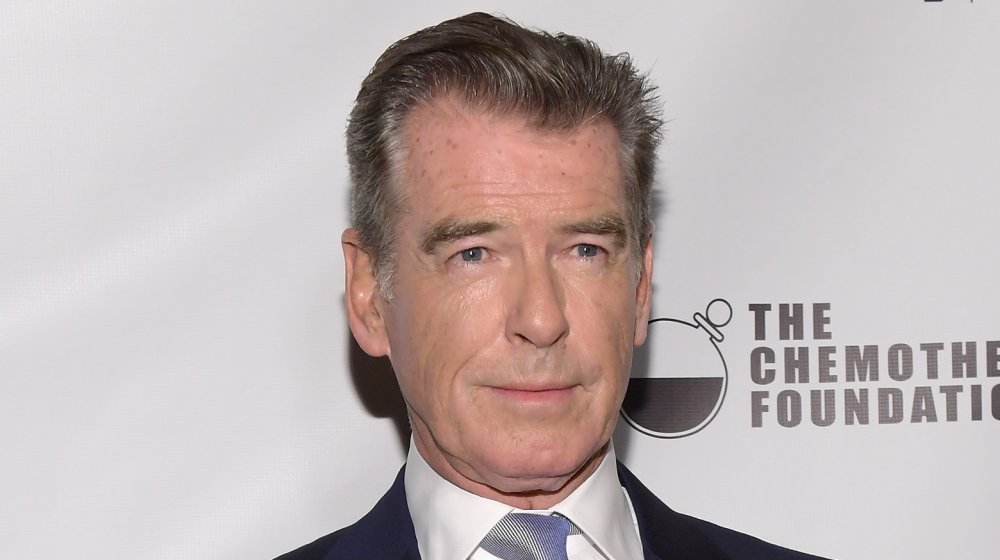 Ben Gabbe/Getty Images
Pierce Brosnan is forever imprinted in everyone's minds as Bond, James Bond — the super suave spy with the chiseled jaw, pierce-ing blue eyes (lame pun, we know), and dark, slicked-back hair. As the decades have passed, the Remington Steele star stayed true to his good looks, becoming a silver fox with his salt-and-pepper locks, forever rocking a tan, and looking like a straight-up distinguished dad. Mmm.
In this new reality of quarantine amid the coronavirus pandemic, however, fans and celebs alike are changing their appearances, switching up their looks in new ways. Whether that means shaving their heads for charity (like Riverdale star Casey Cott), growing facial hair (such as Jersey Shore's Pauly D), or simply opting to go fresh-faced (à la Rachael Ray), stars are looking just a little different than how we've come to know them. In fact, the same even goes for Brosnan, who emerged in Hawaii looking unrecognizable.
Pierce Brosnan debuted a rather terrifying look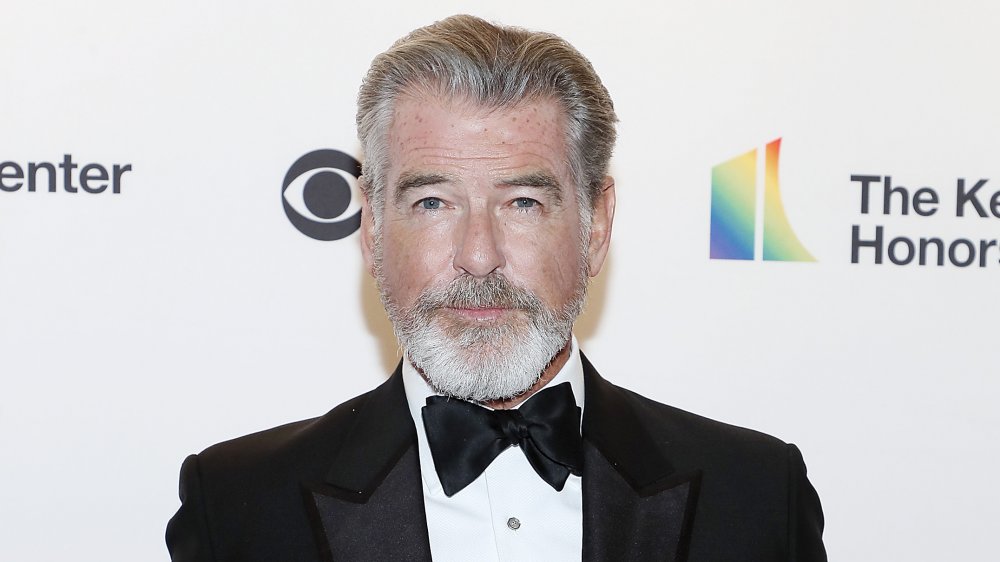 Paul Morigi/Getty Images
In late April 2020, Pierce Brosnan was caught by paparazzi while hiking in Hawaii, where he and his wife have a home, according to Us Weekly. His hair was shaggy and almost entirely white. He sported no facial hair, and wore a plain white tee over cargo shorts while climbing craggy rocks. TBH, he looked like a regular dad in the great outdoors, even using a walking stick. However, maybe this was his clean-shaven attempt at showing the world he wasn't as, uh, hairy as the Instagram shot he shared a few days earlier.
Pierce Brosnan Almost Looks Unrecognizable on Solo Hike in Hawaii: Pics https://t.co/sl7lPVxz1i pic.twitter.com/U39Fb8L8Qs

— @trendsNewsday (@trendsNewsday) April 21, 2020
Several days before these pap shots were taken, Brosnan posted a shocking selfie on Instagram, Metro reported. The super close-up snap, which he later deleted, featured the actor like we've never seen him before. Brosnan sported long, gray hair that blended into a scraggly beard so unkempt that the consensus was that he looked like Tom Hanks in Castaway. Silver bangs swept over his forehead, his icy blue eyes wide.
Pierce Brosnan shocks fans with new look as he ditches grooming in isolationhttps://t.co/kBSmDcBGF1 pic.twitter.com/JY74HWdCgr

— Mirror Celeb (@MirrorCeleb) April 17, 2020
"Isolation," Brosnan reportedly captioned the photo, "and this is only week six!" It's hard to tell if his appearance was legit, or the look was simply a smoke-and-mirrors show of a wig and prosthetics. Either way, make that two unrecognizable Brosnan looks in just a matter of days.
Pierce Brosnan is really a master of disguise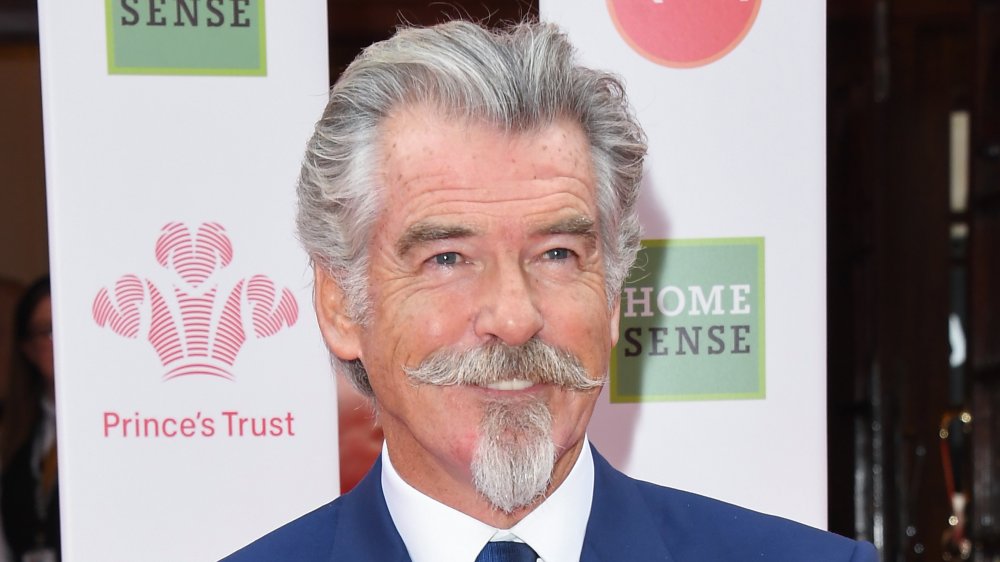 Stuart C. Wilson/Getty Images
In addition to Pierce Brosnan's quarantine features, he also looked like an entirely different person at a red carpet event pre-lockdown. In early March 2020, Brosnan stepped out for The Prince's Trust Awards in London, donning a handlebar mustache and a goatee. His gray hair was brushed back, away from his face.
Though the movie star looked dapper in a navy blue suit and tie, his facial hair stole the show. And despite the fact that he was dressed to impress (he presented an award at the ceremony), he was still a far cry from his usual put-together self.
Suffice it to say, Brosnan looked like an old-timey carnival barker, or one of those guys from the 1920s who twirled a hoop on a stick as tumbleweeds blew by. We could even imagine him stroking his beard and twisting his mustache through his fingers at an attempt to be a James Bond-esque villain. 
In truth, Brosnan was rocking the unique facial hair because of his role as The King in the upcoming film Cinderella, according to JustJared. That, perhaps, could also explain his wild Instagram look from above.