Alaskan Bush People: The Real Reason Bear Brown And Raiven Split
Alaskan Bush People star Bear Brown (aka Solomon Isiah Freedom Brown) took to his YouTube channel on May 2, 2020, to confirm that he is the father of a baby boy named River, who was born prematurely in March 2020. Although Bear says there was "never any doubt" that the child is his, he decided to formally establish paternity so he could get "equal rights as a parent." River's mom and Bear's ex-fiancee, Raiven Adams, wants primary custody and for the Discovery star to have "restricted visitation," The Sun reported.
As of this writing, Bear hasn't met his newborn son yet. Although he blamed the distance on being safe during the coronavirus pandemic, Raiven made the claim on social media that the reality star hasn't made an effort to see his son. She posted supposed text messages between the two to prove her side, captioning it, "call me" (via The Sun).
It's pretty clear there's some bad blood between Raiven and Bear, which might have some fans wondering what went wrong in the first place.
Raiven Adams accused Bear brown of abuse
After meeting in August 2018 at Noah Brown's wedding, Bear Brown and Raiven Adams got engaged in August 2019 and broke up two weeks later. They announced their split and pregnancy news at the same time, with Bear explaining to People, "Even though we're no longer together, we're still friends and dedicated to raising a healthy and happy child."
Raiven and Bear made up in September 2019 and split again in mid-October 2019. Then in February 2020, Adams filed a domestic violence protective order against him. Adams accused Bear of being "verbally abusive," and withholding "food" and "money" from her as punishment, per court docs obtained by The Blast. She also claimed Bear abused drugs, and she shared a concerning story about propane leaks in their home. "I fell asleep on two occasions shortly before separating permanently. Both times I woke up to propane left on in our trailer," she stated. "When I expressed my concerns he laughed as if was a joke."
Raiven asked the court to protect her baby from the reality star's alleged "violent behavior."
The new mom withdrew her request for a long-term restraining order in March 2020, The Sun reported. Her mom, Kassy Michelle, claimed via social media that her daughter is trying to "keep the peace," per The Ashley's Reality Roundup. 
The future of Alaskan Bush People could be in jeopardy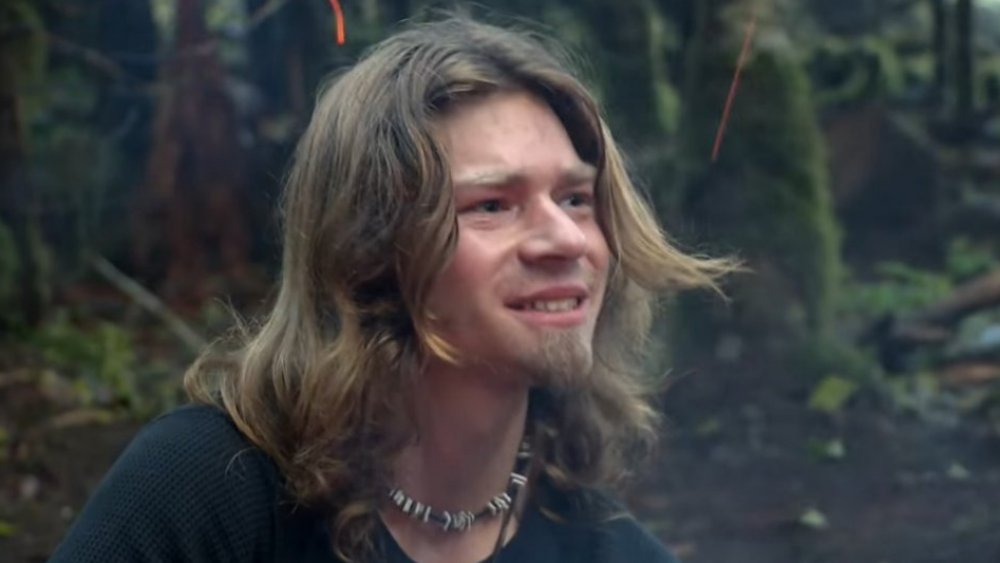 Discovery Channel
The drama surrounding Bear Brown and Raiven Adams could jeopardize the future of the long-running reality series. Alaskan Bush People debuted in 2014, but the he-said-she-said controversy between the new parents has cast an ugly shadow over the entire series.
Adams claims Brown used the hit show to threaten her. "I was told multiple times if he didn't follow what he wanted me to do/say/act, he would have Discovery bury me [with] lawsuits," she wrote in court documents (per the Blast). The network did not publicly weigh in on the couple's troubling dynamic, but some fans have made it clear that they'd like the show canceled.
"The family r trouble and should not be on TV nasty..." tweeted one follower (per The Sun). Another critic said the family's "fake i'am living in the wilderness s**t is ridiculous. This show should be canceled if it isn't already." Others continue to support the Brown brood. "All of them are amazing and no way they would hit, or hurt anyone," said one fan.
Where this is all going is anyone's guess, but we'll be sure to keep you posted as the story unfolds.