The Real Reason Michael Jordan Changed His Number To 45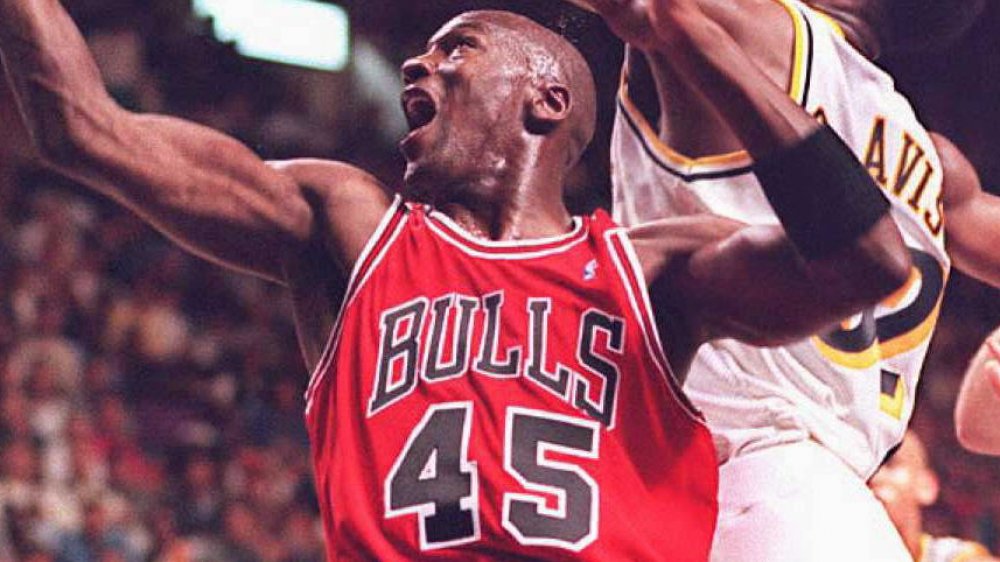 John Ruthroff/Getty Images
From his father's tragic death to his unexpected retirement, NBA legend Michael Jordan sparked a media frenzy in 1993. Now, with the release of ESPN's The Last Dance documentary, Jordan's departure from — and return to — the NBA has basketball fans abuzz once again. As the documentary offers insight into Jordan's time on the court, one part revealed why he changed his jersey to No. 45 when he rejoined the league in 1995.
"I didn't want to go to No. 23 because I knew my father wasn't there to watch me, and I felt it was a new beginning. And 45 was my first number when I played in high school," Jordan said (via CBS Sports). Of his first game back, Jordan said, "I was nervous because I hadn't played competitive in a long time, and I just felt naked because my father wasn't there. It just seemed so different."
Jordan wore No. 45 for the remainder of the regular season, but when he came face-to-face with former teammate Horace Grant, Jordan's perspective changed. After Game 1 of the conference semifinals that year, Grant claims Orlando Magic teammate Nick Anderson said "45 isn't 23," which motivated Jordan to rekindle the fire he had prior to his retirement. 
Jordan switched back to No. 23 for Game 2 and, although the change did not help the Bulls win the series, Jordan came back stronger for the 1995-96 season and led his team to its second three-peat in the years after his return.
Michael Jordan switched back to No. 23, but it cost the team — literally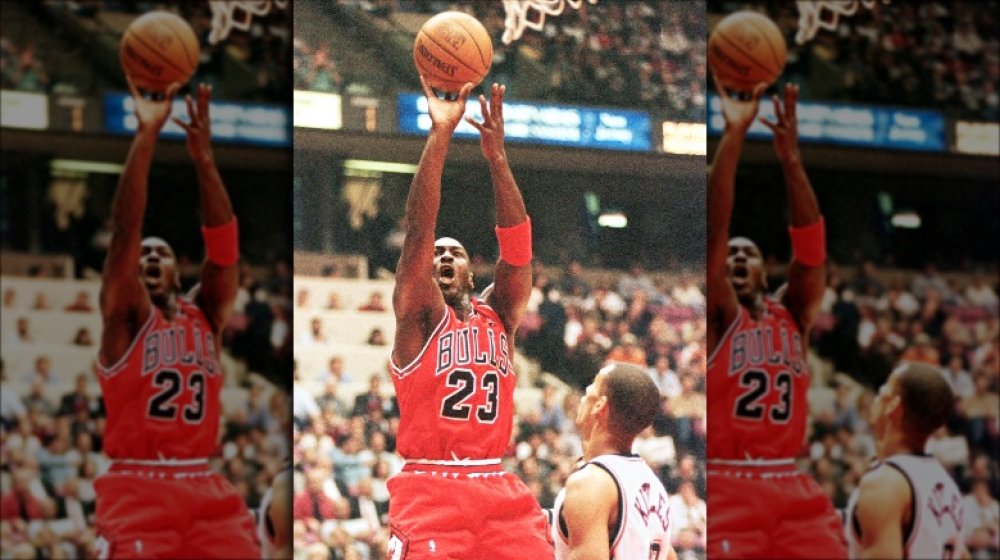 STAN HONDA/AFP
When Michael Jordan switched back to his No. 23 jersey for the second game of the 1995 playoffs, the move was rich with symbolism. However, making this change in the middle of the series left the Bulls feeling poorer than before. According to The New York Times, the NBA fined the Bulls $25,000 every time Jordan took the court with No. 23 emblazoned on his jersey.
"We do not think that the issue of jersey numbers should be allowed to become a distraction from the great playoffs that are now under way," league deputy commissioner Russ Granik said in a statement (via The New York Times). "The Chicago Bulls have been advised that we will not approve a change in uniform number this season."
The statement continued, "If the team continues to permit him to appear in a number other than 45, in violation of league policy, the matter will be dealt with in an appropriate manner, at the conclusion of the season."
At the time, Jordan was also fined $5,000 for "wearing nonconforming shoes" because, while his teammates wore "primarily black shoes" throughout the season, he'd been seen "wearing white shoes, with a strip of black patent leather around the base." That being said, when you stop to consider that, these days, Jordan is worth $2.2 billion, according to Celebrity Net Worth, said fines were merely the dues this great had to pay to regain his hard-earned place in basketball history.
Michael Jordan wore another number when his No. 23 jersey was stolen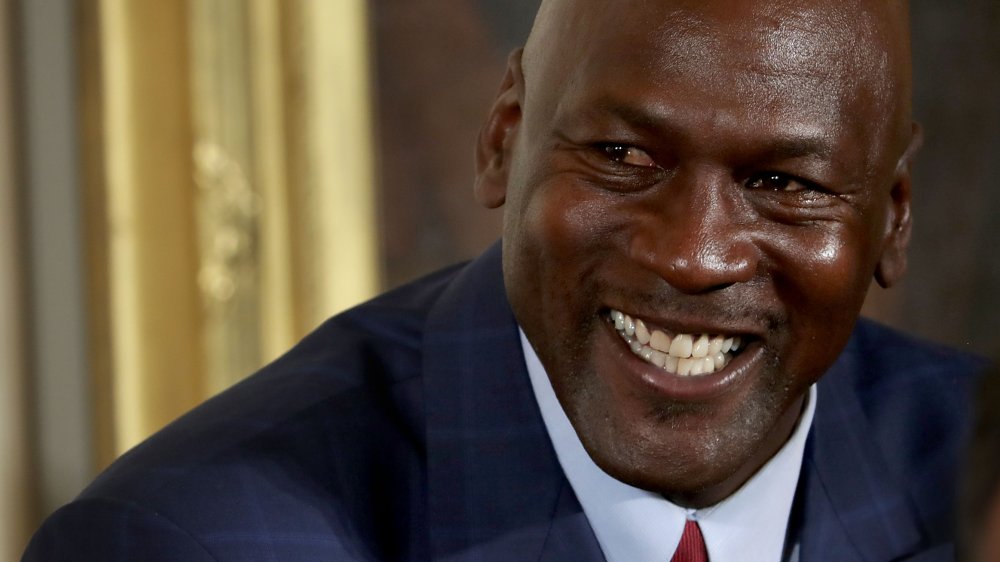 Chip Somodevilla/Getty Images
Although Michael Jordan's jersey swap continues to capture the public's interest, few recall that, for one night only, Jordan had to wear another number — but not by choice. According to Sports Illustrated, the notorious No. 23 jersey mysteriously went missing shortly before the Chicago Bulls were scheduled to face off with the Orlando Magic in 1990. On that day — Valentine's Day — Jordan was forced to wear an unnamed No. 12 jersey. As SI noted, the events surrounding the jersey's disappearance remain unknown, but sources confirmed that the Bulls did all they could to avoid controversy.
According to SI, Sam Smith, who covered the game for the Chicago Tribune, recalled the Bulls searching the crowd "for a No. 23 jersey that would fit Jordan's 6'6" frame" to no avail. Former Bulls teammate Stacey King also remembered the "jersey theft being a big deal" as Jordan was "very superstitious" about his jersey. "That has never happened to me before," Jordan told the Orlando Sentinel (via SI). "It's pretty irritating because you're accustomed to certain things and you don't like to have things misplaced."
While the Bulls never did figure out who stole the jersey, an unnamed source told SI that it was found "days later in the ceiling tiles of the visiting locker room," although a Bulls spokesperson doesn't remember the jersey ever being returned. 
So where did that particular No. 23 jersey end up? Perhaps we'll never know!