Arie From The Bachelor Is Totally Unrecognizable With His New Hair
The Bachelor alum Arie Luyendyk Jr.'s signature look has long been his salt and pepper hair. However, on May 13, 2020, everything changed when his wife, Lauren Luyendyk, decided to switch things up. Lauren, who had cut the race car driver's hair a few weeks before, dyed his locks an early Eminem era blonde (which we reveal below). Arie also grew out his facial hair (which looks great, by the way), to complement the look, which he shared on Instagram with his followers. "It's a vibe," he declared. A vibe, indeed. 
Fellow Bachelor alum Bob Guiney agreed, commenting, "Well played vibe!" while Bachelor in Paradise standout Jared Haibon asked, "Will the real Slim Shady please stand up," which was the perfect Eminem reference. Bachelor fan favorite Tayshia Adams remarked, "ARIE!!!!!! Hahaha stopppp! You guys are too much! I'm actually really diggin it!!" 
As it turns out, this isn't the first time Arie has switched up his look. In April 2020, Arie and Lauren made a temporary change with their hairstyles, with Lauren enhancing her blonde locks with some pink and purple accents, while Arie tried out a combination of blue and grey. Lauren told her Instagram followers that they impulsively made the changes, quipping, "Alessi [their daughter] was napping sooo we did a thing + dyed each others hair lol."
But wait — that's not all we have to say about Arie's interesting hair journey. 
Arie Luyendyk Jr.'s hair has caused controversy before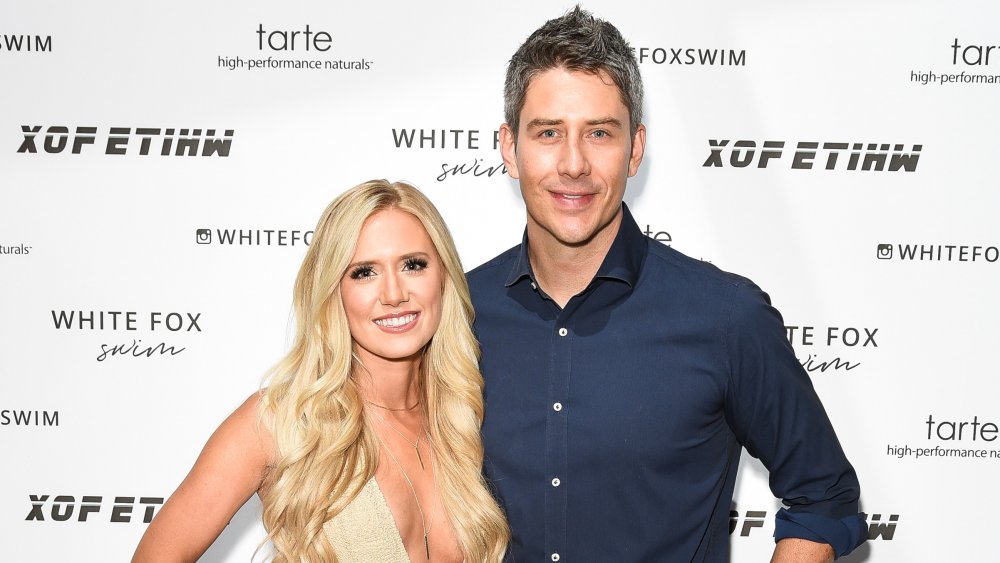 Presley Ann/Getty Images
Arie Luyendyk Jr.'s switch to blonde (pictured below) isn't the first time his hair has made headlines. Arie actually made some major waves because of his natural gray hair, believe it or not, as he was the first Bachelor lead with silver strands. In 2018, the race car driver told InStyle, "It's so funny that my hair has become a big topic of conversation." He added, "The other day, someone actually asked me if I dyed my hair to be more gray? And I was like, 'No!' But I will admit that sometimes when I'm watching back the episodes and it was a really sunny day when we were filming, I'm like, 'Oh man, my hair looks so freakin' gray right now.' It's been hilarious how much it's been brought up by everybody else." 
When Arie became the Bachelor lead, his gray hair took some viewers by surprise as it had been six years since he had starred Emily Maynard's Bachelorette season. However, it's worth noting that the new dad did have some grays during that season too. In a 2018 interview with People, Arie explained, "I was actually already gray during Emily's season... I was already gray! And I started going gray in my early 20s, actually. So, yeah, I'm just embracing it, you know? Salt-and-pepper look, it's like totally in." 
All in all, we have a soft spot for Arie Luyendyk's new look. Rock on!