Times Sophia Grace And Rosie Proved They Were Total Stars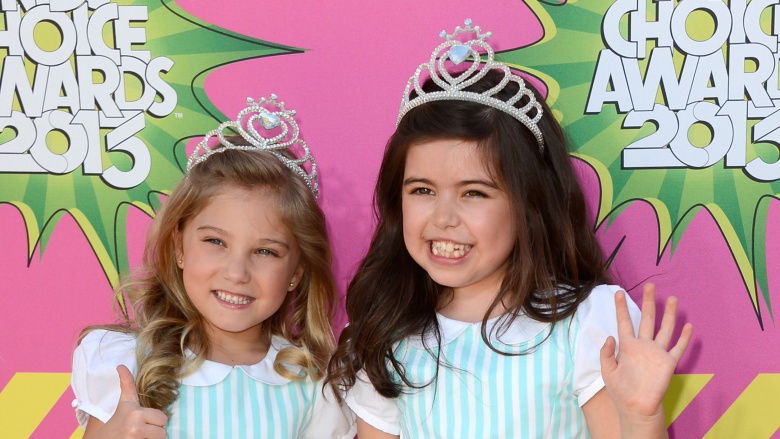 Getty Images
Sophia Grace Brownlee and Rosie McClelland are two adorable British girls who rose to fame when they recreated their own version of Nicki Minaj's "Super Bass" in 2011. Talk show host Ellen DeGeneres saw the clip and invited them onto her show. That appearance launched the girls' careers as tutu-wearing YouTube personalities and talk show frequenters. They've since appeared regularly on The Ellen DeGeneres Show and hosted several red carpet events, rubbing elbows with all sorts of celebs. The tiny twosome have also written books, released a movie, and created their own dolls, and Sophia Grace has a blossoming singing career. (Whew!) From rapping with Minaj to sipping tea with Justin Bieber, here are some of the girls' best on-screen moments.
Meeting Nicki Minaj
When Sophia Grace and Rosie actually got to meet their idol on the Ellen show in October 2011, Sophia Grace screamed at an octave only dogs can hear. The girls got to play dress-up with Minaj, wearing huge wigs and big sparkly bows, and, of course, they rapped with her on stage. Sophia Grace's hype-girl, Rosie, was quiet throughout, but we're sure she was losing it on the inside.
https://www.youtube.com/watch?v=f9573kGBtuE
Raiding the Barbie aisle of Toys 'R' Us
The day after they appeared on Ellen in 2011, Sophia Grace and Rosie went on the ultimate little girl's' shopping spree wearing the most perfect necklaces of all time: a large glittery plastic ice cream cone and a hot pink pretzel (given to them by Minaj). They were also sporting tiaras, which are everyday wear for these two. At one point during the spree, Sophia Grace is rendered speechless (which isn't easy for the hyperactive pre-teen) in the Barbie aisle. "I can't believe it," she says looking around. "I actually can't believe it." After filling their carts with Disney princesses and Hello Kitty-themed toys, the girls climb into a hot pink Power Wheels Cadillac and hit the road.
https://www.youtube.com/watch?v=33gJ38nM7Q4
Their first time at the AMAs
The first time Sophia Grace and Rosie hosted the red carpet at the American Music Awards in November 2011, they freaked out over meeting some of their favorite pop stars for the first time, including Mary J. Blige, Joe Jonas, and Taio Cruz (who they were excited to find out was British). John Legend shared some life advice, and after meeting Lil John, Sophia Grace asked, "Is that Lil Wayne's brother?" The girls sang "Super Bass" for Jennifer Hudson and performed "Firework" for Katy Perry. Sophia Grace screeched with glee the entire time, while an excited, but overwhelmed and slightly confused, Rosie looked on.
https://www.youtube.com/watch?v=KUWpd91UBrA
Exploring an empty Grammys Museum
On an early episode of the "Sophia Grace & Rosie Show," which the girls launched in 2011, they explored the Grammy Museum in Los Angeles. The girls got to dance in front of Michael Jackson's wardrobe as Sophia Grace performed "Thriller." Rosie frantically waved in front of the camera as Sophia Grace attempted to read aloud the history of the Grammy Awards. Sophia Grace also rapped, which she continues to be surprisingly good at, and then she and Rosie formed an impromptu band and geeked out about The Beatles being British.
https://www.youtube.com/watch?v=bfZYcTMhlBc
Talking about their secret fairy collections
Sophia Grace and Rosie convinced us all that fairies were real during a 2012 visit to the Ellen show. They talked about finding secret passageways, and Rosie said, "the last time I opened my passageway, fairies exploded in my face." When you open those portals, according to Sophia Grace, "magic diamond stardust fairy dust comes out." In case you were wondering, Sophia Grace's fairies are blue and Rosie's are pink.
https://www.youtube.com/watch?v=97RVxK2lvVw
Tea time with Justin Bieber
DeGeneres arranged for Sophia Grace and Rosie to meet Justin Bieber in September 2012 on a reoccuring segment called "Tea Time with Sophia Grace & Rosie." During the soirée, the Biebs even gave Rosie a kiss on the cheek, which she said embarrassed her. "I deleted it off my dad's phone," she told DeGeneres, "otherwise he'd get really jealous." (We bet she regrets that now.) Bieber and the girls discovered they had a lot in common—they all enjoy bowling and cake. However, they disagree on oatmeal raisin cookies (Bieber's favorite). The girls served up a performance of "Baby" for him and, naturally, they nailed it.
https://www.youtube.com/watch?v=CIb49SXqNtE
Hosting the Grammys red carpet
Veteran red carpet correspondents at this point, Sophia Grace and Rosie got to cover the Grammy Awards in 2012 and 2013. The best moment of 2012 was when they sat down for sandwiches and juice boxes because, Rosie said, "I've got hungry so we're having a little snack." In 2013, dressed like two miniature Queen of Hearts, the girls rapped for 2 Chainz, convinced Adam Levine to wear a tiara, and received rhinestone-encrusted lollipop necklaces (We're seriously jealous of their food-themed jewelry) from LL Cool J. They reunited with Perry, and it's actually really heartwarming when she says the girls are so "old and mature and cool." Drake also professed his love for them. So they win.
https://www.youtube.com/watch?v=cEFD6x3aXFE
Meeting actual princesses
In May 2013, Sophia Grace and Rosie visited the Magic Kingdom in Disneyland and met all of the Disney princesses. This is a big deal, given that these two girls have modeled their entire personal style off of those legendary ladies. The duo talked to Ariel about seeing her "sisters" when they were swimming in the ocean, and they even learned how to curtsey like a real princess.
https://www.youtube.com/watch?v=FzVk9-9XAow
Sophia Grace's first music video
Sophia Grace and Rosie appeared in Sophia Grace's first official music video, "Girls Just Gotta Have Fun," in 2013. They wear their signature tutus, eat cupcakes, and turn down disappointed nine-year-olds on the dance floor. Their "princess team" is truly adorable. The music video has 135 million views and counting. Sophia Grace released another music video, "Girl in the Mirror," in June 2016.
https://www.youtube.com/watch?v=SMpL6JKF5Ww
Creating an impromptu tea party at dance class
In the Fall of 2013, DeGeneres sent the dynamic duo to a hip hop dance class at the Millennium Dance Studio. During the middle of the session, Sophia Grace said that she was hungry and asked if they could have cookies. The instructor happily obliged and suddenly the three of them, all in tiaras, enjoyed an impromptu tea party on the dance floor.
https://www.youtube.com/watch?v=0UHcwCObef4
Becoming big sisters
In November 2013, Sophia Grace and Rosie announced on the Ellen show (where else?) that their moms were pregnant at the same time. Sophia Grace had been wishing for this every birthday and "it's finally come true," she said. Then the girls suggest outfit possibilities. "If it was a girl, we could dress it in pink leotards and tutus and it'd be really good," Sophia Grace said, "but if it was a boy, we could still dress it nice, couldn't we?" Rosie revealed her preferred baby names: Rainbow or Sparkle.
https://www.youtube.com/watch?v=Zpb2ChlEfi8
Returning to The Ellen DeGeneres Show in 2015
When the girls returned to the Ellen show four years after their first appearance, Sophia Grace talked about her 1-year-old little sister, who had "obsessions and addictions," which included cell phones and lip balms, and Rosie talked about her little brother's love of chocolate and her. When Rosie starts talking about her parents getting married and how she wrote a poem for them, we dare you not to lose all emotional control. Because she is the queen of thoughtful gifts, DeGeneres gave them two personalized, blinged-out hoverboards and two passes to the American Music Awards.
https://www.youtube.com/watch?v=XcorLEso5J8
Taking the AMAs by storm
The second time Sophia Grace and Rosie served as correspondents on the red carpet of the American Music Awards in November 2015, country singer Luke Bryan sang them one of The Weeknd's songs, which is unfortunately about cocaine, but it has a cute beat so the girls didn't notice. Walk the Moon played their hit "Shut Up and Dance with Me" on kazoos, and the young ladies almost got to join a girl band with their number one fan, supermodel Gigi Hadid. The duo Snapchatted with Meghan Trainor (with whom Rosie is obsessed), talked crushes with the members of One Direction, and even downed Skittles shots with 5 Seconds of Summer.
https://youtu.be/ZHgtP4x05Cs