The Untold Truth Of Meghan Edmonds' New Boyfriend, Christian Schauf
Meghan King Edmonds, an alum of Real Housewives of Orange County, has found a new leading man. According to Page Six, the reality star is dating Christian Schauf, a businessman from Park City, Utah, who is the co-founder and CEO of Uncharted Supply Company.
According to the outlet, Meghan met Christian through their mutual friend, Nancy Anderson, a personal trainer and nutritionist. Page Six states that Meghan and Christian have been seeing each other for a few months.
Christian is a unique guy. Like Edmonds, he also has a podcast called Life Uncharted, according to Us Weekly. His company, Uncharted Supply Co., specializes in emergency survival kits. Judging from his Instagram presence, it's clear Christian loves the great outdoors and stays active through biking, skiing, and running. Best of all, Christian has a Swiss Mountain dog, Barron, who is the official mascot of his company, per Us Weekly. Barron has over 1,400 followers on Instagram. What's not to love!?
While we are so excited for Meghan and Christian as they explore this new relationship, Meghan has been vocal about the struggles in her marriage with ex-husband, Jim Edmonds, and how hard she tried to make it work. She even opened up about having a threesome with him and how it didn't go as planned.
Meghan King Edmonds recovers from her disappointing marriage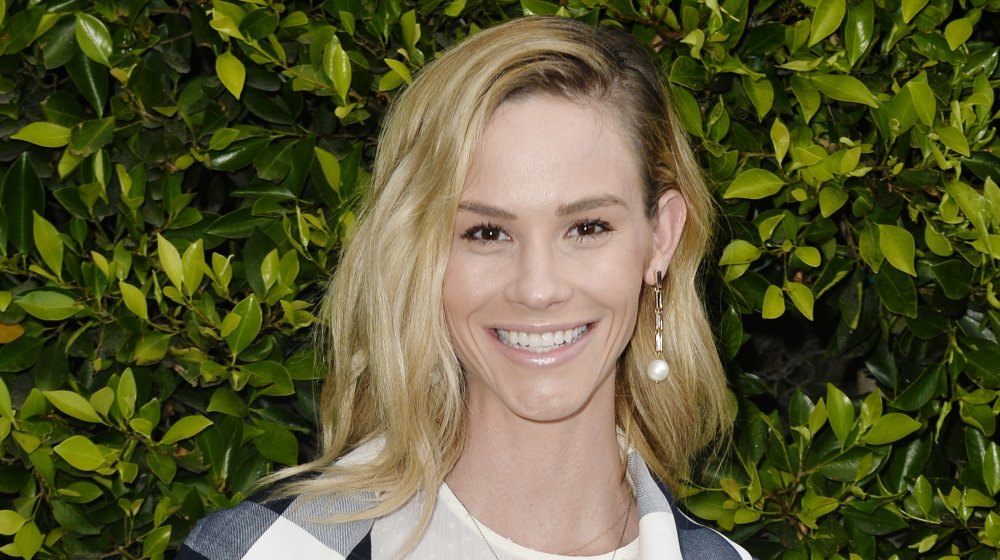 Jerod Harris/Getty Images
While Meghan King Edmonds is in the honeymoon-phase of her new relationship with Utah-based businessman, Christian Schauf, the alum of Real Housewives of Orange County opened up about struggles in her previous marriage.
Meghan was married to Jim Edmonds, according to Us Weekly, and shares daughter, Aspen, and twin boys, Hayes and Hart, with him. They married in 2014 and split after 5 years of marriage, according to the outlet. In October 2019, Meghan accused Jim of having an affair with their nanny, though he denied it.
However, on her podcast Intimate Knowledge, Meghan spoke about a threesome she had with her then-husband and how Jim has since hooked up with their threesome partner, Kortnie O'Conner, (via Us Weekly.)
Meghan said: "This girl who I thought was my friend. I cast aside my uncomfortability with a threesome, everything I had in my head about a threesome being weird and gross, because I was fun and wanted to do things for my husband."
But Meghan seems really happy now. According to In Touch, Meghan has since been in Utah with Christian and left their kids with Jim in St. Louis.
Meghan King Edmond's dream guy
It seems like Meghan King Edmonds has totally hit the jackpot with her new love interest. Christian Schauf is the CEO and owner of Uncharted Supply Company which sells gear to help people get through emergencies like natural disasters. According to the bio on his company's page, Christian "is a serial adventurer, athlete, entrepreneur, and philanthropist."
He's originally from the Midwest and has since settled in Utah, where "he lends aid to those in need, performs charity work in the world's most dangerous cities, and chases adventure in every sense of the word," per his bio.
According to In Touch, Christian was also a musician and was in a rock band called Catchpenny, so he's got a musical side too. In fact, In Touch notes that Christian and his band flew out to Iraq 40 times to play for the troops. The outlet adds that Christian is "very down to earth" and that Meghan and her kids absolutely love him.
What an exciting new development for Meghan and Christian!