The Real Reason Alex Trebek Didn't Wear Pants On An Episode Of Jeopardy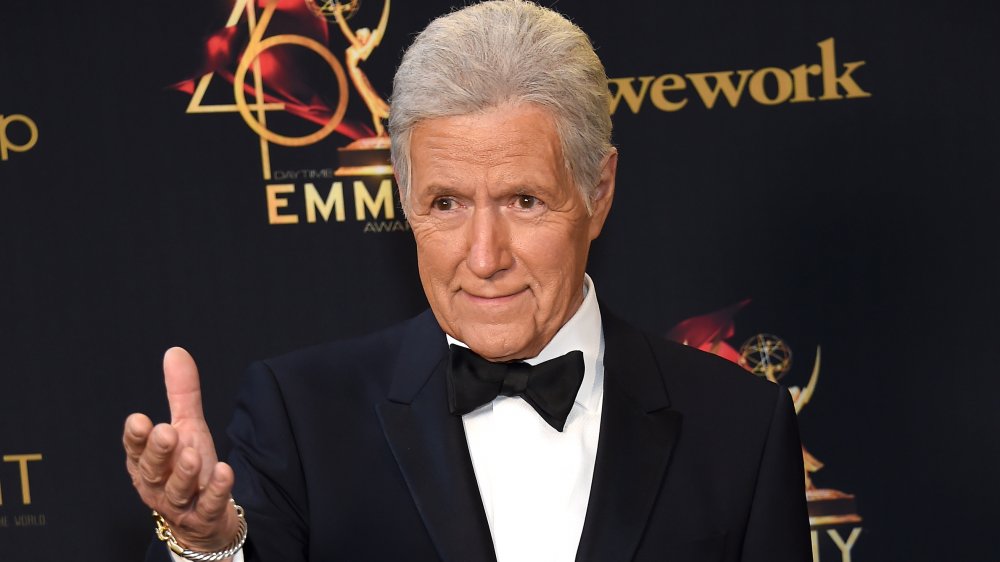 Gregg Deguire/Getty Images
If there were ever a contender for "America's Dad," it would be Jeopardy! host Alex Trebek. And not just because he's always around for weekday dinnertime trivia, but because he tells the corniest jokes and is earnest in almost everything he says and does onscreen. Even when Trebek didn't wear pants for an episode of Jeopardy!, it was for a good reason — but the contestants totally set him up. 
Trebek has been hosting Jeopardy! ever since it began in 1984, according to the show's website. He's won six Daytime Emmys for Outstanding Game Show Host and a Lifetime Achievement Award from the National Academy of Television Arts and Sciences. Trebek also holds a Guinness World Record for Most Game Show Episodes Hosted by the Same Presenter — he's hosted 8,000 episodes of Jeopardy! and counting. But nothing will beat the fateful night in 2005 when he showed up to the Jeopardy! Tournament of Champions with no pants.
Alex Trebek is a really, really good sport
Alex Trebek's "no pants" episode of Jeopardy! is a classic. It happened when trivia champs Ken Jennings, Brad Rutter, and Jerome Vered were all on the Jeopardy! Tournament of Champions in 2005. Jennings and Rutter told Mashable that the three men were joking around backstage about all taking off their pants behind the podiums to relieve the tension of the competition — you can't be scared of a guy with his pants off, right?
The guys joked about it, but eventually went out with pants on. Poor, earnest Trebek had heard them joking on their mics. "He thought it would be funny if he just took off his pants and walked out in boxers, and it's the best thing I've ever seen. I didn't know I wanted to see it so much until I did," Jennings explained. 
Trebek asked the cameras to confirm if the contestants were also sans pants — they weren't. Trebek then just turned around, went backstage, and put his pants on for the remainder of the show. What a dude, right? 
Alex Trebek knows he'll have to step down eventually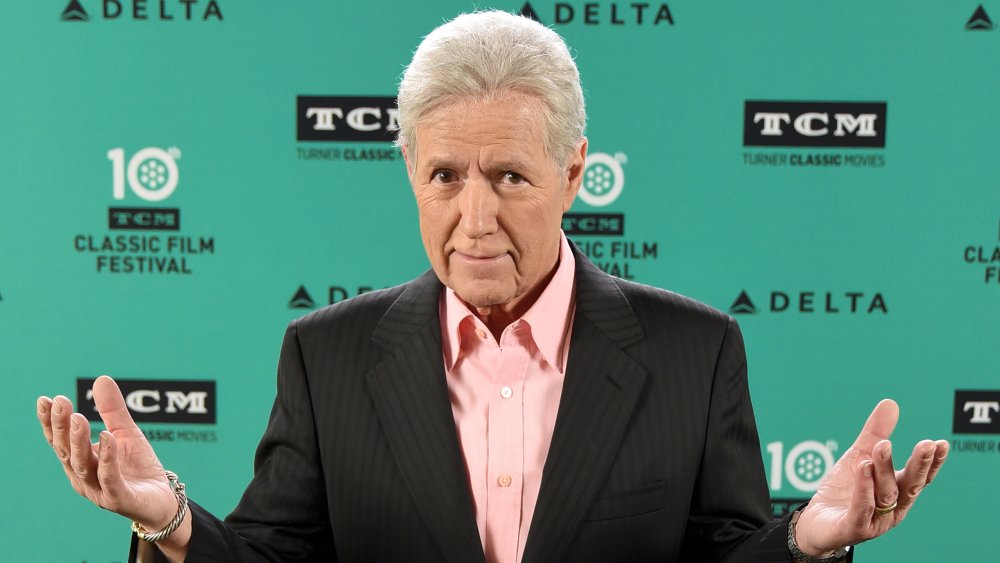 Presley Ann/Getty Images
The "no pants" gag on Jeopardy! really shows just what kind of guy Alex Trebek is — he's smart, funny, and manages to make really hard trivia (and super boring anecdotes about the contestants) seem interesting each night. And he's never scared of a pun, which is something to respect. All of that made the news that Trebek was diagnosed with stage 4 pancreatic cancer in March 2019. He has since undergone several rounds of chemotherapy, though continues to tape the show each day. 
In January 2020, Trebek told Good Morning America in an interview (via Deadline) that he knows he will eventually have to step down. He said he already sort of knows what to say to viewers when the time comes: "I've kind of, in my mind, rehearsed it already. And what I would do on that day is tell the director, 'Time the show down to leave me 30 seconds at the end. That's all I want.'"
It will be a sad day for sure when that happens, but fans will always have good memories of America's favorite game show host, including the time he thought it would be funny to wear no pants on national television.