The Truth About Lala Kent's Incredible Transformation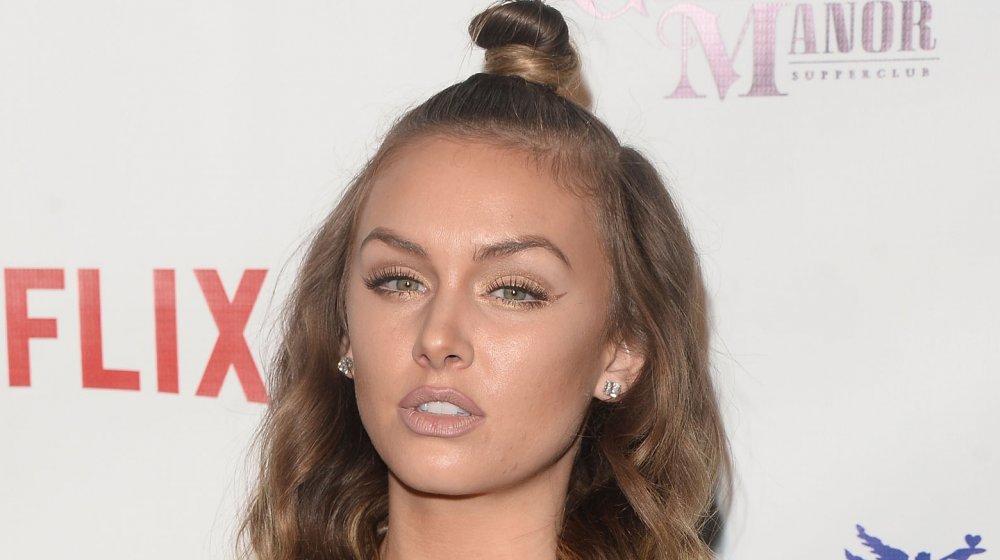 Matt Winkelmeyer/Getty Images
Vanderpump Rules star Lala Kent — real name Lauryn Kent — first appeared on Season 4 of the Bravo series, having moved to Los Angeles from her native Utah. Kent's vibe was way more laid back in 2016 when she made her TV debut, which makes sense considering she was a hostess at Lisa Vanderpump's restaurant, SUR, at the time. However, a lot has changed since then, with Lala meeting Hollywood producer Randall Emmett and getting engaged to him in 2018. The reality star has also dabbled in music and acting.
Similarly to other aspiring starlets, Lala has changed her appearance throughout the years with the help of plastic surgery. The singer has been quite open about her penchant for going under the knife and revealed in a 2017 video for Bravo that she has had botox, as well as fillers in her cheeks, lips, and jaw. Although Lala expressed some regret at the time for "overdoing it," it appears she's back on the sauce. 
"The quarantine is preventing me from getting the injections I need to keep this face," Lala vented in April 2020 via her Instagram Stories (via Bravo TV), noting how the coronavirus pandemic had put a wrench in her plastic surgery plans. "My jawline is fading quickly and these wrinkles are getting deep." And in another video from May 2020, the former hostess expressed nostalgia for "baby face" from Season 4, per Bravo TV.
Speaking of Lala's old face, let's take a closer look inside her incredible transformation.
Lala Kent doesn't want to look like a 'walking cat-duck'
Lala Kent revealed in a 2017 interview for Bravo that she isn't the type of person to lie about her plastic surgeries. She displayed this sentiment firsthand when in May 2020, she took to her Instagram Stories to compare herself now versus herself in 2016 (pictured above left). "I've been watching Season 4 of Vanderpump Rules... and, dude, I have such a little baby face," she said (via Bravo TV). "I was just so like trying to figure out life in LA being on a television show, you know. I look at myself and I'm like, 'aw little baby Lala.'"
Despite Lala's nostalgia, she's completely happy with how she looks today. "I will say though, I thoroughly enjoy my new face that Dr. [Jason] Diamond provided to me. I love my jaw. I love my little chin. Loving my lips," the reality star shared. She added, "That's how you can tell these days if it's a throwback show because everybody's walking around like this. Ye old little thin lips. Now, we're all like cluck cluck cluck — with our little duck lips. So funny."
Lala revealed in 2018 that she only gets injections in her jawline, chin, and forehead, as she doesn't want to look like a "walking cat-duck," per People. She joked about overpumping her lips in the past, quipping, "It looks like a cat and a duck had a baby and that's me."
Lala Kent is all about feeling confident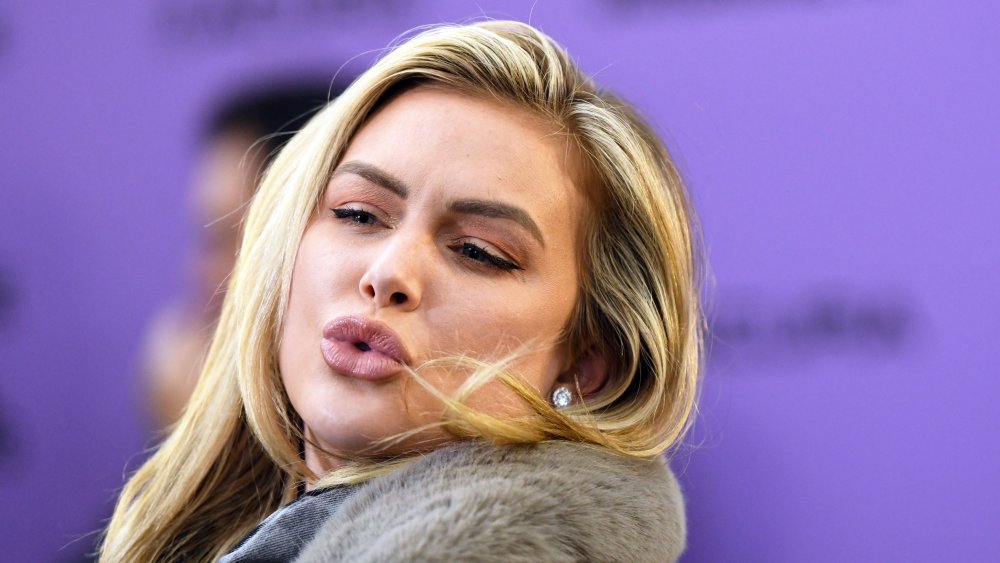 Morgan Lieberman/Getty Images
Lala Kent has spoken about empowering women to feel confident about their bodies, whether they decide to get plastic surgery or not. "I think just sitting there and going, 'You know what, this is my body and I love it and I could change it tomorrow or I could leave it the way it is and I just think women are gorgeous,'" she told People. "The female body, there's nothing hotter. So reveal that." She also loves playing with makeup, as she explained to Cosmopolitan, "I've always thought of my face as the perfect canvas. I've loved painting it since the time I was like, six years old."
Of course, Lala's self-confidence journey wasn't without a few road bumps. "I used to be that person that welcomes everyone with open arms, but after everything, I went through plus being in the show I definitely have my guard up now," Kent explained to Millennium magazine. "I was constantly bullied. Kids would throw Diet Coke at my car when I'd drive by. It was horrible." 
Her theory about why the backlash was so intense? "I don't like to say, 'jealousy' because it sounds pretentious but I was modeling since I was 12," she said. "I bought and paid for my own BMW in cash, people were looking at me wary of what I'd achieved, but I was also this theater geek."
The good news is Lala was able to overcome this tough time, and now — complete with her "new face" — she's stronger than ever.