This Is Why Nick Offerman And Megan Mullally Don't Have Kids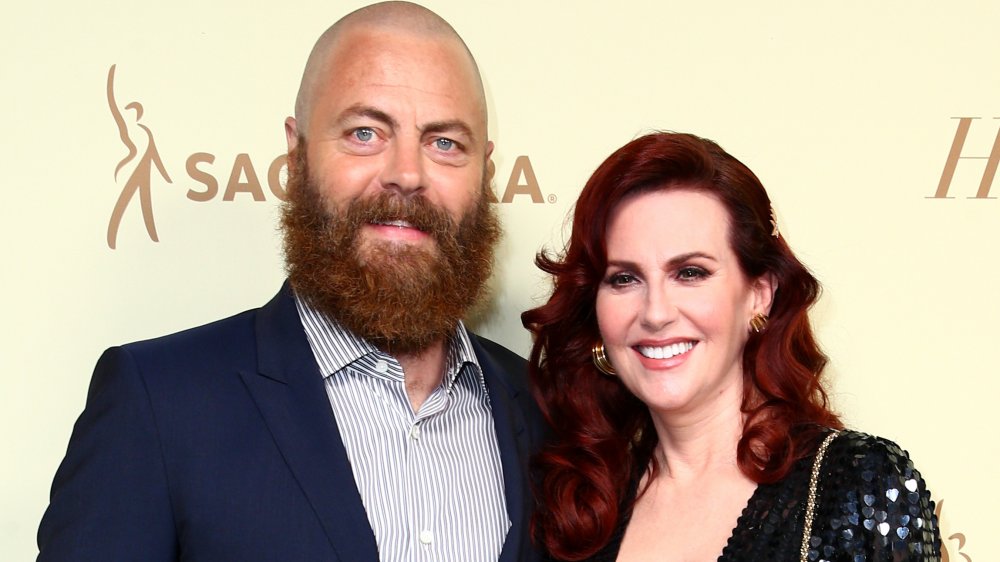 Rich Fury/Getty Images
Nick Offerman and Megan Mullally have both starred in wildly successful shows — Parks and Recreation and Will & Grace, respectively — and are also known as one of comedy's funniest couples. The cherry on top? Offerman and Mullally actually love to collaborate together. In fact, in 2019, the pair started their own podcast, "In Bed With Nick and Megan," where they chat with their famous friends (Demi Lovato and Ted Danson, to name a few) ... in their bed. Yup, sounds about right.
The Hollywood stars met in 2000 when they were starring in a play called The Berlin Circle, and they hit it off right away. "I think we were the only two non-company members. It was our first time working with that theater company. We had a lot of scenes together, and I started thinking, 'Wait a minute, he's funny.' And then I started thinking, 'Wait a minute, is he cute? What's happening?'" Mullally told Buzzfeed in 2013.
Naturally, Offerman took a liking to Mullally and called her "good lookin.'" He added, "I remember thinking, 'Wait a minute, is she a f***ing genius?'"
Despite being in a relationship for so long, Offerman and Mullally do not have kids. Let's find out why.
Nick Offerman and Megan Mullally 'tried' to have kids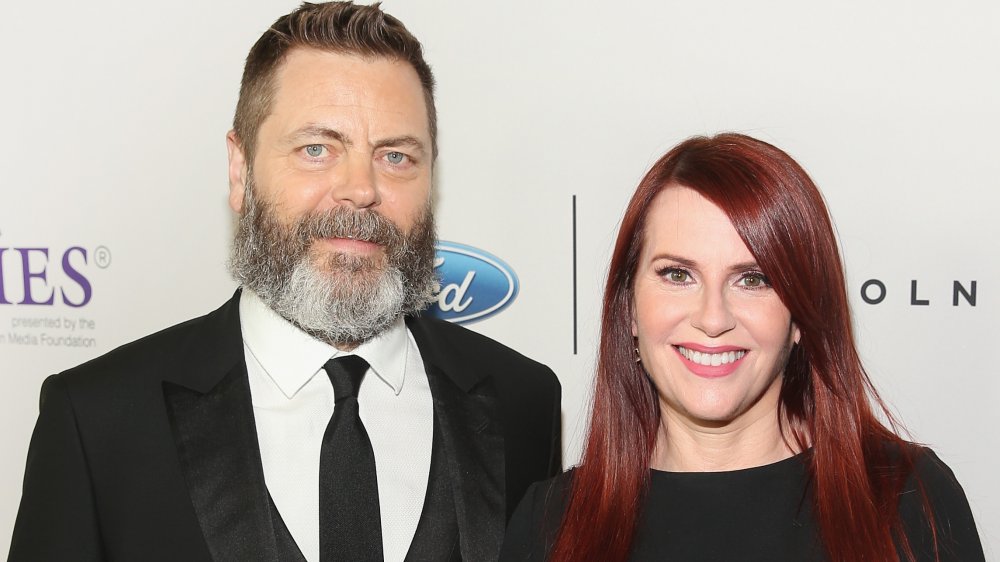 Jesse Grant/Getty Images
After nearly two decades of marriage, it's safe to say Nick Offerman and Megan Mullally have this whole relationship thing down — they even wrote a book in 2018 called The Greatest Love Story Ever Told. When asked what their secret is to making it work, Mullally told GQ Magazine, "'F***' seems like it's key. We have a two-week rule. We're never apart for more [than] two weeks. Just not being separated for Jurassic periods of time seems to help. And no children probably helps a lot."
So, did Offerman and Mullally want kids? Actually, yes. However, it wasn't in the cards for the pair. "I never had a burning desire to have children. But then I met Nick, and I thought, 'This is the only person I'd do this with.' So, we tried, but I was a little long in the tooth for that sort of thing," she admitted. "We tried for about a year or so, and it didn't happen, and took that to mean it wasn't meant to be."
Even though Offerman and Mullally couldn't conceive, they are parents to a few dogs and relish their time together at home. "I do like making him laugh, so there's an element of that, but we also spend an inordinate amount of time doing puzzles, listening to an audiobook or the Cubs game. We literally have no social life," she quipped to the New York Post in 2019.
Nick Offerman and Megan Mullally 'love' working together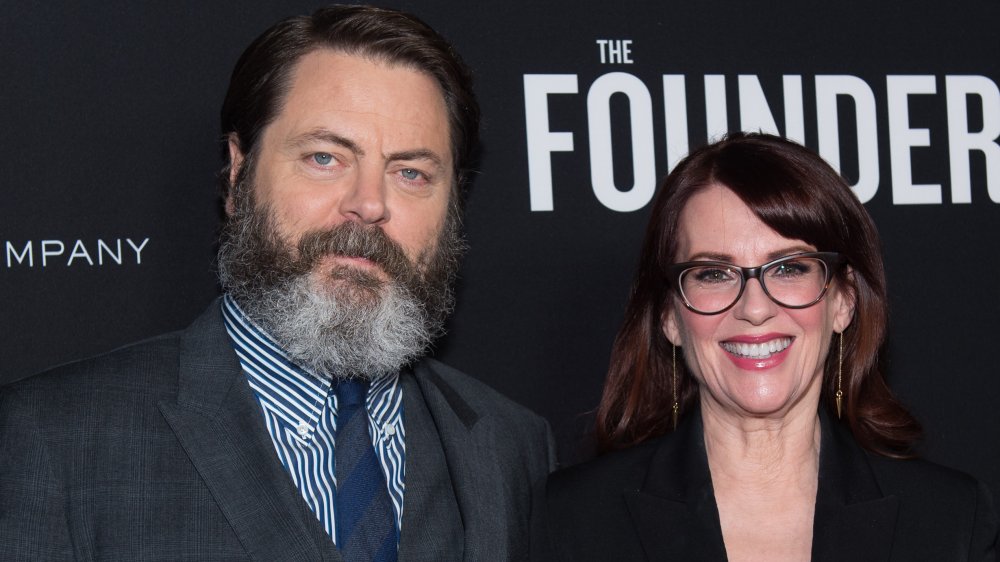 Emma Mcintyre/Getty Images
Megan Mullally frequently guest-starred on Parks and Recreation — she played his ex-wife, Tammy 2 — while Nick Offerman popped up on Will & Grace not once, but twice, playing a plumber in 2001 and celebrity chef Jackson Boudreaux in 2018. Not only do fans dig the couple's chemistry on and off screen, but Mullally and Offerman know they have something special, too.
"We love working together. If we drive together, if we share a dressing room, we know going into it that we're going to get along. We've very domestically compatible," Mullally dished to USA Today in 2018. "People often say to us, 'Are you crazy? I can barely stand my spouse at home every day after work, how can you choose to go to work with her?' And we say, 'Well, that sounds really sad for you, because we just like each other.'"
Offerman also noted that working alongside his wife has taught him to be a better actor. "... [S]he is not only my wife and my best friend, but she's my teacher in a lot of ways, she's also just a comedy legend," he told WBUR. "She's like a walking Mel Brooks movie. And so it's, you know, it'd be silly and masculine of me to not take advantage of the fact that my wife is a champion in the very sport that I try to excel at."
All that to say, it seems like the couple are more than happy with their family of two.