The Untold Truth Of Florence Pugh's Brother, Toby Sebastian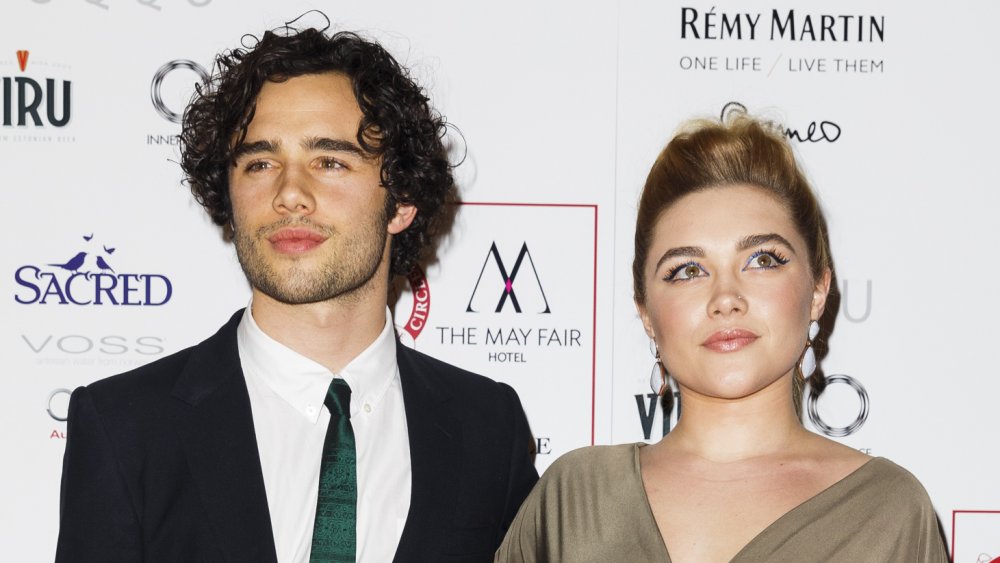 Tristan Fewings/Getty Images
The incredibly talented Florence Pugh may be well-known for starring in films like Little Women and Midsommar and for dating Zach Braff, but it's time to also acknowledge her very attractive and very talented older brother: Toby Sebastian (whose real name is Sebastian Toby Pugh). The 28-year-old Englishman was born in Oxford, but grew up in Andalusia, Spain with the rest of the Pugh family, including his and Florence's other two sisters, Arabella and Rafaela. 
Sebastian's biggest acting gig to date is on the fifth and sixth seasons of Game of Thrones as Trystane Martell, per The Cut. His character's arc didn't last long — and ended unfavorably — but he still made an impact on the HBO series. He also starred as Andrea Bocelli in the biopic The Music of Silence alongside Antonio Banderas, and in Trading Paint with John Travolta and Shania Twain. This actor also is super supportive of his little sis, posting his congratulations for her Oscar nom back in January 2020 and telling everyone how proud he is of her.
With the Instagram photo, he wrote, "4 years ago this girl was nominated for a Critics Choice Circle Award. 2 years later she was nominated for the @bafta Rising Star Award. Today my friends, she's been nominated for an Oscar. Yes, an OSCAR. You have worked your arse off and you've been exquisite in every single one of your performances. Proud doesn't cover it. Congratulations fatso, I love you."
Toby Sebastian is a talented musician, just like his sister
Aside from being an actor, Toby Sebastian is also a talented musician. Like his Oscar-nominated sister (who used to be a music YouTuber by the name of Flossie Rose, according to Vulture), Sebastian sings and writes his own songs. His Instagram is jam-packed with music, clearly showing it's quite possibly his favorite pastime. He released his debut EP Hamliar in 2019 and two singles, "No Money" and "Train to Mexico."
Just like Toby touts his sister's accomplishments, Florence Pugh does the same right back for him, including posting about "No Money" before its release. Alongside a clip of his music, she wrote, "GUUUYYYZZ! My beautiful big bro @tobysebastian1 has spent the last year writing, singing and tapping his way to creating some gems. His single No Money is out next Friday, 28th June on all platforms and THEN AN ENTIRE EP THE FOLLOWING WEEK. Get ready for some summer toons."
When Sebastian isn't acting, making music, and singing his family's praises, he's hanging out with his sweet granny; his girlfriend, Scarlet; and adorably large dog, Albert. His Instagram also has plenty of handsome photos to gawk at and plenty of cute family snaps so you can see him surrounded by his gorgeous sisters.