Justin Bieber's Dad Can't Stop Talking About His Son's Junk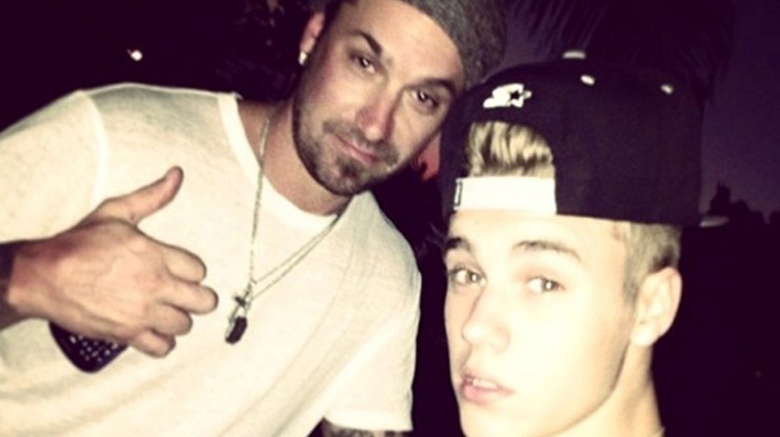 Justin Bieber's controversial father can't stop talking about the singer's junk.
Jeremy Bieber, 41, was proud as ever when his son was photographed stark naked while on vacation in Hawaii last week. "My boy," Jeremy tweeted alongside a cactus emoji. (That tweet has since been deleted, but screenshots are forever, no matter how unsettling they may be.) In case that wasn't obvious enough, Jeremy also Instagrammed a photo of the CN Tower in Toronto and tagged Justin in it.
The nude photos of Justin were published in the New York Daily News on Aug. 5, 2016. In the snaps, the "Sorry" singer is splashing around with swimsuit models, including rumored girlfriend Sahara Ray, all of whom are in varying states of undress. (The photos emerged less than a week after Justin's nemesis, actor Orlando Bloom, was photographed naked while vacationing with pop star Katy Perry in Sardinia, Italy.)
It's not the first time Justin has been photographed nude, nor is it the first time his dad has been disturbingly impressed by Justin's manhood. In October 2015, full-frontal photos surfaced of Justin in the New York Daily News while vacationing in Bora Bora with his then-girlfriend Jayde Pierce. Jeremy responded with a since-deleted tweet that read, "Proud daddy" and "What do you feed that thing?"
What makes Jeremy's actions particularly skeevy is the fact that Justin seems to be trying not to draw attention to the unauthorized nudes. When the first set was published in October, The Hollywood Reporter said the singer's legal team fired off a cease and desist letter to the New York Daily News, citing a violation of Justin's privacy and publicity rights, as well as trademark infringement.
There's no word on whether or not Justin's camp sent similar letters to his dad, but that may be why poppa Biebs keeps deleting his creepy posts about his son's appendages.