Tina Fey's Daughter Looks Just Like The Comedienne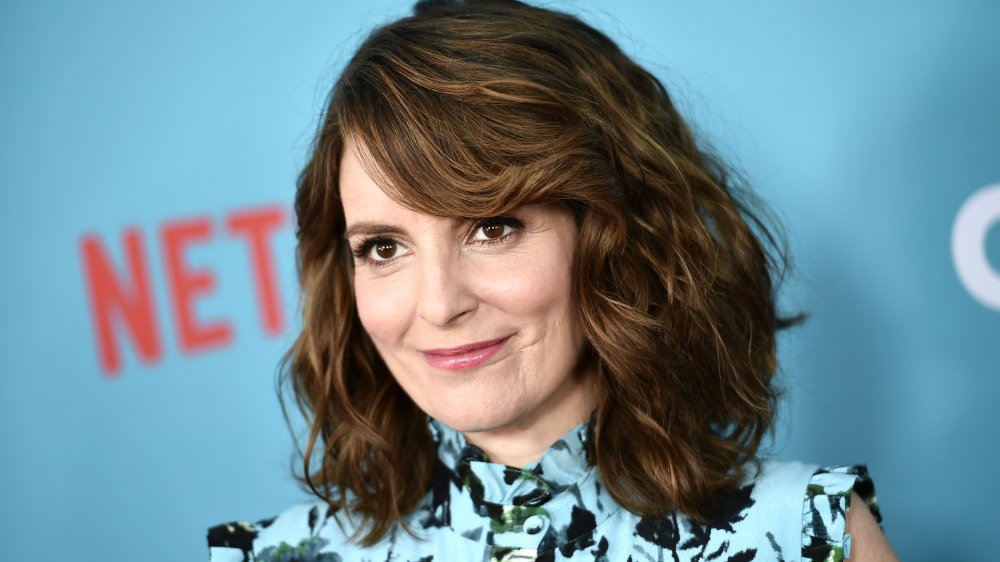 Steven Ferdman/Getty Images
They say the apple doesn't fall far from the tree, and when it comes to comedienne Tina Fey's youngest daughter Penelope, the old adage truly holds up. During an appearance on Late Night with Seth Meyers in May 2020, Fey's 8-year-old daughter crashed the at-home interview and proved she's certainly inherited her mom's sense of humor — and her classic looks!
While promoting Netflix's The Unbreakable Kimmy Schmidt interactive special, Fey paused to announce Penelope entered her office. "Please hold, there's a colonial lady coming in," the 50-year-old said of her daughter. "Yes, can I help you? I'm sorry, you're not making sound. What? We're taping a television program right now, do you need something?" Fey turned the camera to reveal Penelope, in colonial garb, holding her hand in the shape of an "L" on her forehead. "The colonial lady just called us losers!" Fey added. "This means 'loyalists' in colonial times, so that's on you!"
Prior to Penelope's interruption, Fey told Meyers she'd planned an Arizona spa trip with her Saturday Night Live gal pals to celebrate her "Sally O'Malley" birthday, but in the wake of the COVID-19 pandemic, the ladies orchestrated a Zoom talent show for their kids instead. But Penelope's contortionist act made her mother nervous, of course. "At a time when everyone's home and your main goal is to not go to a doctor, I was like, 'Could you experiment less with your spine right now?'" She's definitely a chip off the old block, that's for sure!
Tina Fey's daughters instituted 'theme dinners' to spice up their quarantine meals
Over the years, the multitalented Tina Fey has proven herself to be one of the most creative people in the business. And as her daughters Alice and Penelope have demonstrated, it's clearly genetic. On an episode of The Tonight Show Starring Jimmy Fallon in March 2020, Fey revealed her girls have taken dinnertime to an all-new level as they grapple with the coronavirus lockdown.
"This was awesome, and I wanted to tell you about it because I feel like it's something you can do — anyone can do — at home, if they're trying to fill time. My older daughter, Alice, is 14 now, and... she was saying we should do theme dinners. We did one the other night, and it was an airplane-themed dinner," Fey explained."The thing that was great about it was that it took a lot of time for them to get ready. Alice was actually kind of helping her little sister get ready for it, and the little sister is so pumped when her big sister pays attention to her at all. She was pumped!"
Fey played a video clip and held her phone to the screen as she demonstrated just how invested her children were when it came to bringing this theme to life. Alice and Penelope strapped magazines to the back of every chair, projected an airplane window next to their mother, and served the meal on lap trays — what an authentic experience!
Tina Fey's daughter Penelope's favorite 'Mean Girls' character might surprise you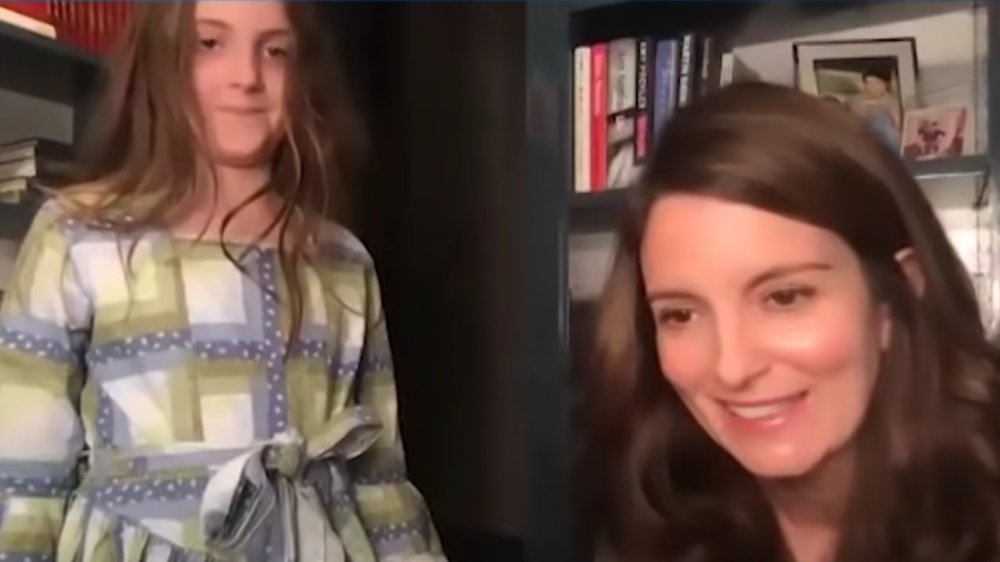 Late Night With Seth Meyers/YouTube
When Tina Fey's Mean Girls musical was in its early stages, the 30 Rock star brought her then-5-year-old daughter Penelope to the theatre. After the cast did a run-through of the show, however, Fey realized her youngest child learned all the wrong lessons. "She was going back to her preschool, being like, 'Let's play Mean Girls. I'm Regina. I yell at you,'" Fey revealed on Late Night with Seth Meyers. "[So,] I try to model good behavior. If I see [mean girl] behavior, I try to sit on it."
In an interview with Life & Style in December 2019, Fey added that, for her and husband Jeff Richmond, parenting their two daughters can be challenging sometimes because they're six years apart in age. "They're so far apart [in age], but there are things they'll do together," she said. "The little one likes to let her sister do makeup on her. We try to find a movie we all can watch, and it's a process!"
But, no matter what the future holds, Fey's prepared — or so she hopes, according to the Mother's Prayer from her book Bossypants: "And when she one day turns on me and calls me a B***h in front of Hollister, Give me the strength, Lord, to yank her directly into a cab in front of her friends, For I will not have that S**t. I will not have it." Don't worry, she's got this!