The Real Reason Steve Harvey Lived In His Car For Three Years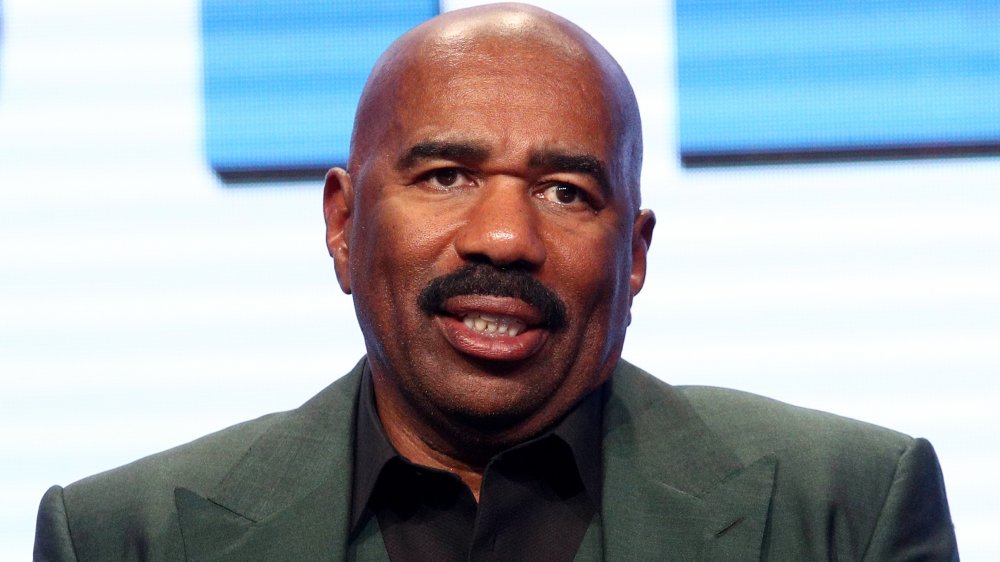 Frederick M. Brown/Getty Images
Many consider Steve Harvey to be one of the busiest men in television. After all, the talk show host is also an author, actor, producer, and businessman (among countless other roles). Yet while he might now be known for his successful WB sitcom, The Steve Harvey Show, or his years-long hosting gig on Family Feud, Harvey wasn't always so fortunate. In fact, before Harvey achieved stardom, he lived in his car for three years as he pursued a career in comedy.
Before he dedicated his life to entertainment, Harvey was an insurance salesman with twin daughters and wife Marcia at home. However, according to People, "after winning $50 at his first-ever try at stand up comedy in 1985, Harvey quit his insurance salesman job." Of his choice, Harvey told People: "I'm married, I have twins [Brandi and Karli]. I'm supposed to provide for them, but I had to take this chance."
Unfortunately, however, his first year in comedy left him little to show for his effort. He earned $3,000, but 75 percent of his income went to supporting Marcia – with whom he'd separated – and his girls, forcing Harvey to "live on as little as $50 a week," according to the outlet.
But despite that "ugly" period in his life, Harvey still believed in his talent. "I sat down and started crying, but a voice said, 'If you keep going, I'm going to take you places you've never been,'" he said. "It was like God said, 'Don't quit, you're almost there.'" Thankfully, he listened to that voice.
Steve Harvey 'had faith' that his luck would turn around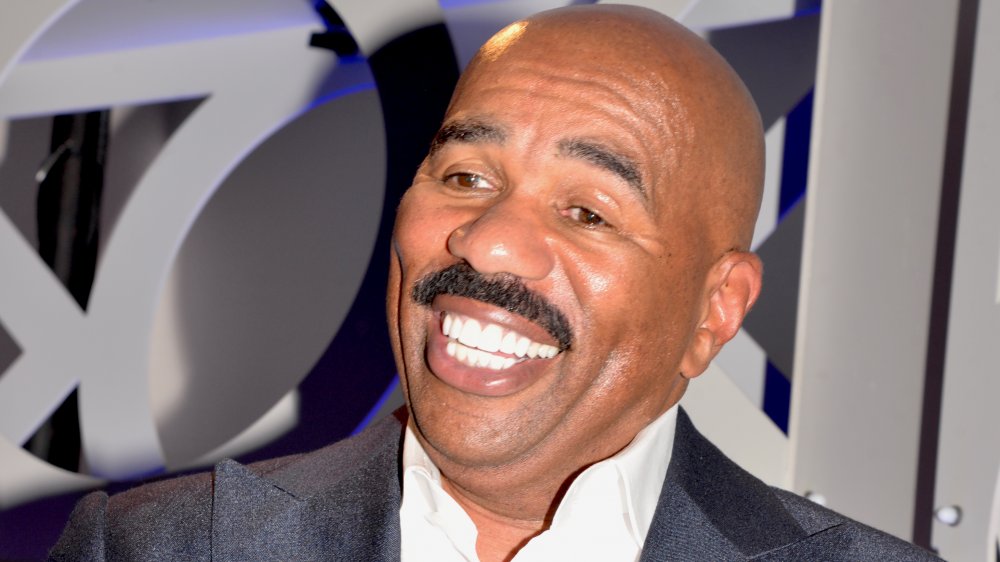 Manny Hernandez/Getty Images
When Steve Harvey gave up everything to pursue comedy in the 1980s, he struggled for the first few years. As he told People in 2013, "one or two gigs fell through, and suddenly I was homeless," which left Harvey no choice but to live out of his 1976 Ford Tempo, where an Igloo cooler became a makeshift refrigerator and hotel bathrooms, gas stations, and swimming pool showers became his surrogate bathrooms.
"It was so disheartening," Harvey said. "A week is really the maximum you can do. This was three years! It was rock bottom. But even in my darkest days I had faith it would turn around." Harvey knew he could "make people laugh." 
And laugh, they did! According to Good Housekeeping, after "he made it to the finals of the Second Annual Johnnie Walker National Comedy Search in 1989," Harvey's career finally gained momentum. In 1993, the man who once subsisted on bologna sandwiches caught his big break when he was called to appear on Showtime at the Apollo, which he eventually came to host himself.
Harvey also earned his own sitcom, which found sustained success from 1996 to 2002, per Good Housekeeping. His comedic talents also earned him a place on 1997's Kings of Comedy tour alongside Cedric the Entertainer, D.L. Hughley, and Bernie Mac — a show that ultimately grossed $37 million and cemented Harvey's place spot among the greatest comedic minds of his generation.
Steve Harvey wants others to learn from his inspirational struggle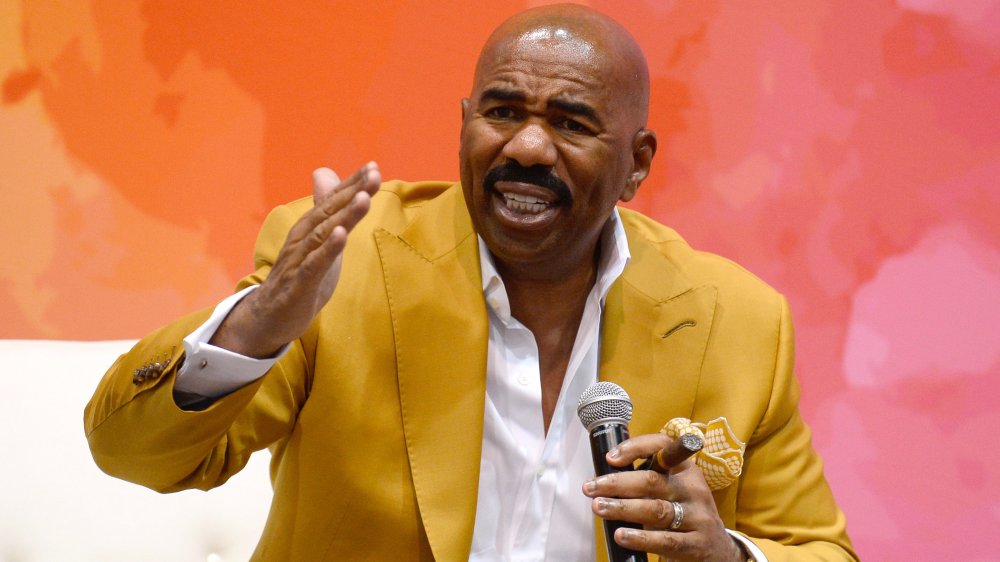 Bryan Steffy/Getty Images
As Steve Harvey wrote in one of his self-help books, Act Like a Success, Think Like a Success, "When we utilize our gift, the universe thanks us by giving us an abundance of riches — from abundant opportunities to good health to financial wealth." However, as he told Oprah's Lifeclass (via HuffPost), he also knows what it's like to make a "complete mess of [your] life" and rebound from rock bottom.
"I have flunked out of college," he said. "I have been divorced, messed up my life. I've lived in a car. I've been homeless. I've been written off, told I wasn't going to be nothing." He continued,"So I know what it is to have no money. I know what it is to start at the bottom. I know what it is to get back up. I know what it is to overcome. I know what it is to win. I know what losses feel like. I know what failure does — I know how to use it to your advantage."
Most importantly, Harvey learned how to roll with the punches and he hopes others can learn from his experiences, too. "You got to be willing to reinvent yourself," he told AARP in 2018. "You can't get stuck on Chuck, like I always say ... The key is reinvention. Take the gifts that you have, which is your tree trunk, and make it branch out and become other things." 
Long story short, never give up on your dreams!