The Truth About Becca Kufrin And Garrett Yrigoyen's Relationship
Alexander Tamargo/Getty Images
Minnesota native Becca Kufrin first appeared on Season 22 of The Bachelor, winning the heart of Arie Luyendyk. But just months after their engagement, Arie broke things off and reconciled with his now-wife, Lauren Luyendyk. 
As Becca was recovering from the awful breakup (seriously, it was brutal), she was asked to lead Season 14 of The Bachelorette. The former publicist accepted the offer, and by season's end in August 2018, she was engaged to medical sales rep Garret Yrigoyen. The two have since moved to San Diego, Calif., and they adopted an adorable dog named Minno.
Everything seemed to be going well for the couple, but things hit an uncomfortable snag in June 2020 following the death of George Floyd, a 46-year-old Black man who died while in the custody of Minneapolis police. Although Kufrin expressed support for the Black Lives Matter movement, Yrigoyen wrote a pro-police post acknowledging the "Thin Blue Line," a term associated with the Blue Lives Matter movement. 
The post caused widespread controversy, because as Kufrin's The Bachelor co-star, Bekah Martinez, pointed out in a comment to Yrigoyen (via People), "Law enforcement CHOOSES to put on a blue uniform. Black people don't choose to be black. Big difference."
Yrigoyen's message also missed the mark for Rachel Lindsay, a former bachelorette and Kufrin's Bachelor Happy Hour co-host. During a June 9, 2020, episode of the podcast, Kufrin addressed the status of her relationship with Yrigoyen in light of his problematic remarks.
Becca Kufrin defends Garrett Yrigoyen... again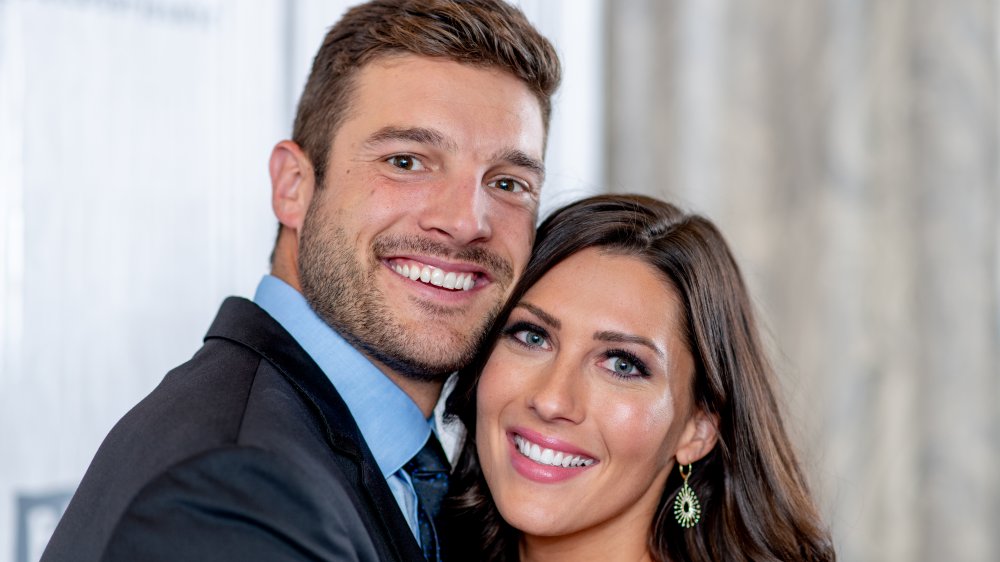 Roy Rochlin/Getty Images
Before Becca Kufrin's engagement in 2018, it was revealed that Garrett Yrigoyen had "liked" Instagram posts "mock[ing] trans people, undocumented immigrants, and left-wing women," as well as a student who survived the mass shooting at Marjory Stoneman Douglas High School in Parkland, Fla., according to Huff Post. "I didn't believe the messages I was liking," Yrigoyen told Variety about the likes. "I was just scrolling through and double-tapping."
As for Becca, she told ET Online, "I can't fault on anyone for what they believe, and who's to say that anyone is truly what they believe in if they just double tap."
Becca defended Garrett again in June 2020, when Rachel Lindsay pressed her about his "Thin Blue Line" post. Although Becca called the post "tone-deaf" and admitted it was the "wrong time and message and sentiment," she supported him. "Garrett is my fiancé and I love him and to his core, I believe that he is a good person," she said. "I don't think he meant it in a malicious way."
Rachel also addressed Garrett's participation in the #BlackOutTuesday campaign, a social media initiative supporting Black Lives Matter. She argued, "He posted a black box. He never said 'black lives matter.' He posted fists of every color, which to me is like, 'Everybody, all lives.' And then the very next post is the 'thin blue line' with a heartfelt, thought-out caption... I don't think Garrett is malicious, but Garrett is what the problem is."
What's the status of Becca Kufrin's wedding plans?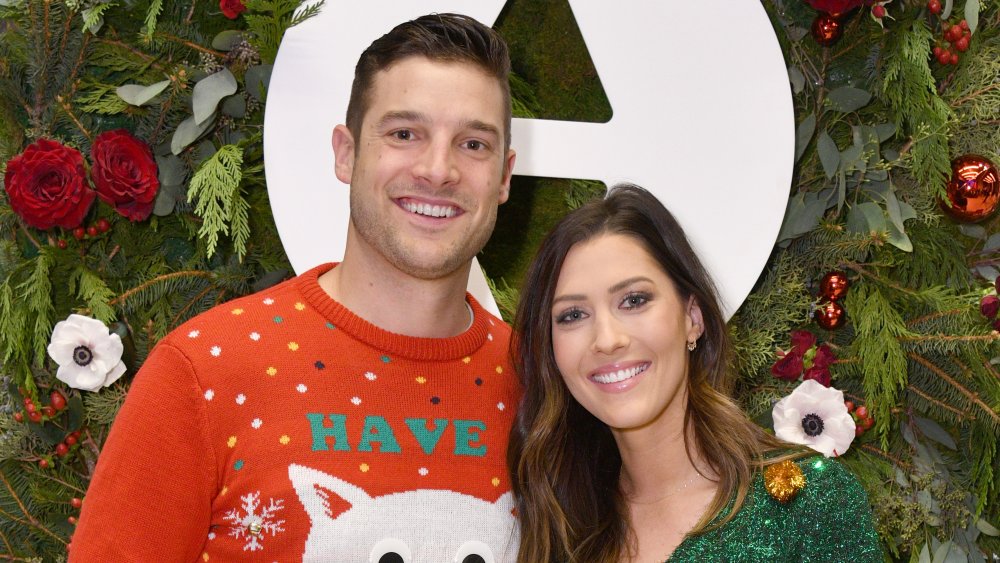 Bryan Bedder/Getty Images
Becca Kufrin felt a lot of conflicting feelings about the June 2020 podcast episode, writing on Instagram after it aired, "I listen to this & wish I had said more, wish I could have expressed myself better, wish I could have given so much more than I did." She added, "I think to myself 'I didn't ask the right questions,' 'I threw out the incorrect phrases,' 'I didn't defend my fiancé,' 'why couldn't I back up my thought process better?' The list goes on & on."
Considering the former 'ette expressed concern that she didn't support Garrett Yrigoyen enough, it's fair to argue her relationship won't be broken by this controversy. But as for Becca's wedding plans, that remains up in the air. "We literally have zero wedding plans right now," she told Rachel Lindsay during a December 2019 episode of Bachelor Happy Hour, while also noting that she feels pressured to get hitched sooner than later. 
"I went on the show to find somebody to get engaged to eventually get married, so I understand that that's why people always ask and they're interested...," she said. "There's more to our relationship than that, but again, it's because we put ourselves out there in that regard."
We guess #BachelorNation will have to wait and see how this all plays out.