The Real Reason Dog The Bounty Hunter Never Uses A Gun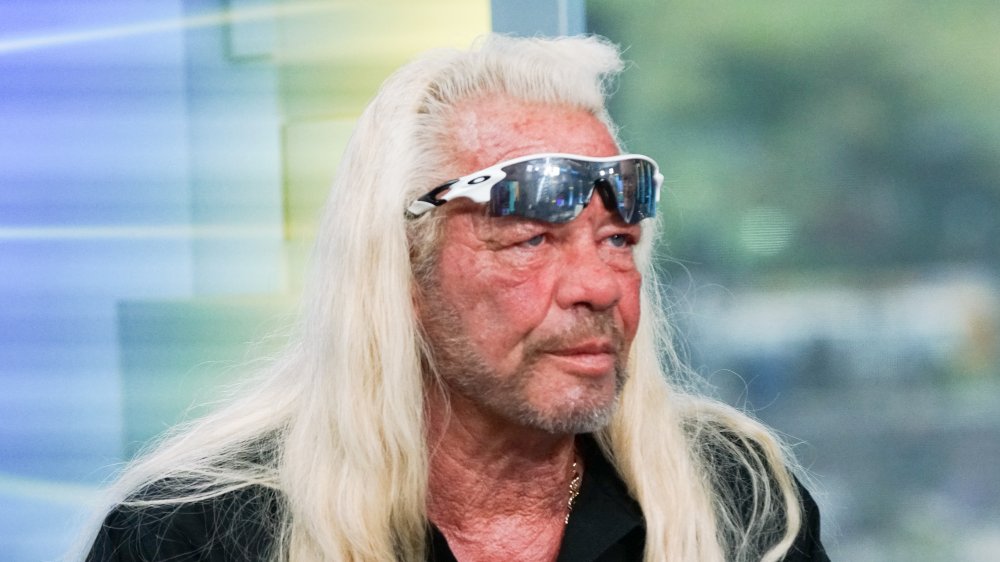 Bennett Raglin/Getty Images
Duane "Dog" Chapman showed off his bounty hunting skills on A&E's Dog the Bounty Hunter for eight seasons before its end in 2012. The Colorado native and his late wife, Beth Chapman, then scored the spin-off show, Dog and Beth: On the Hunt, and after Beth's death, he got Dog's Most Wanted on WGN America. 
Dog has talked about the physical requirements necessary to be a bounty hunter many times, telling Muscle & Fitness, "You've got to be fit. You've got to be both fast on your feet and strong in your body. You must do that 'cause it's the drugs you're battling, too."
Despite the bounty hunter's physical prowess, it hasn't prevented him from getting hurt on the job. "I've been shot twice, stabbed a few times," he told the outlet. "I've had a broken nose. All my crew has been hospitalized. I just had two black eyes and was in a knee and elbow brace."
Although some bounty hunters carry weapons in anticipation of potentially dangerous situations, fans haven't seen Dog using a gun during his career. As for why? It stems from an incident in his past.
Duane Chapman is a convicted felon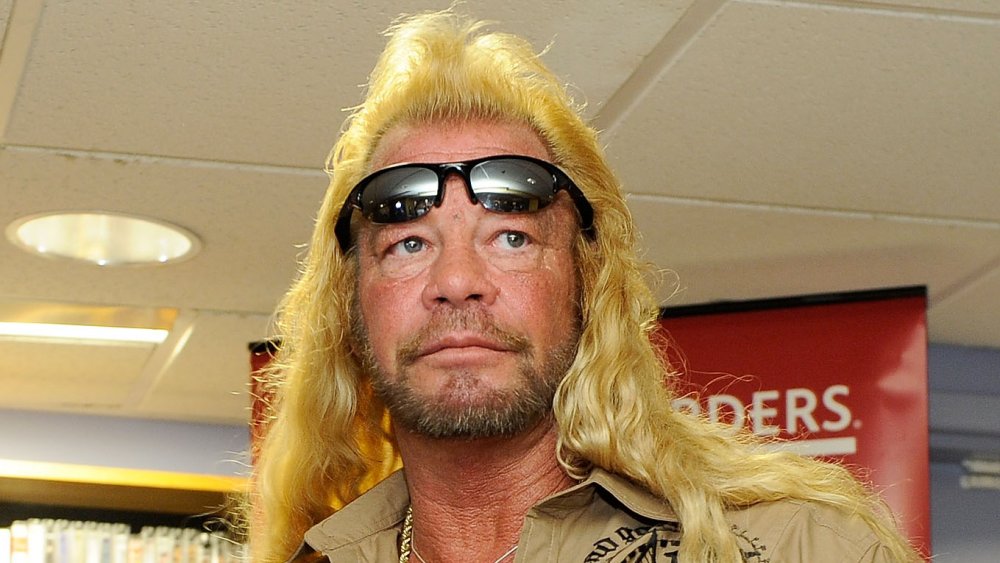 Jemal Countess/Getty Images
Back in 1976, while Duane "Dog" Chapman was living in Texas, he was convicted of first-degree murder relating to the death of Jerry Oliver. The incident happened when Dog and his friends arrived at Oliver's house to supposedly buy marijuana. While Dog was outside waiting in the car, one of his pals allegedly got into a fight with Oliver and fatally shot him, as he recalled to the Toronto Star. The bounty hunter was sentenced to five years in prison but was paroled after 18 months.
As a convicted felon, Dog can't own a firearm due to a federal law banning "gun ownership by felons, fugitives, drug abusers, people adjudicated to be mentally ill, those dishonorably discharged from the military or living in the country illegally, and by convicted domestic abusers or others subject to domestic violence restraining orders," according to The New York Times.
There has been legal opposition to this ban throughout the years, based on the argument that "denying felons whose crimes were not serious the right to own guns" violates the U.S. Constitution's Second Amendment, which protects the right to 'keep and bear arms,'" as Reuters noted. Additionally, "thousands also obtain guns every year because of a loophole that allows gun dealers to sell firearms to people whose background checks have not been completed after three business days," The New York Times reported. 
In Dog's case, however, he appears to be following the law regarding gun ownership.