The Real Reason Dale Earnhardt Jr. Is Considering Leaving NASCAR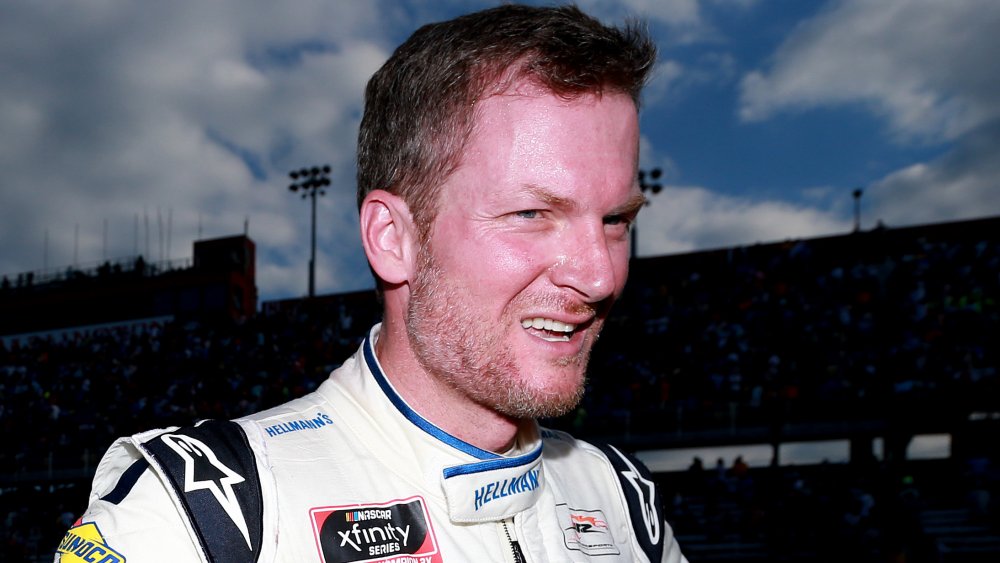 Sean Gardner/Getty Images
Shortly after racing fans saw one of their favorites return to the NASCAR scene, Dale Earnhardt Jr. revealed that he was contemplating putting his career at full stop. Earnhardt Jr. finished fifth in the Hooters 250 at Homestead-Miami Speedway on June 13, 2020. It was his first and only race of the coronavirus-affected season. His June 2020 appearance may be the last time fans see the racer on the track this year. That being said, it's also possible that he may not be back behind the wheel ever again.
Earnhardt Jr. left full-time competition in 2017 after "amass[ing] 26 career victories," which included including two trips to victory lane at the Daytona 500, per his official bio on his website. Throughout his career, Earnhardt Jr. has been a fan favorite and was selected as NASCAR's Most Popular Driver 15 consecutive times. 
Since 2017, Earnhardt Jr. has been in the broadcasting booth covering racing for NBC Sports and has enjoyed his role of as a driver/owner for JR Motorsports. The role allows him to compete in one race per year, showcasing the fact that he still has the competitive drive inside him. Another gig Earnhardt Jr. added to his resume after going into semi-retirement? Full-time dad.
Now, following his great finish at Homestead, Earnhardt Jr. is thinking that one race is one too many. Here's why the driver may stop racing for good.
Things are feeling different in the driver's seat for Dale Earnhardt Jr.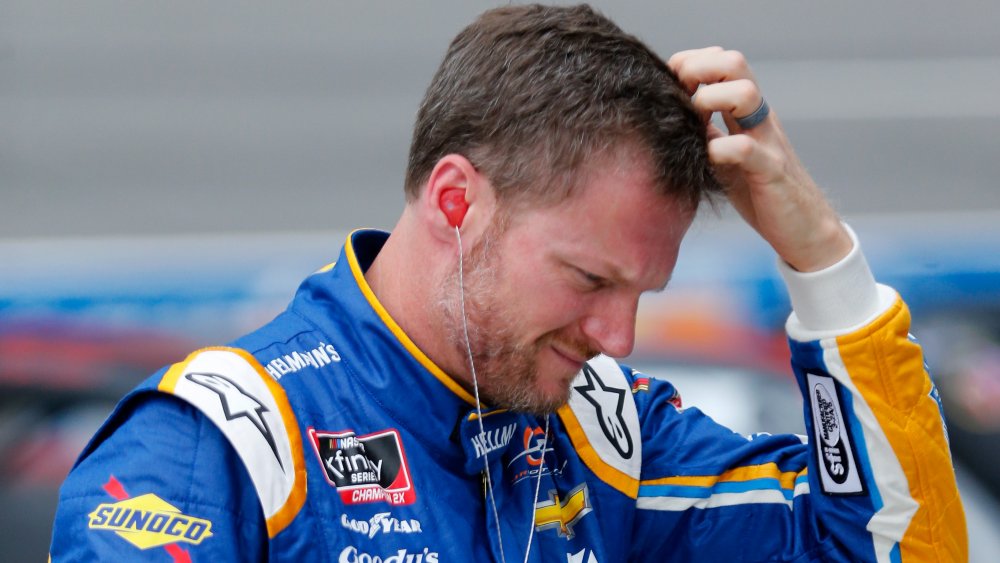 Brian Lawdermilk/Getty Images
At the end of the Hooters 250 in June 2020, Dale Earnhardt Jr. hinted he may be done with racing. Since his 2017 retirement from full-time racing, Earnhardt Jr. has appeared in three races, finishing fourth at Richmond Raceway in 2018, fifth at Darlington Raceway in 2019 and fifth at Homestead, per NASCAR's official site. Earnhardt Jr.'s final race as a full-timer was also at Homestead in 2017.
Earnhardt Jr., who is the son of the late NASCAR Hall of Famer Dale Earnhardt Sr., said that he is weighing a decision to return for one more race next year, according to NBC Sports."I don't know how many more of these I'll do. This might be the last one," he said.
Despite winning more than two dozen NASCAR Cup Series titles, Earnhardt Jr. admitted he was nervous before the start of the race. It was also his first time in the driver's seat since the sport took precautions due to the coronavirus pandemic. 
"I haven't had a lot of opportunities to really sit in the car, drive the car, understand if it's comfortable, if there's anything wrong, if the mirror's in the right place or all those little things that you'd like to take care of during the first few practices," Earnhardt Jr. told The Associated Press.
However, once it was time to press the accelerator, Earnhardt Jr. shook off the nerves and got the job done. 
Dale Earnhardt Jr. is expanding his roles off the track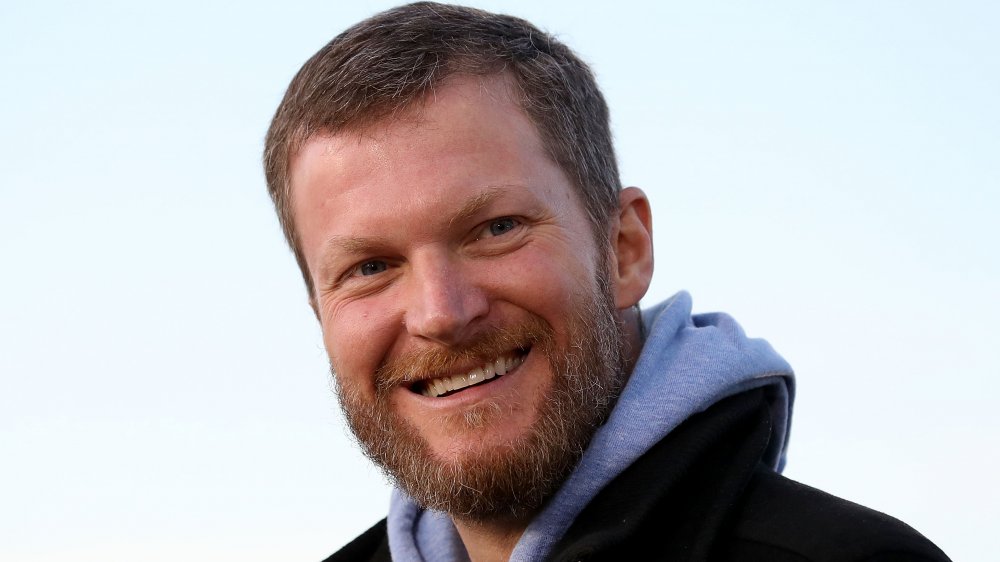 Streeter Lecka/Getty Images
When Dale Earnhardt Jr. isn't racing the No. 8 JR Motorsports Chevrolet, he's sharing his knowledge and outlook on NASCAR in the media box and on his podcast. Earnhardt Jr. joined NBC Sports in 2018 as a commentator. Leaving the sport for good would give him a chance to devote more time to his other endeavors. 
"I really enjoy [racing], I really do, but I think there's got to be a point to make the change to broadcasting entirely. But with that said, being in the car I certainly learned a ton that's going to help me in the booth," he said (via NBC Sports).
Earnhardt Jr. is also the host of The Dale Jr. Download, a podcast through his company Dirty Mo Media. He has interviewed current and legendary NASCAR drivers, including Jeff Burton, Jeff Burton and Richard Petty.
Earnhardt Jr.'s mind is also focused on his team at JR Motorsports. Drivers include Noah Gragson, who finished third ahead of Earnhardt Jr. in the Hooters 250. The NASCAR star mentioned that he is thinking about his team and their needs as he considers his end to racing. "It's just a lot of commitment and I don't know. It's getting to the point where I've got to decide whether I'm helping things or I'm not helping the team, can I help the team in other ways," he said (via NBC Sports).
Whatever decision he ends up making, Earnhardt Jr. will surely continue to make an impact on the sport.