The Truth About Meryl Streep And 50 Cent's Relationship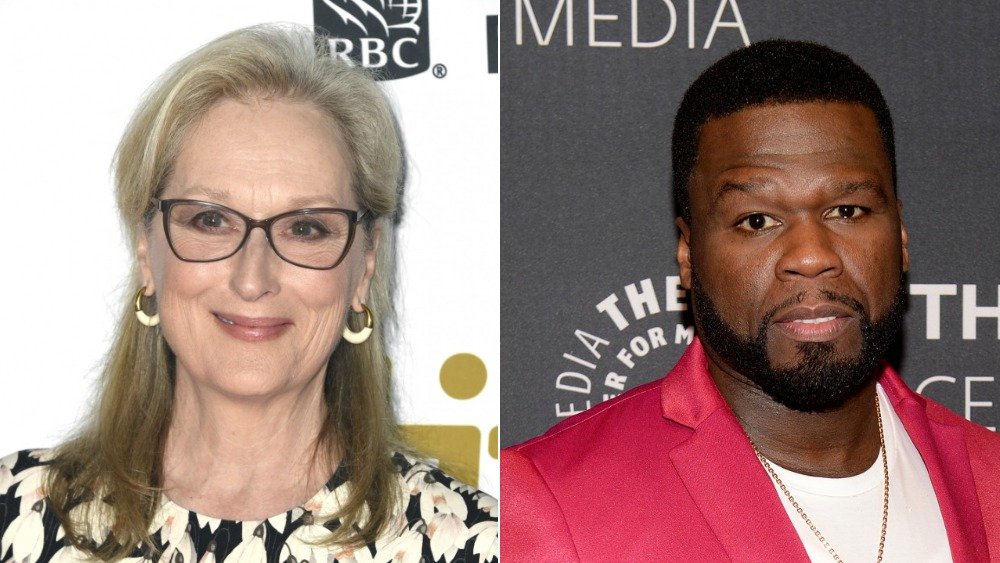 Frazer Harrison, Brad Barket/Getty Images
Strange celebrity pairings are always fun, whether it's a romantic relationship or entirely platonic. For pop culture die-hards, there's nothing more exciting than getting word of another random star match-up — the weirder, the better. It's like an even starrier version of "Six Degrees of Kevin Bacon!" And of all the celebs to randomly hang out with each other, we have to say that the pairing of Meryl Streep and 50 Cent may very well take the cake.
The odd twosome met at a Knicks-Lakers game in January 2014. Both were sitting courtside next to each other, and they were snapped by photographers. They were smiling with broad, open-mouthed grins and looked like they were having a great time.
The "In Da Club" rapper recounted the, shall we say, meet-cute on various talk shows, telling Jimmy Kimmel that it was the Academy Award-winning actress' first time at a "live basketball game," so he showed her the ropes.
"As soon as I noticed she didn't know what was going on, I was like, 'OK, don't worry. Just come with me!'" he recalled excitedly.
But 50 wasn't always so smooth during their encounter. For a star known for his charisma and charm, even he can get a bit flustered when surrounded by Hollywood royalty.
50 Cent was absolutely starstruck by Meryl Streep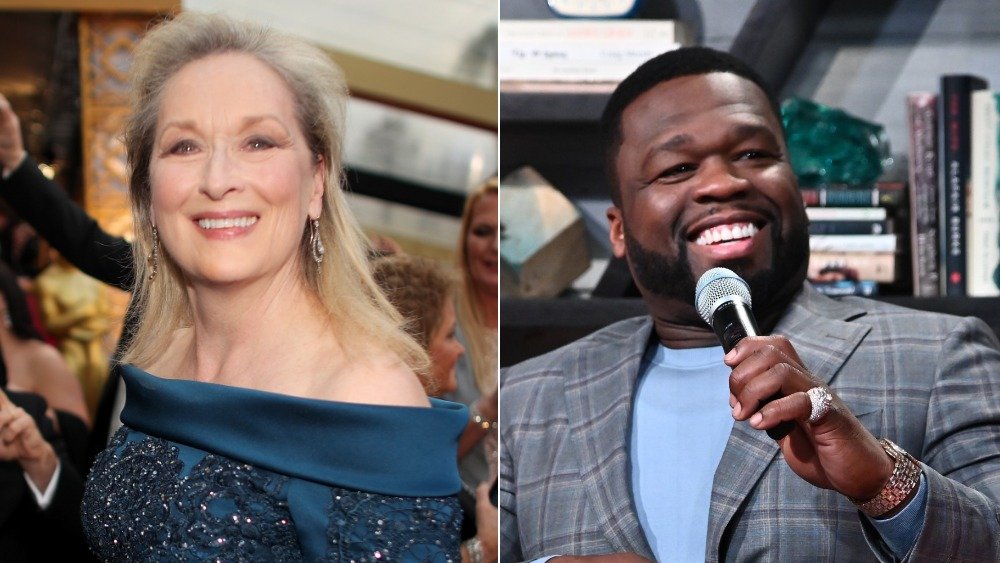 Christopher Polk, Theo Wargo/Getty Images
When he appeared on The Rachael Ray Show in 2016, 50 Cent once again recalled the pair's meeting, revealing that being in Meryl Streep's presence immediately made him feel like a normie.
"I sat next to Meryl Streep. And I was like, 'I'm regular,'" he joked. "I felt like I was normal again."
On Jimmy Kimmel Live, the rapper went into more detail, telling the audience a hilarious tidbit.
"When I was talking to her, I said, 'Give me a little bit of that dust.' She said, 'What you talking about?' I said, 'The stardust. Blow a little bit on me.' She was like, 'Whew,'" he remembered, blowing into his hand.
50 Cent talked in awe about Streep's "strong aura." He even imitated Kobe Bryant's own starstruck reaction, in which the late basketball player's voice became more high-pitched.
Now, there's no word on if 50 Cent and Meryl Streep remain friends — or if they've even spoken after that — but hey, it makes a good story to tell at parties (and on talk shows).