The Truth About Marques Houston's Relationship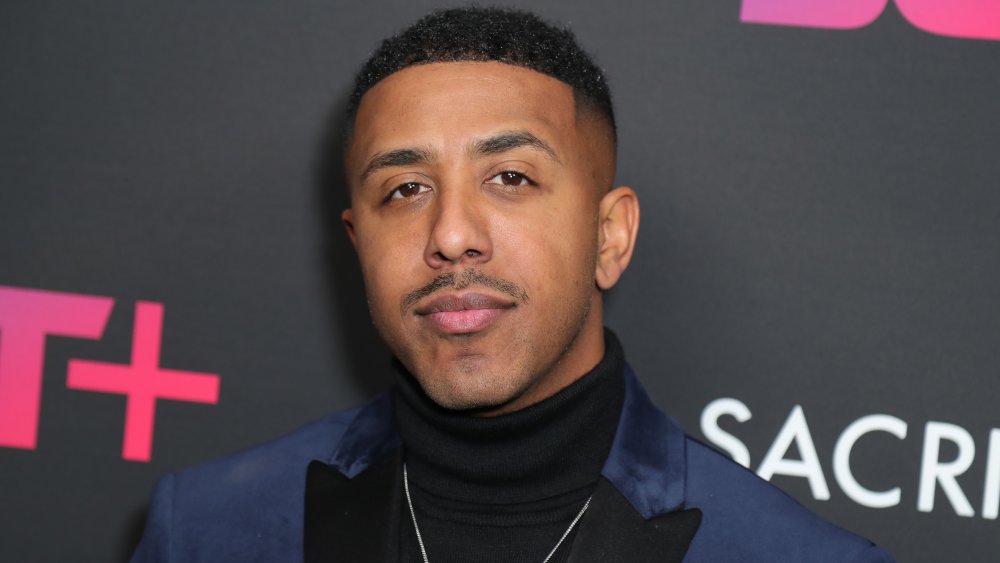 Leon Bennett/Getty Images
R&B singer and actor Marques Houston, 38, is facing scrutiny over his relationship with 19-year-old Miya Dickey after news of the couple's engagement went public. Some critics have slammed the age gap and claimed their romance began before she turned 18.
Houston addressed the controversy in a series of posts on social media. "With all that's going on in the world, my love life shouldn't be a topic. But since it is let me just give y'all the facts..." he said in a June 2020 Instagram post. Houston said he met Dickey "through a mutual friend" at a Jehovah's Witness convention in 2018. He said they "didn't start dating until she was an adult" and "fell in love and got engaged in March of 2019." 
"My dad Michael loves her and the people I am closest to all love her as well," Houston added. "Most importantly we have Jehovah's blessing."
So what's the real story behind Houston's engagement? The backstory behind this romantic relationship is complex and highly controversial.
Critics are slamming Marques Houston's romance with Miya Dickey
Marques Houston — best known as a former member of the R&B group Immature and for his role on the classic sitcom Sister, Sister – said he decided to speak publicly about his engagement to Miya Dickey after reading a blog about their relationship. "I felt with this situation I needed to speak because this is not music or television, this is my family, my future wife and my life," he posted on Instagram. 
Houston did not name the blog, but Page Six reported that he may be referring to a story in MTO News, which reported that Twitter users were alleging that "Miyana" had "been on the missing teenager list since she was 15 — four years." According to Page Six, these rumors were fueled by a report that a woman named "Miyana Dickey" was listed as an art director on at least one collaboration with Houston and manager Chris Stokes on IMDb, fueling speculation that, if Miya Dickey is Miyana Dickey, she may have known Houston for longer than he claims. 
At the time of this writing, however, the IMDb page for "Miyana Dickey" only lists her as an art director for a 2018 Houston-Stokes joint, the thriller Always & 4Ever. Houston claimed the earlier credit was "a misprint or someone being messy."
The backstory about Marques Houston and Miya Dickey is complicated
Was Marques Houston's fiancée, Miya Dickey, a teenage runaway, as twitter users have suggested via MTO News? That rumor reportedly stems from an episode of Mob Radio released on YouTube in June 2020, which links Dickey to a missing teenager named Miyana who apparently shares a resemblance.
Further complicating matters, this isn't the first time Houston has been embroiled in allegations of sexual misconduct. According to Page Six, both Houston and his manager, Chris Stokes, were accused of allegedly molesting former B2K band member Demario "Raz-B" Thornton (who is Stokes' cousin) and label mate Quindon Tarver after a recorded conversation between Raz-B and Tarver was made public. 
Houston denied the accusations and was granted a restraining order against Thornton, and Tarver issued a statement saying that he had never intended his conversation with Thornton to be made public, reported Essence. Thornton did reportedly tell Vibe magazine in 2008 that Stokes "forced him to take showers with the other boys and to kiss [Houston], per the Daily Beast.
As of this writing, Houston and Dickey have not commented further on the matter. 
If you or someone you know has been the victim of sexual assault, you can call the National Sexual Assault Hotline at 1-800-656-HOPE (4673) or visit RAINN.org for additional resources.